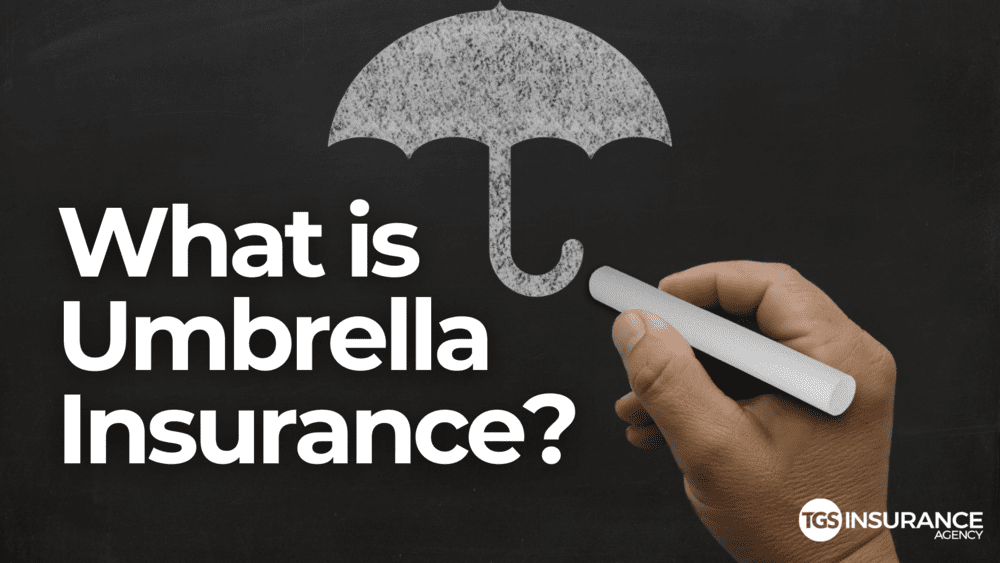 An umbrella insurance policy is added liability coverage that protects you beyond the limits of your homeowners, auto, or boat insurance policies. It provides an extra layer of financial protection if you are sued or cause injuries to someone else in an accident. It also protects you against slander, libel, vandalism, or invasion of privacy.
How Does Umbrella Insurance Work?
Let's say you're driving a bit too fast in icy conditions, and you lose control of your car and hit four other cars resulting in $95,000 in damages and over $500,000 in medical bills. After the accident is all said and done, one of the drivers involved in the accident decides to sue you for $500,000 for emotional trauma. All in all, you're in the hole for $1.95 million from one accident. You're found liable for all the above, and your auto insurance policy only offers $500,000 in liability coverages. This means you're on the hook to make up the $595,000. Seems overwhelming, right? It is.
This is where an umbrella policy could step in to help cover you once your basic liability coverage exceeds its limit or a specific claim is excluded from your basic liability coverage should the remaining damages exceed your policy limits. An umbrella policy will protect your retirement, savings, home, and other personal possessions, so you're not left with anything but debt. While all of this seems like a worst-case scenario, and it is, it could happen.
Who Needs Umbrella Insurance?
Just about anyone can take advantage of umbrella insurance because high-cost liability accidents can happen to anyone. For example, suppose you are liable after a guest tripped and injured themselves on your property. Your umbrella insurance will cover the medical fees if your guest's injuries exceed your normal home insurance liability limit.
Umbrella insurance could also extend to other members of your household, such as your kids or spouse who don't have any type of insurance in their name. For example, if your new teen driver causes an accident, your umbrella insurance will most likely protect them as well. (Just be sure to talk to your insurance agent about this!)
How Much Does Umbrella Insurance Cost?
According to the Insurance Information Institute, umbrella insurance ranges from $150-$300 each year for a $1 million policy limit. If you want to add another million in coverage to your policy, it will cost about $75 more and $50 for every additional million after that. Talk to a TGS Insurance agent about umbrella insurance and what policies are available for you!
Why Is Umbrella Insurance Important?
Your house, car, and other items you invest in (savings, retirement funds) are all considered assets. It's important to understand that if you are sued for a lot of money, and the cost exceeds your liability insurance policy, or you don't have an umbrella insurance policy, you are responsible for covering the fees and expenses out of pocket.
People typically purchase an umbrella policy because they want to avoid the risk of losing all their assets because of a liable event. Umbrella insurance offers protection to prevent anything like that from happening.
What Is Typically NOT Covered By Umbrella Insurance?
Umbrella insurance will not cover your injuries or property damage. It also won't cover liability correlated with your business unless you have a commercial umbrella policy instead of personal umbrella insurance.
Umbrella insurance also excludes liability that is related to a written or verbal contract. For instance, if an air conditioning company sues you because you never paid them for their job and it's done under contract, your umbrella policy will not help you. If you intentionally hurt someone or commit a crime, you're definitely (and obviously) not protected by your umbrella policy.
What Is the Difference Between Umbrella and Excess Liability Insurance?
Umbrella insurance is commonly referred to as excess liability protection, but these two types of insurance are very different. Excess liability insurance does not affect the terms of your policy but provides additional limits. In contrast, umbrella insurance is a comprehensive type of excess liability insurance that adds more coverage for situations that exceed the limit of your policy.
For more information on the differences between umbrella and excess liability insurance, read our breakdown here.
TGS Insurance Can Help with an Umbrella Insurance Policy
If you have a considerable amount of personal assets, then you might want to consider purchasing an umbrella insurance policy. Make sure you find the right coverage by consulting with an agent from TGS Insurance. We will take care of finding you a customizable umbrella insurance policy for the best rate. Our agents strive to provide the best customer service experience and will walk you through the entire process from start to finish.
Instant Home Insurance Quote
Recent Home Insurance Articles: