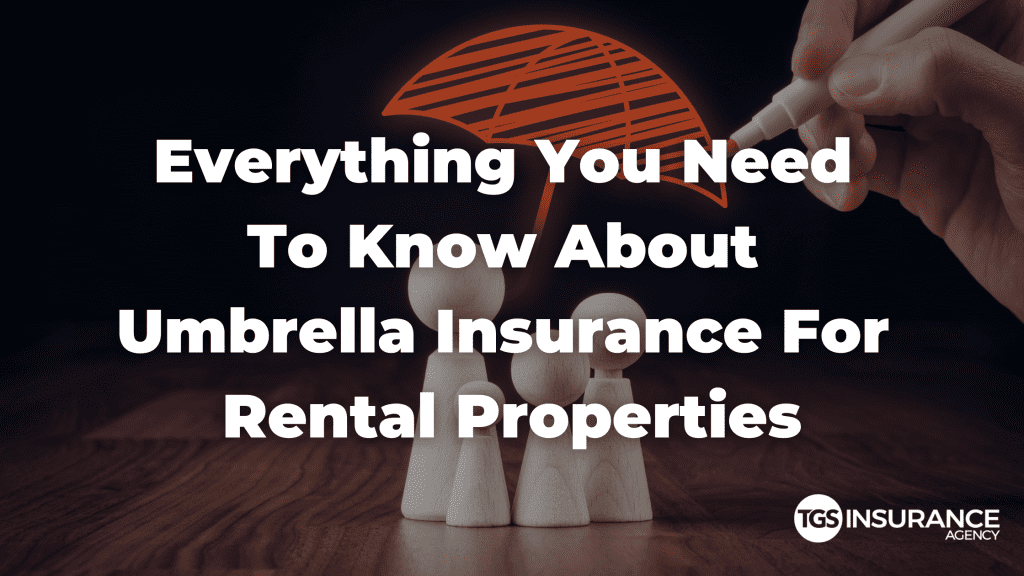 As a landlord, you need multiple layers of financial protection to cover yourself and your investment property. Essential safeguards include having high-quality tenants and a well-kept rental. Still, things are often out of a landlord's control, including natural disasters or your tenants filing multiple claims. Most landlords purchase a landlord liability policy to keep their financial assets safe, but there are some circumstances where more insurance is needed. An umbrella insurance policy fills the gaps where a landlord policy may leave you exposed. Let's review everything you need to know about umbrella insurance for rental properties. 
What Is the Difference Between Umbrella Insurance and Landlord Insurance?
Landlord insurance is a type of insurance that includes liability and property coverage. Umbrella insurance, also called "excess liability" acts as a liability coverage extension of your landlord, home, or auto policy and steps in when your underlying liability limits have been reached.
An umbrella insurance policy is an excellent investment for landlords because it offers financial coverage if you are sued or held responsible for property damages or bodily injuries to someone else plus any legal fees, regardless of who is determined at fault. As a landlord, keeping your tenants and property safe is your job. An umbrella policy will help raise your liability limits should you ever be fully or partially responsible for something occurring on your rental property. 
For example, your tenant sues you for an accident on your rental property, and the damages exceed your landlord policy's liability limits. An umbrella policy would step in and cover the remaining balance, so you're not left with a hole in your wallet because without it, you'd be on the hook for whatever your liability limits don't cover.
Does Umbrella Insurance Cover Multiple Properties?
An umbrella insurance policy does cover multiple rental properties, unlike a property-specific one, which would cover only one. Some policies may have a property limit, with the average being around three to six. Depending on your situation, a commercial umbrella policy may be your best bet over a personal umbrella policy. Some providers may offer you an unlimited number of properties but ask that you increase or max out your liability coverage. Your insurance agent will be able to help provide you with the best solution for your insurance needs. 
How Umbrella Insurance for Rental Properties Works 
Umbrella insurance offers liability coverage otherwise not included in your landlord policy. So, for example, a tenant slips on an icy stairwell resulting in a hospital stay, lost wages, and other expenses. The tenant then decides to sue you, and the judge awards them a $1.2 million judgment. Your landlord policy has a liability limit of only $1 million, leaving an additional $200,000 unaccounted for.
You'd be on the hook for the remaining $200,000 balance without an umbrella insurance policy, potentially sending you into financial ruin. However, you would simply pay your landlord policy deductible for those with an umbrella policy. The umbrella policy carrier (sometimes the same as your landlord) would pick up the remaining balance and pay out the rest of the settlement since you already met your deductible. (Be sure to check this stipulation in your umbrella policy.) Your umbrella policy would also pay for legal fees or other expenses, leaving you financially intact and only out of your deductible.
If your rental properties operate under a limited liability company (LLC), then a landlord's personal assets would be protected under the LLC. Any financial judgment would be paid out by the company's assets and not the landlord's personal assets. Umbrella insurance for rental properties doesn't cover any liability claims incurred due to professional or business activities. So if you rent out properties as a business or LLC, your umbrella policy may not cover you, and you'll need business liability insurance.
Excess Liability vs. Umbrella Insurance
These two liability coverages often overlap but are two very different types of insurance. Excess liability is a coverage add-on you can get to complement your landlord insurance policy. It will provide additional protection if someone becomes injured on your property and the settlement exceeds your landlord insurance liability limits. However, you would not have coverage for defamation such as a libel or slander settlement because that's not part of your landlord insurance coverage. However, an umbrella insurance policy would offer protection for any judgments made against you for slander or libel.
An umbrella insurance policy is a fantastic solution for someone seeking more coverage outside the liability limits of their landlord insurance policy and needing more financial protection.
Related: What is The Difference Between Excess Liability and Umbrella Policies?
Scenarios That a Landlord Could Use Umbrella Insurance 
As a landlord, your landlord insurance policy will cover property damage, liability, and loss of rental income. An umbrella policy won't add any additional coverage but only act as an extension of your limits. There are many scenarios in which an umbrella policy would be helpful, such as:
Someone sues you for damages from your tenants
A previous resident breaks into a current resident's home because you did not change the locks
You need assistance paying for legal fees following a lawsuit (regardless of who is at fault)
Someone were to suffer an injury on your vacant property such as a child or squatter
A tenant or guest gets an injury in a communal area
Someone sustains an injury on your property due to a damaged appliance
As a landlord, it's your responsibility to keep your property safe for your tenants. Common claims such as falling downstairs, tripping on loose carpet or uneven steps, or falling on icy walkways are avoidable if a landlord is proactive about fixing them, and if not, face stiff financial penalties.
We recommend landlords ask that tenants carry a renters insurance policy to shift some of the liability off of themselves, so they're not stuck with the entire claim.
Related: How to Protect Yourself as a Landlord
What Does Umbrella Insurance Not Cover?
Insurance doesn't cover "everything," of course, but umbrella policies offer a broad scope of liability coverage otherwise not included in your landlord or renters policies. However, because umbrella policies can sometimes have more caveats, it's important that you work with your insurance agent to understand the specific coverage you have. Umbrella policies do not cover punitive damages, injuries, or personal expenses.
Examples of situations where an umbrella policy would not offer coverage are:
Business activities such as rental properties owned under an LLC
Personal injuries sustained by a landlord
Damage intentionally caused by a landlord
Damage to the property, because umbrella insurance is for liability only
How Much Umbrella Insurance Do I Need for a Rental Property? 
Your insurance agent will be able to help you determine the amount of coverage you need, but there are three things to keep in mind when purchasing an umbrella insurance policy.
Understand your risks as a landlord
Know the value of all of your assets
Calculate the loss of future profit to protect your current and future assets
How much liability coverage you need will depend on your financial portfolio and the number of rental properties. The more you have to lose or open yourself to risk, the more coverage you need. Most people carry $1 million in coverage, with some as high as $10 million. The Insurance Information Institute (III) states that the average umbrella policyholder pays between $150 to $500 per year for $1 million in coverage.
Keep in mind you cannot have a landlord policy with the minimum liability limit and then purchase an umbrella policy to make coverage more affordable. Most carriers will require you to max out your liability limit and buy an umbrella policy.
How to Find Affordable Umbrella Insurance for Rental Properties 
The easiest way to save on umbrella insurance is to shop your policy with an insurance agency. Typically, insurance agencies work with several carriers, allowing them to shop your policies across the market and find bundling opportunities to max out your coverage while saving you money.
At TGS Insurance, we work with over 35+ A-rated (or better) carriers to find the most affordable insurance available without skimping on coverage. Managing properties is already hard enough; let us take some of the work off your shoulders by managing all of your insurance policies, renewals, paperwork, and any updates to coverage. Talk to a TGS Insurance agent today and get a hassle-free quote for all of your properties. 
Instant Home Insurance Quote
Recent Home Insurance Articles: