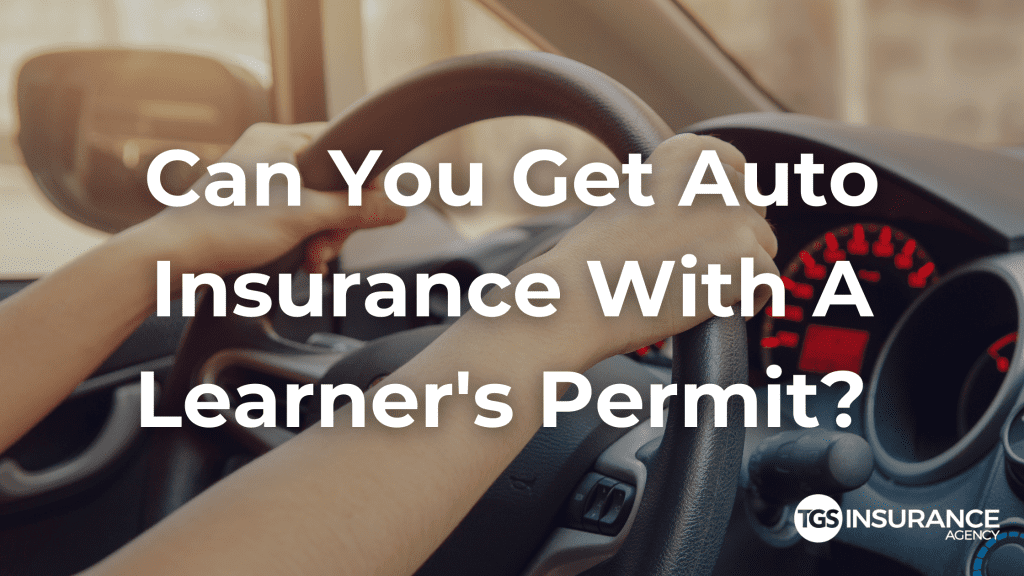 Drivers with a learner's permit, also called a provisional license or driver's permit, can purchase an auto insurance policy if specific criteria are met. Still, a new insurance policy may not even be needed in some cases. Finding coverage can be difficult because not many carriers offer policies for drivers with permits, so often, the best solution is for newbies to jump on their parents' policy.
But any way you slice it, new drivers need some auto insurance coverage if they're driving on the road, with or without a car! Let's review all the common FAQs associated with auto insurance and learner's permits.
Is It Possible To Get Insured With A Permit?
You can obtain auto insurance coverage with a learner's permit, but it may be difficult because you aren't a licensed driver, and some carriers don't want to assume that risk. If you purchase auto insurance with a permit, most carriers will require you to become fully licensed within 30-45 days of buying a policy. If you're under the age of 18, some carriers may ask a parent or legal guardian to co-sign your policy with you.
How to Buy Auto Insurance With a Learner's Permit
Most new drivers can be easily added to their parents' policy. Still, some situations may not be possible, such as the permit holder's parents don't have insurance, you live at a different address from your parent or guardian (and don't attend school), already purchased your vehicle, or are an older adult.
Shopping for car insurance with a learner's permit is easy, but there are a few steps you'll want to make sure you take:
Shop around. The easiest way to obtain auto insurance coverage with a learner's permit is to shop with at least 5-8 carriers.
Compare quotes. Once you've obtained quotes from at least five carriers, you'll want to compare coverages and costs. Some carriers may send you a quote for just state minimum coverages, whereas others offer a more comprehensive policy. You'll want to make sure you get the right coverage at a premium that you can afford.
Check for discounts. Some insurance carriers may offer discounts, so make sure always to ask so you can save a few bucks!
Can My Parents Add Me to Their Car Insurance Policy
Your parents can add you to their car insurance policy if you've got a learner's permit. Typically, most auto insurance policies cover drivers with permits or provisional drivers. Be sure to talk to your insurance company about your situation. It would be best never to assume you've got coverage for a driver with a learner's permit only to find you don't and potentially have a claim denied.
How Much Car Insurance Does a Driver With a Permit Need?
Each state has its minimum requirements for drivers, but the amount of auto insurance for a driver with a permit will depend on the situation. If you're the policyholder, your liability coverage should be high enough to cover any property damage or injuries your teen driver may be responsible for due to an accident. Additionally, because new drivers are more prone to accidents and mishaps, you may want to consider raising your comprehensive and collision coverage limits or adding both to your policy if you don't carry that type of protection.
What's the Cheapest Way to Save on Insurance With a Learner's Permit?
The cheapest way for new drivers to save on auto insurance is to be added to their parents' policy. Auto insurance for young, new drivers is often costly and even more so if you're on your own policy, averaging over $6,000 per year for coverage. Drivers with permits can save the most by jumping on their parents' policy and capitalizing on certain discounts. The best discounts for new drivers include:
Good grades discount- maintain a certain GPA, usually above a B for reduced rates.
Safe driver discount- keep a clean driving record to save money!
Driving course discounts- taking driving courses (like driver education) will drop your premium.
However, as mentioned above, we understand that this may not be an option for all, so shopping and comparing auto policies with carriers that will insure drivers with learner's permits will be your best bet. Coverage won't be cheap, but you should see your rate decrease over time as you get older and gain more road experience.
Related: What Do I Need to Know About Adding A Teen Driver to Insurance?
Save On Auto Insurance With TGS Insurance
At TGS Insurance, we specialize in finding auto insurance policies for every driver and situation. If you're a parent wanting to add your teen driver to your policy or if you're a new driver wishing to purchase a policy all on your own, we've got you covered. Our insurance experts will shop and compare your policy across our bank of 35+ A-rated (or better) carriers to find you auto insurance coverage that strikes the perfect balance of protection and price.
Get your hassle-free auto insurance quote today and see why over 15,000 people trust TGS Insurance with their insurance needs!
Start Your Free Auto Insurance Quote Now
Recent Auto Insurance Articles: