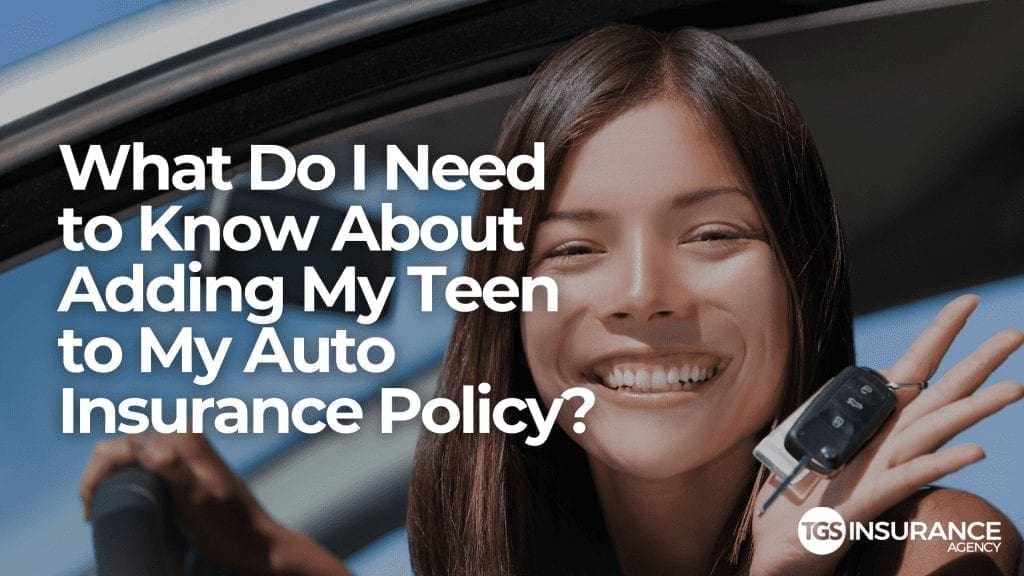 "Oh, I better stay off the roads when you're driving!" 
"Uh oh, there's a new driver on the road!" 
We've all heard the funny quips and jokes about new teen drivers being on the roads when they first get their license. For your son or daughter, it's a liberating time full of the freedom they've wanted, but for you, it can be a mix of excitement and terror. At TGS Insurance, we want to make parents feel at ease about their kids getting on the open roads by providing you with auto insurance that best suits the coverage you want at a great rate. We've put together a guide for parents to help you navigate what you need to know about adding a teen driver to insurance.
If Your Teen Has a Learner's Permit, They Do Not Need an Auto Insurance Policy
It's recommended that you let your insurance company know that your teenager has obtained a learner's permit, but until they get a license they're not required by law to have auto insurance. However, we highly recommend working with your insurance agent to better understand what coverage you have should your teen get into an accident, and discuss if it's needed to obtain some sort of protection for your new driver. 
Teen Males are Rated Differently than Teen Females 
Car insurance for teens regardless of gender is more expensive than any other age group, but teen males are rated higher than teen females because statistically, they're more likely to be in an accident. In fact, males in general tend to pay more for auto insurance as a whole, regardless of age, because they are more likely to: 
Have more accidents 

Drive recklessly

Not wear a seatbelt 

Get a moving violation 
The Cost of Adding A Teen Driver to Insurance: You Will See Your Auto Insurance Premium Go Up 
Depending on what route you take, you could see your premium go up a few hundred dollars per year if you add your teen to your policy, or a few thousand if you opt for a new policy entirely for your new driver. If you've got a good policy, there are a lot of benefits to adding your teen to your existing policy, but you'll need to weigh out the pros and cons with your insurance agent to decide which route is best for you. For example, if your teen gets a speeding ticket, you will see a rise in your policy premium. 
Here's a breakdown of the average auto insurance policy premium based on age and gender for full coverage: 
Average Full Coverage Insurance Policy Premiums by Age and Gender 
| Age/Gender | Texas Average Rate on Parents' Policy | Texas Average Rate on Individual Policy  | U.S. Average Rate on Parents' Policy  | U.S. Average Rate on Individual Policy  |
| --- | --- | --- | --- | --- |
| 16-year-old male | $3,968 | $7,965 | $3,428 | $7,483 |
| 16-year-old female | $3,537 | $6,791 | $3,086 | $6,562 |
| 17-year-old male | $3,695 | $6,843 | $3,243 | $6,357 |
| 17-year-old female | $3,307 | $5,843 | $2,915 | $5,490 |
| 18-year-old male | $3,419 | $6,159 | $3,003 | $5,606 |
| 18-year-old female | $3,048 | $5,210 | $4,772 | $2,687 |
| 19-year-old male | $3,150 | $5,259 | $2,677 | $3,870 |
| 19-year-old female | $2,802 | $4,420 | $2,392 | $3,250 |
Source: CarInsurance
The best thing to do is speak with your insurance agent about what route will be best for you and your teen driver. In addition, if you just want to purchase a policy that meets the state's minimum requirements then will see your rate dramatically decrease compared to a full coverage policy. It's important to keep in mind though, that if your teen is in a car accident then your assets, as the parent, are at risk in the event of a liability claim. If you've got a lot to lose in the event of a liability suit, something to consider purchasing in addition to a full coverage auto insurance policy is an umbrella policy. An umbrella policy is extra financial protection that goes beyond the limits of other policies, such as home, auto, or watercraft. 
Some Cars Are More Expensive to Insure for Teen Drivers Than Others 
As a parent, whatever car your child drives you want to be safe and of course, affordable. It's important that as you begin to research or look into what your child will drive, that you consider insurance costs. Some cars mean higher insurance premiums for teens because insurance carriers weigh risk when determining your auto premium. Let's review an analysis done by ValuePenguin that breaks down the top 20 cheapest and top 10 most expensive cars to insure for teens. 
20 Least Expensive Cars to Insure for Teens
| Ranking | Car | Average Annual Car Insurance Premium | | |
| --- | --- | --- | --- | --- |
| 1 | Mazda MX-5 Miata | $2,640 | | |
| 2 | Subaru Outback | $2,735 | | |
| 3 | Volkswagen Golf GTI | $2,740 | | |
| 4 | Mini Countryman | $2,766 | | |
| 5 | Volkswagen Routan | $2,769 | | |
| 6 | Smart Fortwo | $2,776 | | |
| 7 | Fiat 500L | $2,786 | | |
| 8 | Honda Odyssey | $2,788 | | |
| 9 | Subaru Legacy | $2,792 | | |
| 10 | Mini Paceman | $2,807 | | |
| 11 | Toyota Sienna | $2,808 | | |
| 12 | Ford Mustang | $2,821 | | |
| 13 | Fiat 500 | $2,824 | | |
| 14 | Volkswagen Beetle Hatchback | $2,826 | | |
| 15 | Buick Encore | $2,831 | | |
| 16 | Subaru Forester | $2,833 | | |
| 17 | Subaru XV Crosstrek | $2,838 | | |
| 18 | Volkswagen Jetta | $2,850 | | |
| 19 | Volkswagen Beetle Convertible | $2,860 | | |
| 20 | Dodge Grand Caravan | $2,865 | | |
10 Most Expensive Cars to Insure for Teens
| Ranking | Car | Average Annual Car Insurance Premium |
| --- | --- | --- |
| 1 | Kia Forte | $3,282 |
| 2 | Mini Cooper Hardtop | $3,282 |
| 3 | Mitsubishi i-MiEV | $3,282 |
| 4 | Scion tC | $3,268 |
| 5 | Kia Rio | $3,217 |
| 6 | Hyundai Accent | $3,202 |
| 7 | Mitsubishi Lancer | $3,152 |
| 8 | Ford F-150 | $3,146 |
| 9 | Honda Civic | $3,138 |
| 10 | Hyundai Elantra  | $3,125 |
It's important to keep in mind that these are just estimates and your rate may vary depending on where you live and other insurance carrier rating factors. 
If you're weighing the decision to buy old or new, know that there are some pros and cons to both. Older cars tend to be less expensive to insure because the insurance carriers deem them less valuable (when compared to a newer car) so in the event of a loss, the carrier won't have to pay out as much. In addition, once the vehicle falls below a certain value collision and comprehensive coverages may end up costing more than what the car is worth. On the flip side, newer cars are more expensive to insure because they're more costly to replace or repair BUT some insurance carriers will provide discounts for driving newer vehicles. This is because they're equipped with better safety features, anti-theft devices, and other things older cars just don't have or are outdated. 
TGSI Tip: If you or your teen are car shopping and have narrowed down your search to a few choices, have your insurance agent run quotes for how much it will be to insure each car on the list. This will give you a better and more informed estimate of how much the monthly car insurance bill will be before something is purchased! For more auto insurance tips for teen drivers, check out this article. 
Always Compare Quotes From Various Carriers
One of the single best ways to save on auto insurance when adding a teen driver or purchasing their own policy is to shop the policy around with different carriers. It's a good rule of thumb to shop your auto policy with 5-10 carriers every six months (around renewal time) because things can change such as your family's driving frequency, new cars, your rate just simply fluctuates, you moved- a number of things. It's especially imperative that if a teen is on your policy, you're shopping your insurance rates around frequently because teen drivers do have a major impact on your auto insurance premium. Below is an analysis done by NerdWallet that shows the top five most expensive and least expensive car insurance carriers by gender and coverage type. 
Full Coverage Rates by Gender from Top 5 Largest U.S. Auto Insurance Carriers 
| Company | Female teen drivers | Male teen drivers  |
| --- | --- | --- |
| Allstate | $5,563 | $6,427 |
| Geico | $3,126 | $2,577 |
| Progressive | $6,454 | $7,170 |
| State Farm | $4,328 | $5,232 |
| USAA | $3,253 | $3,556 |
Minimum Coverage Rates by Gender from Top 5 Largest U.S. Auto Insurance Carriers 
| Company | Female teen drivers | Male teen drivers  |
| --- | --- | --- |
| Allstate | $1,991 | $2,174 |
| Geico | $1,180 | $1,316 |
| Progressive | $2,440 | $2,632 |
| State Farm | $1,759 | $2,120 |
| USAA | $1,288 | $1,369 |
We understand that the idea of shopping and comparing rates is a time-consuming, tedious, and downright stressful experience. We know because we've heard it from parents time and time again. At TGS Insurance, we do all the heavy lifting for you. Your TGSI agent will recommend an auto insurance policy that's best for you and your teen driver that has both the coverage you want and need, at a price that doesn't break the bank. How do we do this? We compare and shop your policy across our suite of 30+ A-rated (or better) auto insurance carriers to ensure you're getting a policy that's balanced in coverage and price. What's even better? We'll do this every renewal period so you don't have to! And we don't just stop at a great policy, we will handle everything from start to finish, from setting up payment to working with your previous carrier to process cancelations, for an easy, stress-free process. Getting auto insurance has never been easier! 
There Are Discounts and Savings Available for Parents with Teen Drivers 
Fear not parents, there are ways you can save on your auto insurance policy with teen drivers! Some of the most popular savings are: 
Defensive driving discount:

If your teen takes a defensive driving course, your car insurance carrier

may

offer a discount. Be sure to ask about other safety courses that your teen driver could take that could also help lower your rate. 
Good grade discount:

Is your teen a good student? Some auto insurance carriers will offer discounts for students who maintain a certain GPA. 
Student away-at-school discount:

If your teen is away at college or goes to school far from home, ask your insurance agent about the student-away discount. 
Bundle with your home policy:

Bundling your home and auto insurance can offer savings as much as 20%! Talk to your TGS Insurance agent about what bundling options you have available to save the most. 
Automatic bill payment:

You may be entitled to some discounts if you were opt-in for automatic bill payment or even electronic document delivery. Sometimes it saves to go auto and digital! 
Clean driving record:

If your teen maintains a clean driving record, you could see some great discounts from your carrier. Insurance companies see teens as inexperienced and high-risk drivers, so a good driving record could help shed some dollars off your premium. 

Safety features:

Having a car that's jam-packed with safety features could help give you some sort of discount- depending on the car. Things like anti-theft devices, lane departure warning, anti-lock brakes (ABS), and other features can all help. 
Each carrier is different and each has their own discounts available for teen drivers. Be sure to ask your insurance agent about what's available to you! 
Insure Your Teen Driver with TGS Insurance Agency
The cost of insuring a teen driver can be expensive, but you can still protect yourself (and your teen) by doing a bit of research upfront to help alleviate some expenses. At TGS Insurance, your agent will search for every discount available and provide you with an auto insurance policy that best suits what you and your teen need to stay financially protected. Get started today with your hassle-free quote and see why over 4,700 Texas drivers are insured through TGS Insurance!