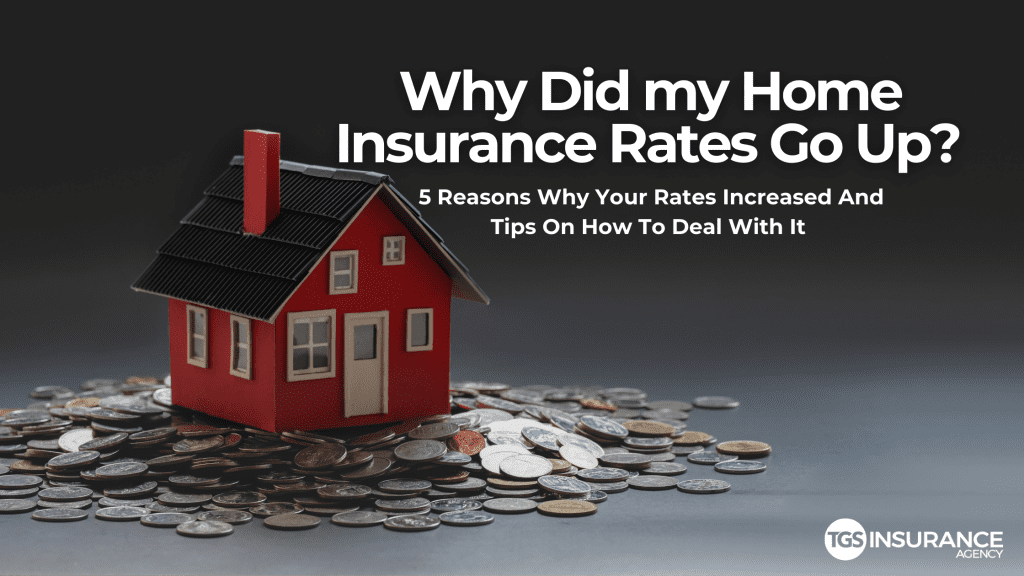 The pain of having your home insurance rates go up is never welcomed even if it becomes routine. In 2017 and 2016, studies show that most homeowners experienced a 1.6% increase in their homeowners insurance premiums. A 1.6% rise may not seem like a lot, but when coupled  with all of the other expenses that surround your home, and the feeling that these increases can occur year after year, homeowners are wise to inquire as to why their rates are going up, and wiser still to see what can be done to lower their rates. Luckily, TGS Insurance has you covered with explanations to some of the more popular reasons your home insurance rate may rise and what you can do to lower your rate once more.
The Reasons Your Home Insurance Policy Rises
There are a variety of reasons that can cause your home insurance rates to go up. Even the most reputable insurance companies may have your back when you need them the most but they are companies and aim to make a profit. Take a look at some of the most common reasons your monthly premiums may see an increase and what you can do to combat them.
A Higher Number of Claims Within Your Market
When the number of claims rises within your area due to you or others having to file with your carriers, you can expect rates to rise. An example of this would be an area devastated by a major hurricane with an obvious uptick in claims due to destruction. Insurance companies use algorithms that factor in locations and their rate of claims. If you live within a market that is shown to be prone to having a claim, you can expect your rates to go up.
TIP: Speak to your agent about possible home insurance discounts. There are plenty of ways to save and you never know what your insurance carrier may offer. Learn more about  some of the most common home insurance discounts here.
The Rising Costs of Construction
Materials are more expensive, while labor becomes even more scarce. Construction costs continue to rise and with it, so are home insurance policies. Studies show that the average cost of residential construction continues to rise in the United States which means when you submit a claim, your insurance carrier continues to pay higher costs to repair your home. This is an unfortunate trend for homeowners that will continue to be an issue for the foreseeable future.
TIP: Raising your deductible can lower your rate and it takes some of the financial responsibility from your home insurance provider. This is a great way to stay protected against events that cost more without startling your provider with a smaller project.
The Age and Location of Your Home
If your home is in need of repair or in an area that requires upgrades, those home insurance prices will be on the rise. Going beyond the fact that your home's market may be prone to certain claims, insurance companies will take into consideration the upgrades your home may need as well as the area around you.
TIP: Moving would be an extreme step but if it is in your plans, you may want to add lower insurance premiums into your consideration. A common approach for those happy in their home, is to simply keep your home up-to-date and maintain reasonable upgrades over time.
A Negative Change in Your Insurance Score
Just like your credit history, your insurance history also has a score, in fact, your credit score is a part of it. Lower scores equate to higher premiums and if you have a habit of submitting claims, stay in a home lacking certain features designed for safety, and have a bad credit score, you're going to pay more.
TIP: Upgrading your home and adding safety features such as security systems or carbon monoxide detectors can help protect you and your home while dropping your rate. You can also boost your insurance score by boosting your credit score.
Your Insurance Provider Decided to Make More Money
Remember when we discussed the need for profitability from your insurance carrier? Sometimes the only reason your rates increase is that your insurance carrier needs to make a buck. Businesses are always looking for a way to increase revenue and raising your home insurance payment is a direct way to do so.
TIP: If you have an established relationship with your insurance agent and a good history in terms of claims, speaking with your insurance provider can help you maintain lower rates even if your carrier is deciding to raise their rates.
Save More With a Home Insurance Policy From TGS Insurance
Even with plenty of great saving tips, there are times where shopping your home insurance policy is the best course of action if your home insurance rates are rising. TGS Insurance helps homeowners save more by shopping a variety of top-rated insurance carriers to maximize coverage while cutting costs for our clients. Our ability to work across multiple companies instead of a single carrier and can comparison shop for your needs without the hassle. We can even bundle your home insurance with an auto policy for more savings, and you can even receive a quote in just seconds online! Contact us and avoid rising home insurance rates today!