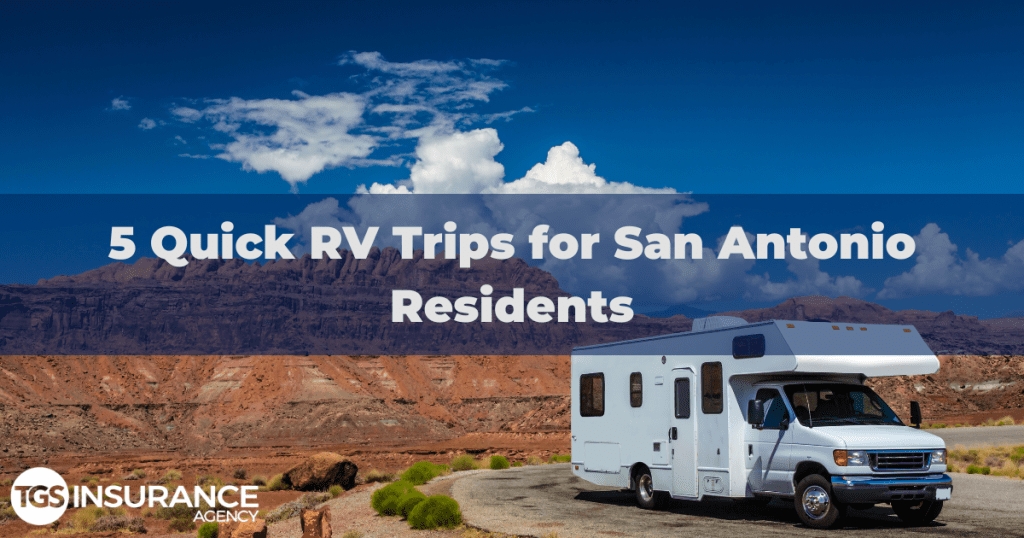 We know you love your RV, so we planned some RV trips for San Antonio residents! San Antonio, TX, is a vibrant city filled with wonderful experiences, culture, and history. There is plenty to do, see, eat, and enjoy, but sometimes, it's nice to get away from it all. Sure, you can take a day trip to Austin or San Marcos, but what about leaving your stress behind and living in the moment?

If you have an RV, you know exactly what we mean. The open road, a clearer mind, and a place to reconnect with nature in a comfortable manner. It can be difficult to take off and go on a cross-country adventure; however, taking a quick trip out of San Antonio is a great way to unwind and recharge your body, mind, and spirit. Don't stress over putting your life on hold or how you will be able to schedule a trip, TGS Insurance has your back. Check out these great spots for a quick RV trip you are sure to love.
*Note: Due to the COVID-19 pandemic, some of these locations may only be available at a limited capacity or temporarily not available at all. Always check with your destination on their latest procedures and respect the social distancing guidelines put into place by each venue.
On the Beach RV Park (Port Aransas, TX)
Imagine getting in your RV and, less than 3 hours later, having your toes in the sand while the waves crash, bringing you complete tranquility. For residents of San Antonio, this dream can become a reality at One the Beach RV Park in Port Aransas. Your campsite is barely a walk away from the Gulf of Mexico. The town is less than 2 miles away, and Corpus Christi is close enough for a day trip should you so choose. Fishing, swimming, boating, bird watching, and other beach activities are what this park celebrates best.
Pine Springs Campground (Salt Flat, TX)
The Pine Springs Campground is located in the Guadalupe Mountains National Park. There are no hook-ups, so be prepared, but the amazing hiking and beautiful mountainous landscape are worth the extra hassle. Get up early and take a day trip into New Mexico, where you can find the Lincoln National Forest and the White Sands National Park. Devil's Hall Trail and Smith Spring are much closer ways to experience nature, and within the park, there is another campsite at Dog Canyon. If you're looking to reconnect with nature and don't mind a little extra driving, this is a great place to surround yourself with some of the best landscapes you can find.
Red Shoes RV Park & Chalets (Kinder, LA)
A beautiful campground with a lake, a pier, and close access to the Coushatta Casino Resort, Red Shoes RV Park & Chalets is a great place to get away from the city but keep the entertainment you know and love. There are family-friendly attractions for kids and plenty of Cajun cuisine all around you.
Summit Vacation Resort (New Braunfels, TX)
This may be cheating. We realize that and know we mentioned doing more than a day trip kind of vacation, but hear us out. Sometimes the best vacation can be a staycation, and the Summit Vacation Resort proves this by giving you everything you could want in a campground without spending too much time on the road. If there's a recreational activity you can think of, it's probably available. We're talking everything from mini-golf to tubing down the river with some basketball in between. This is a great spot to get away without going away and can bring you and your family lasting memories by maximizing your time together.
Twin Coves Park and Campground (Flower Mound, TX)
It may feel counterproductive to head into the Dallas-Fort Worth area if you are trying to get away from the city life; however, a hidden gem nestled in the middle of everything is the Twin Coves Park and Campground. With plenty of traditional campground activities, campers can have a blast playing volleyball, fishing, or hiking. You can experience it all here. You can even enjoy the beauty of Grapevine Lake, which is accessible through the campground.
Saving San Antonio on Their RV Insurance Policies
Living in San Antonio, you have plenty of options when deciding on a trip in your RV. Everything from tubing to hiking to testing your luck at the casino awaits, and you can create memories that last a lifetime, all from the comfort of your RV. Keep those memories protected with the right policies from TGS Insurance. Our agents take the hassle out of finding the right quote and can craft personalized RV policies that help fill the gaps left by having auto insurance alone.
Start Your Free Auto Insurance Quote Now
Recent Auto Insurance Articles: