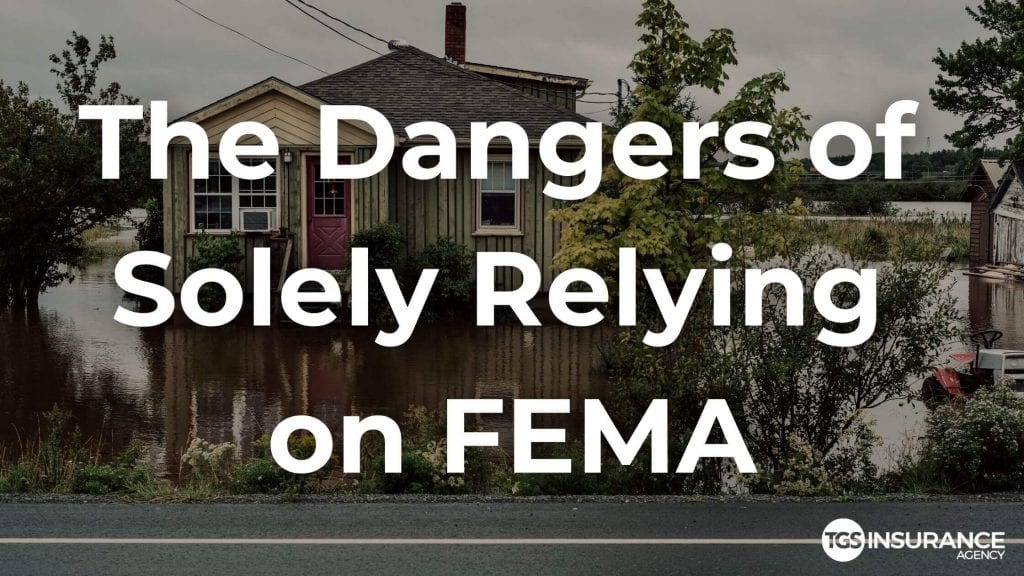 Relying on the government to restore your losses after a natural disaster can be dangerous. There are many different criteria to account for, monetary reimbursement may not be enough to restore your loss fully, and there are plenty of hoops to jump through while waiting for your money to arrive. Homeowners need to understand how FEMA disaster assistance works and what they can do to protect their homes from windstorms and floods.
In Texas, especially for homes near the Gulf Coast, homeowners are all too aware of the threat by vicious windstorms and flooding. Hurricane season lasts from June 1st to November 30th, and even in the offseason, there are threats from severe thunderstorms, tornados, and hail. Not all of these disasters will qualify for FEMA assistance, and homeowners relying on this assistance will often be left restoring their loss out-of-pocket.
Why It's Dangerous to Rely on FEMA Disaster Assistance
Homeowners waiting for FEMA to step in may have a hard time understanding why when it doesn't happen. For starters, no disaster assistance can be issued without the President of the United States declaring the event a disaster, being affected by the disaster at your primary residence, being unable to restore the loss by other means, including other forms of assistance, and/or insurance, and other factors. FEMA's disaster assistance may also not cover everything you need to be restored. The average flood insurance claim comes out to around $43,000, whereas the maximum FEMA payout is only $34,500. On top of everything, it could take a considerable amount of time to receive your relief. Studies have also shown that FEMA can misjudge its flood maps, with up to 75% of flood damage occurring in mislabeled locations that didn't even reach the threshold for a 100-year flood.
Hurricane Insurance Can Protect Your Home
During hurricane season, many homes in Texas can use hurricane insurance to stay protected. The important thing to realize here is that hurricane insurance is actually a combination of flood insurance and windstorm insurance, and both policies can provide benefits year-round for a variety of perils such as severe thunderstorms, hailstorms, tornadoes, and of course, hurricanes/tropical storms.
Homeowners insurance is important for all homes, but they do not cover flood-related perils. You may receive windstorm protection, which includes hurricane winds, but it depends on the coverage options you choose and who your provider is. At TGS Insurance, we understand how important protecting your home from wind and hail perils. This is why we write in windstorm and hail insurance for every home insurance policy we issue with a 2% deductible. So that you are ready for anything that comes your way!
Compare Government and Private Insurers to Save
Some homeowners may be unable to receive proper coverage because of where their homes are located. You may have an issue getting windstorm insurance by private insurance brands if your home is too close to the coast, even if you may need it most. Homes in high-risk areas may also find themselves facing expensive premiums that may seem to make gaining the courage you need impossible. We work with more than 35 top-rated insurance companies and can also shop your rates with TWIA, government-issued windstorm insurance for those who fail to qualify from private insurers, to guarantee that you receive the best rate for your protection.
Gain Protection Without Overpaying With TGS Insurance
Not having the right protection in the aftermath of a disaster sets you up for misery. You must protect your home, property, possessions, and finances from perils that could prove too costly to recover from without the right policies. You'll want to have enough coverage to accomplish your restoration, and oftentimes FEMA just isn't adequate. This is where we come in!
TGS Insurance works with you to find the right home insurance, windstorm coverage, and flood insurance so that you avoid coverage gaps. We also pride ourselves in delivering world-class customer service for each of our clients from start to finish and will even monitor your coverage year after year. That means, if you are facing a rate increase, we'll re-shop your policies so that you never overpay for insurance again! Rising costs due to an increase in building materials, delays in the supply chain, and higher labor costs mean that restoring your home is only becoming more and more expensive.
Instant Home Insurance Quote
Recent Home Insurance Articles: