Comparison Shop Home Insurance in Lumberton from Multiple Carriers Instantly!
Being an independent insurance agency means we shop and compare the best Lumberton homeowners insurance options on your behalf to find you the best combination of cost and coverage. You'll love doing business with us if you want an easier insurance experience. How do you get started? Easy! All we need is your address; you'll get an instant quote in 15 seconds or less. After that, our agents will tailor and further customize your policy to fit your specific insurance needs. Did we mention we re-shop your policy renewal to ensure you are still getting the best deal year after year?
You're one click away from never worrying about home insurance again! 
Lumberton Home Insurance Coverage: The Basics
If you're like most homeowners in Lumberton, your home is your most valuable asset, and you should protect it as such. It's important to understand that when you create your home insurance policy, it should meet your individual needs. Insurance companies offer different levels of coverage, endorsements, and protections with varying conditions and limitations that enable policies to be customized. With that in mind, the most common types of coverage you will see on a homeowners insurance policy include: 
Dwelling coverage for the structure of your home.

Other structures coverage for structures not attached to your home, like detached garages, sheds, and fences.

Personal property coverage for replacing and repairing furniture, electronics, clothing, etc.

Loss of use coverage for additional living expenses if you need to stay somewhere else while your home is being repaired.

Personal liability coverage for legal bills if someone gets injured on your property or you cause damage and get sued.

Medical payment coverage helps cover medical expenses for nonhousehold members injured on your property.
What is the Average Cost of Home Insurance in Lumberton?
In Lumberton, the average cost of home insurance for TGS Insurance customers is $1,894 per year. While the cost of your policy will depend on several factors, such as the value and age of your home, your location, and your credit score, our agents can help you find the coverage you need at a price you can afford. We'll work with you to customize your coverage and ensure you're not sacrificing anything important to save money.
Average Home Insurance Quotes in Lumberton by Coverage Level
Dwelling coverage is a critical aspect of home insurance that protects your home's physical structure from covered hazards. Typically, your home insurance policy provides coverage up to a specified dollar amount, known as the policy limit. Ensuring that your dwelling coverage limit is sufficient to rebuild your home in the event of a total loss is critical. Since the insurance company assumes more risk, dwelling coverage limits may significantly impact home insurance premiums, with higher limits resulting in higher premiums. Below is a breakdown of the average home insurance premium based on dwelling coverage limits.
| Dwelling Coverage Limits | Average Annual Premium (incl. Windstorm & Hail Coverage) |
| --- | --- |
| $100,000.00 - $199,999.00 | $1,320.92 |
| $200,000.00 - $299,999.00 | $1,913.72 |
| $300,000.00 - $399,999.00 | $2,337.87 |
| $400,000.00 - $499,999.00 | $2,950.92 |
| $500,000.00 - $599,999.00 | $3,453.24 |
Lumberton Home Insurance Quotes and Your Home's Age
Many factors go into calculating your home insurance premium, including your home's age. Typically, older homes are more expensive to insure because their structure and other components tend to be outdated (Ex. using galvanized piping instead of PEX) and experienced years of all-around wear and tear. 
Age is not the only influencing factor for your home insurance premium. Carriers look at a variety of other things, including: 
Attractive nuisances 

Pet breeds

Claims history

Credit score

Crime rate 

Location

Marital status

Size

Replacement cost

And much more!
How Does My ZIP Code Affect My Home Insurance?
While some factors regarding your location, such as the probability of severe weather, are calculated at the city or county level. Some factors are analyzed as specifically as your zip code or neighborhood. Since the size and build of your home are usually consistent within neighborhoods, the location of your home plays a significant role in determining your risk of covered perils. In Lumberton, the ZIP code 28360 is the area with the lowest premium of $1,863 for TGS customers. The ZIP code with the highest premium is 28358, costing TGS customers an average of $1,903 a year.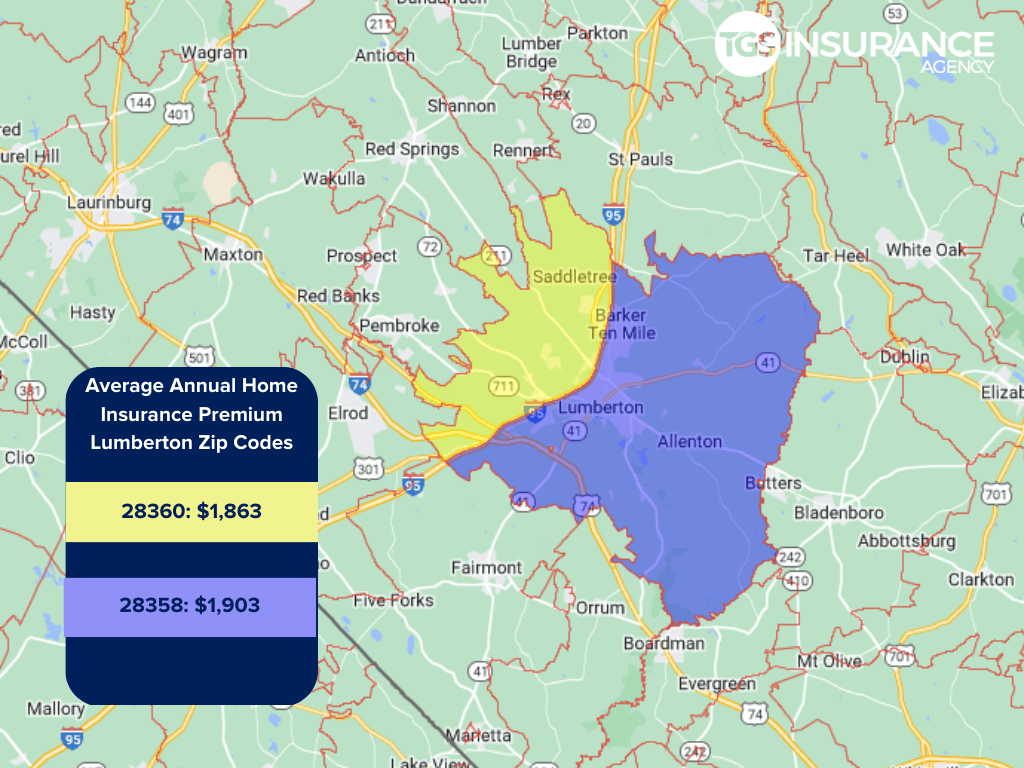 Compare Lumberton Home Insurance Premiums By Carrier
The price is often the most influential factor when considering a home insurance policy. Because each carrier sets its rates, sometimes the same type of coverage can vary in price among different carriers. Two of our most popular carriers in Lumberton are SageSure and Travelers. Home insurance quotes from TGS Insurance for SageSure average $1,339 annually. Home insurance quotes for Travelers run more expensive at $1,862 per year. 
When picking the right home insurance carrier, many factors are involved. You want to make sure the carrier you choose is right for you! Here are some questions to ask yourself when picking a home insurance carrier. 
What is their price for the coverage I want?

What are the company's history and reputation?

Have you heard anything about the company?

Do they offer the coverage I am looking for? 

Are there discounts available?

Is it easy and convenient to work with them?
At TGS Insurance Agency, we work with over 55+ 'A-rated' home insurance carriers to help you make the right decision for your home. Use these questions and call one of our agents to find the right fit for you.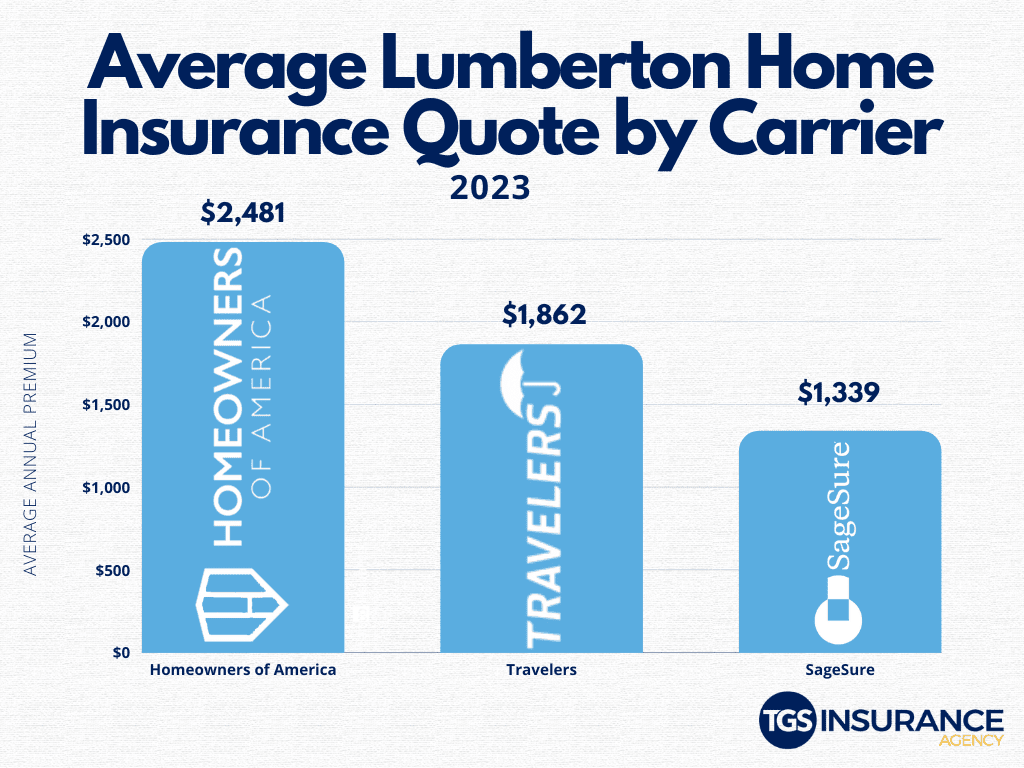 Lumberton Zip Codes We Insure
Don't see your zip code? It's okay! At TGS Insurance Agency, we have access to a wide range of insurance carriers and products to help homeowners throughout North Carolina save money on their home insurance. Get a free, instant quote today and protect yourself, your family, and your home from the unexpected.