Getting a Monroe Home Insurance Quote Has Never Been Easier!
Finding the right Monroe homeowners insurance can be confusing and time-consuming. TGS Insurance Agency is here to change that. Our expert home insurance agents do the hard work for you, making your home insurance shopping experience easy and stress-free. Getting started is simple; enter your address for a free, no-obligation instant quote, and our helpful team will take it from there!    
What Does Monroe Home Insurance Cover?
Most home insurance policies include some level of the following types of coverage. 
| | |
| --- | --- |
| Coverage A | covers damages to your home |
| Coverage B | covers damages to additional structures on your property such as detached garages, sheds, or fences |
| Coverage C | covers damage to personal property such as furniture, electronics, and clothes |
| Coverage D | covers additional living expenses if your home becomes uninhabitable due to a covered loss |
| Coverage E | covers personal liability including coverage for claims arising from accidents on your property |
| Coverage F | covers medical expenses for injuries occurring on your property for those outside of your household |
When it comes to home insurance in Monroe, there's no shortage of options. A standard policy typically covers a variety of losses, including damage caused by weather, theft, and accidents. But not all policies are created equal. That's why it's important to work with a knowledgeable agent who can help you navigate the complexities of home insurance and tailor your coverage to fit your needs. Whether you need more protection for your personal belongings or additional liability coverage, we've got you covered.
Cost of Home Insurance in Monroe
In Monroe, the average home insurance costs $1,070 per year for TGS Insurance customers. The cost of your home insurance is based on several different factors, including, but not limited to:
The value of your home.

Where your home is.

How old your home is.

The number of residents in your home.

Your credit score.
These factors set a base for your home insurance, and then you can customize your coverage. The more coverage you choose to have, the more your yearly premium will be. TGS Insurance is here to help you find the best price without sacrificing any coverage you want.
Average Home Insurance Quotes in Monroe by Coverage Level
Dwelling coverage is a critical aspect of home insurance that protects your home's physical structure from covered hazards. Typically, your home insurance policy provides coverage up to a specified dollar amount, known as the policy limit. Ensuring that your dwelling coverage limit is sufficient to rebuild your home in the event of a total loss is critical. Since the insurance company assumes more risk, dwelling coverage limits may significantly impact home insurance premiums, with higher limits resulting in higher premiums. Below is a breakdown of the average home insurance premium based on dwelling coverage limits.
| Dwelling Coverage Limits | Average Annual Premium (incl. Windstorm & Hail Coverage) |
| --- | --- |
| $100,000.00 - $199,999.00 | $735.60 |
| $200,000.00 - $299,999.00 | $1,071.22 |
| $300,000.00 - $399,999.00 | $1,282.05 |
| $400,000.00 - $499,999.00 | $1,447.96 |
| $500,000.00 - $599,999.00 | $1,631.10 |
How Square Footage Affects Your Monroe Home Insurance
When you initially chat with your insurance agent about your quote, they will want to know the square footage of every part of your home. They do this because the more square footage you have, the more your house will inevitably cost to rebuild if you lose it due to a covered loss. Rebuild costs- known as replacement cost in the insurance world- are a big part of determining how much you will pay in insurance premiums. Below we have a breakdown of average annual premiums in Monroe, Noth Carolina, based on the size of your home.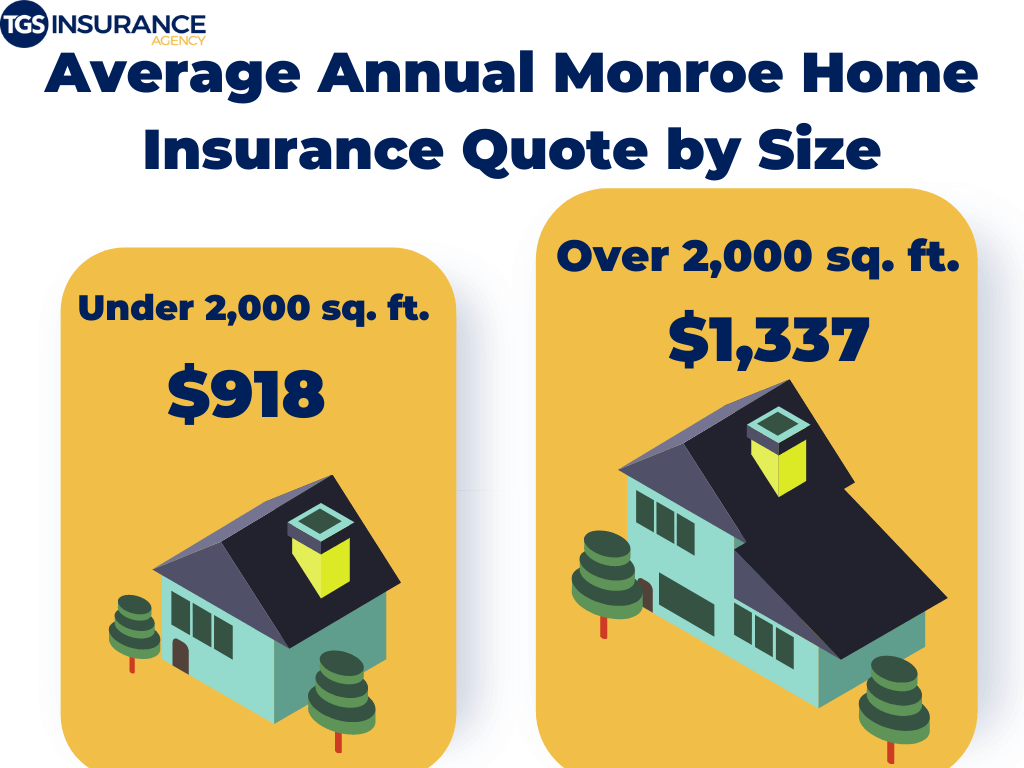 How Does My ZIP Code Affect My Home Insurance?
While some factors regarding your location, such as the probability of severe weather, are calculated at the city or county level. Some factors are analyzed as specifically as your zip code or neighborhood. Since the size and build of your home are usually consistent within neighborhoods, the location of your home plays a significant role in determining your risk of covered perils. In Monroe, the ZIP code 28112 is the area with the lowest premium of $1,052 for TGS customers. The ZIP code with the highest premium is 28110, costing TGS customers an average of $1,077 annually.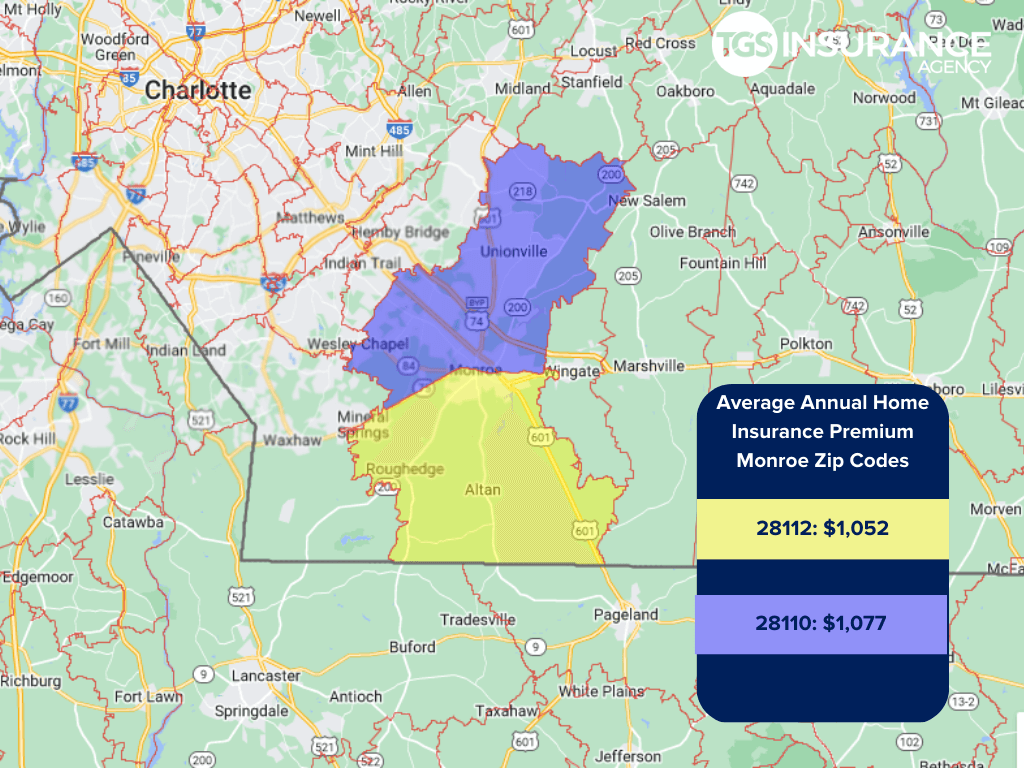 Best Monroe Home Insurance Carriers
Knowing who will give you a competitive premium in your area is a big part of choosing your home insurance. Among TGS customers, the most popular carrier in Monroe is SageSure. The average annual premium with SageSure is $778. Other popular carriers are Travelers and Safeco. Choosing a carrier is more than just the price; however, here at TGS Insurance Agency, we know that price is one of the more important factors. Check out the table below to see the average price for Monroe based on the insurance provider.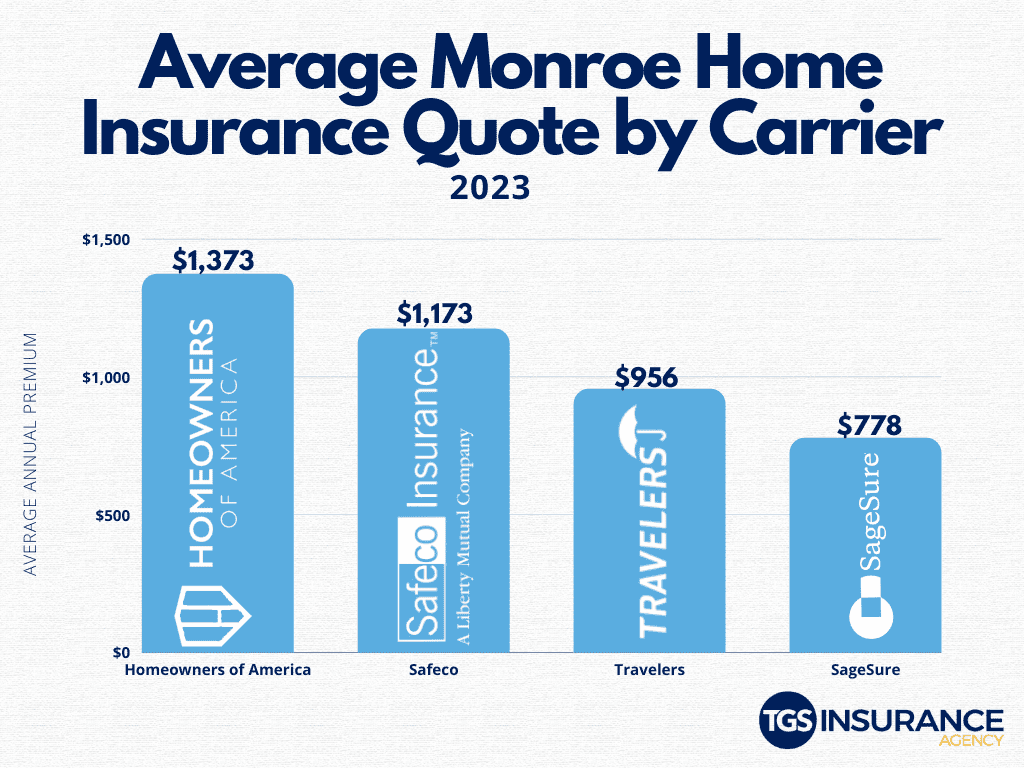 Monroe Zip Codes TGS Insurance Agency Insures
Don't worry if you don't see your zip code above! We can find incredible rates for homeowners throughout North Carolina.  Enter your address above for a free instant home insurance quote.