Comparison Shop Home Insurance in Mount Holly from Multiple Carriers Instantly!
Being an independent insurance agency means we shop and compare the best Mount Holly homeowners insurance options on your behalf to find you the best combination of cost and coverage. You'll love doing business with us if you want an easier insurance experience. How do you get started? Easy! All we need is your address; you'll get an instant quote in 15 seconds or less. After that, our agents will tailor and further customize your policy to fit your specific insurance needs. Did we mention we re-shop your policy renewal to ensure you are still getting the best deal year after year?
You're one click away from never worrying about home insurance again! 
What is Covered in Mount Holly Home Insurance?
Don't let unexpected losses threaten your home and personal belongings. With home insurance in Mount Holly, you can have peace of mind knowing you're covered against various risks. A standard policy typically covers your home's structure, personal belongings, liability, and additional living expenses. But not all policies are created equal, so it's important to work with an agent who can help you customize your coverage to fit your unique needs. Whether you need more protection for your high-value items or want to add coverage for specific risks like earthquakes or floods, we've got you covered. 
What Does Home Insurance Cost in Mount Holly?
Homeowners insurance in Mount Holly costs $1,075 a year, or $89.58 a month, for TGS customers. The cost of your home insurance premium will vary based on a few different things. This can be from your credit, location, value of your home, and what year your home was built. It is normal for your home insurance to vary from this average and other numbers you see online. The great thing about it is that you can completely customize your coverage.TGS has helped over 15,000 customers save on their home insurance premiums. To lock in your savings, type your address above for an instant quote! 
Average Homeowners Insurance Cost by Coverage Level in Mount Holly
The cost to replace your home is essential to determine the dwelling coverage you need on your home insurance policy; this limit directly impacts your home insurance premium. On top of affecting your average annual costs, having an accurate replacement cost can prevent you from being underinsured if a covered loss takes your entire house. These are the average annual home insurance costs in Mount Holly, North Carolina, based on dwelling coverage limits associated with the policy. 
| Dwelling Coverage Limits | Average Annual Premium (incl. Windstorm & Hail Coverage) |
| --- | --- |
| $100,000.00 - $199,999.00 | $703.19 |
| $200,000.00 - $299,999.00 | $980.95 |
| $300,000.00 - $399,999.00 | $1,137.28 |
| $400,000.00 - $499,999.00 | $1,336.85 |
| $500,000.00-$599,999.00 | $1,776.87 |
How the Size of Your Mount Holly Home Affects the Cost of Insurance
Another thing that will affect the cost of your Mount Holly home insurance is the size of your home. Insurance carriers look at the square footage of your home to determine the replacement cost.  If you have a larger house, your replacement cost will be higher. Because of the higher replacement cost, your home insurance premium will be higher than that of smaller houses. Some other factors that affect your replacement cost are:
Building materials used to build your home

Features in your home like fireplaces or a jetted tub

The age of your home
In Mount Holly, houses that are over 2,500 square feet cost $1,457 per year. Houses under 2,500 square feet have an average annual premium of $944.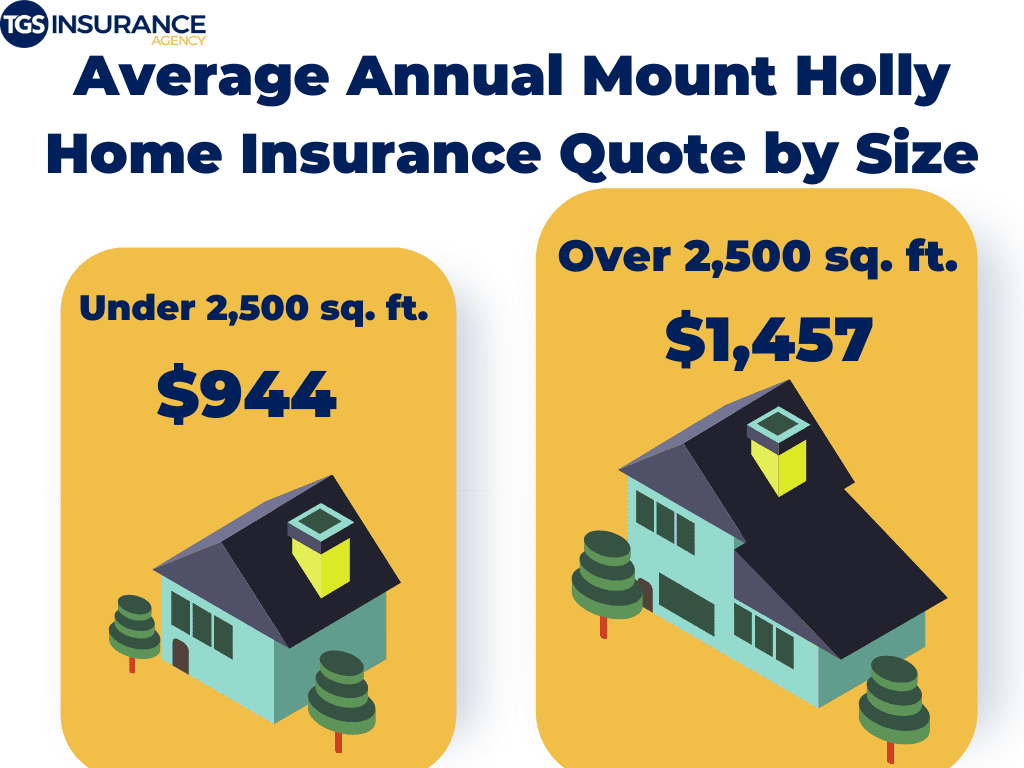 Compare Mount Holly Home Insurance Premiums By Carrier
The price is often the most influential factor when considering a home insurance policy. Because each carrier sets its rates, sometimes the same type of coverage can vary in price among different carriers. Two of our most popular carriers in Mount Holly are SageSure and SafePort. Home insurance quotes from TGS Insurance for SageSure average $793 annually. Home insurance quotes for SafePort run more expensive at $833 per year. 
When picking the right home insurance carrier, many factors are involved. You want to make sure the carrier you choose is right for you! Here are some questions to ask yourself when picking a home insurance carrier. 
What is their price for the coverage I want?

What are the company's history and reputation?

Have you heard anything about the company?

Do they offer the coverage I am looking for? 

Are there discounts available?

Is it easy and convenient to work with them?
At TGS Insurance Agency, we work with over 55+ 'A-rated' home insurance carriers to help you make the right decision for your home. Use these questions and call one of our agents to find the right fit for you.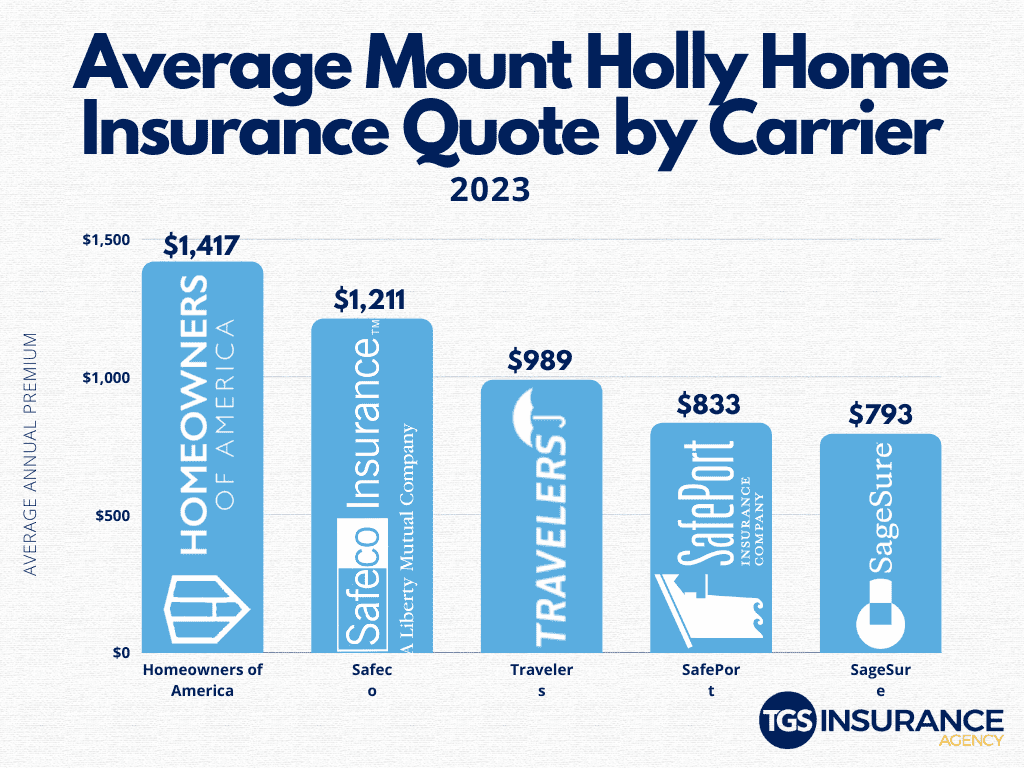 Mount Holly Zip Codes TGS Insurance Agency Insures
Don't worry if you don't see your zip code above! We can find incredible rates for homeowners throughout North Carolina.  Enter your address above for a free instant home insurance quote.