Getting an Anderson Home Insurance Quote Has Never Been Easier! 
Finding the right Anderson homeowners insurance can be confusing and time-consuming. TGS Insurance Agency is here to change that. Our expert home insurance agents do the hard work for you, making your home insurance shopping experience easy and stress-free. Getting started is simple; enter your address for a free, no-obligation instant quote, and our helpful team will take it from there!
Anderson Homeowners Insurance Coverage Explained
Your home is more than just a building – it's where memories are made and cherished. That's why having the right home insurance in Anderson is so important. A standard policy typically covers losses caused by weather, theft, and accidents and includes essential coverages like protection for your home's structure, personal belongings, liability, and additional living expenses. But every homeowner's needs differ, so working with a trusted agent who can help you customize your coverage is important. From adding flood insurance to increasing your liability limits, we're here to help you protect what matters most.
Cost of Home Insurance in Anderson
In Anderson, the average home insurance costs $1,270 annually for TGS Insurance customers. The cost of your home insurance is based on several different factors, including, but not limited to:
The value of your home.

Where your home is.

How old your home is.

The number of residents in your home.

Your credit score.
These factors set a base for your home insurance, and then you can customize your coverage. The more coverage you choose to have, the more your yearly premium will be. TGS Insurance is here to help you find the best price without sacrificing any coverage you want.
Average Home Insurance Quotes in Anderson by Coverage Level
Dwelling coverage is a critical aspect of home insurance that protects your home's physical structure from covered hazards. Typically, your home insurance policy provides coverage up to a specified dollar amount, known as the policy limit. Ensuring that your dwelling coverage limit is sufficient to rebuild your home in the event of a total loss is critical. Since the insurance company assumes more risk, dwelling coverage limits may significantly impact home insurance premiums, with higher limits resulting in higher premiums. Below is a breakdown of the average home insurance premium based on dwelling coverage limits.
| Dwelling Coverage Limits | Average Annual Premium (incl. Windstorm & Hail Coverage) |
| --- | --- |
| $100,000.00 - $199,999.00 | $1,004.09 |
| $200,000.00 - $299,999.00 | $1,112.26 |
| $300,000.00 - $399,999.00 | $1,386.29 |
| $400,000.00 - $499,999.00 | $1,698.96 |
| $500,000.00-$599,999.00 | $2,055.89 |
| $600,000.00-$699,999.00 | $2,265.31 |
How Does Your Location in Anderson Affect Your Home Insurance?
Where you live is one of the biggest factors that affect your home insurance premium. This gets so specific that carriers look at ZIP codes and neighborhoods. If your neighborhood has a higher theft rate than another neighborhood a few blocks down, your rates will be higher. Because carriers are very particular with risk evaluations, rates vary greatly-even within the same city. Below is a breakdown of the average annual premium for home insurance in Anderson: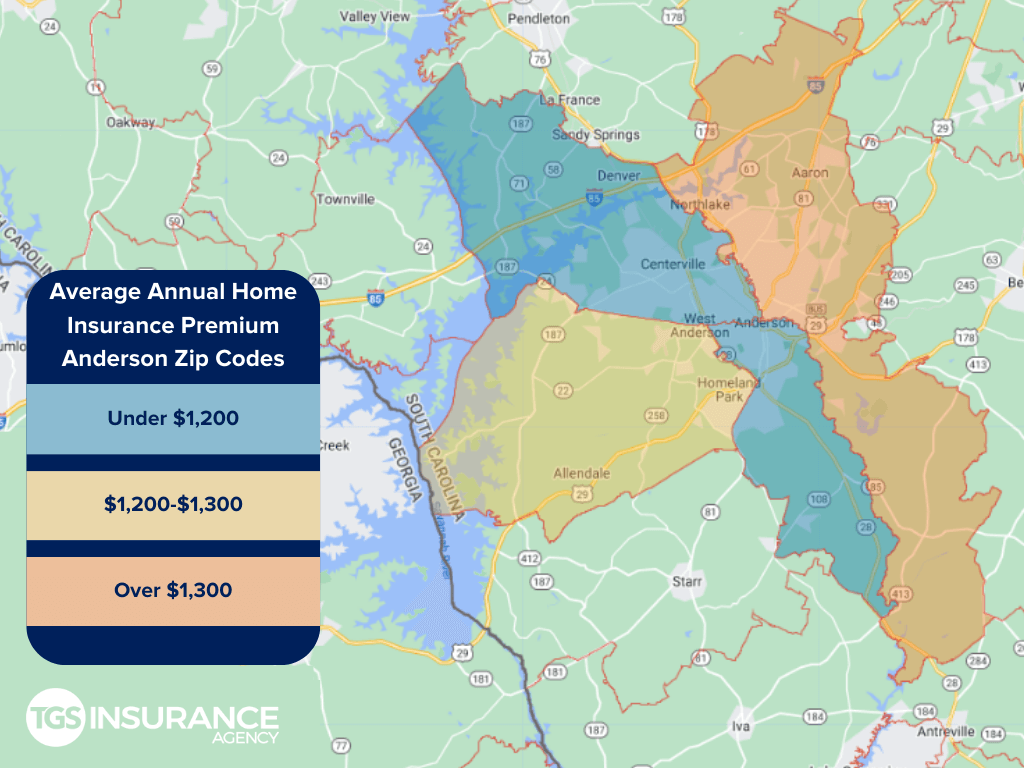 Anderson Zip Codes TGS Insurance Agency Insures
Don't worry if you don't see your zip code above! We can find incredible rates for homeowners throughout South Carolina.  Enter your address above for a free instant home insurance quote.