Shopping For Cheap Conway Home Insurance Is Easier Than You Think 
As an independent agency, we represent 55+ top-rated insurance carriers, which allows us to offer comprehensive insurance options to meet your every need. The best part? Our highly qualified homeowners insurance agents do the hard work for you, making your home insurance shopping process easy and stress-free. Your savings start with an instant, free quote. Our agents are ready to help you further customize your quote and find any discounts you might qualify for! 
We shop. You Save. Yes, it really is that easy.
What is Included in Conway Home Insurance?
There are a few standard forms of home insurance that offer different levels of protection. This varies from different perils coverage and how much protection you want. Most of these forms include coverage- at some level- for:
Dwelling

Other Structures

Personal Property 

Loss of Use

Personal Liability

Medical Payments
Having these coverages at the base of every standard home policy allows everyone to be somewhat protected. You can choose whether or not you have more coverage in one area compared to another. All of this is based on your unique lifestyle in Conway.
What Does Home Insurance Cost in Conway?
Homeowners insurance in Conway costs $1,878 a year, or $156 a month, for TGS customers. The cost of your home insurance premium will vary based on a few different things. This can be from your credit, location, value of your home, and what year your home was built. It is normal for your home insurance to vary from this average and other numbers you see online. The great thing about it is that you can completely customize your coverage.TGS has helped over 15,000 customers save on their home insurance premiums. To lock in your savings, type your address above for an instant quote!
Average Conway Home Insurance Cost By Coverage Level
Dwelling coverage is a fundamental element of home insurance that protects the physical structure of your home against covered hazards. The intention is to cover the expenses of repairing or rebuilding your home if it is damaged or destroyed due to a covered event. The amount of dwelling coverage needed depends on the cost of rebuilding your home. Your home insurance covers the policy limit- which is coverage for up to a specified dollar amount. It is critical to ensure that your dwelling coverage limit is sufficient to cover the cost of rebuilding your home in case of a complete loss. Dwelling coverage limits can significantly impact home insurance premiums, with higher limits resulting in higher premiums since the insurance company is assuming more risk.
In Conway, South Carolina, if you need $200,000 in dwelling coverage, you'll pay an average of $1,757 per year. However, if your home is worth more, you'll want more coverage, so homeowners wanting $400,000 in dwelling coverage will pay an average of $2,916 in Conway, South Carolina.
| Dwelling Coverage Limits | Average Annual Premium (incl. Windstorm & Hail Coverage) |
| --- | --- |
| $100,000.00 - $199,999.00 | $1,607.41 |
| $200,000.00 - $299,999.00 | $1,756.89 |
| $300,000.00 - $399,999.00 | $2,265.25 |
| $400,000.00 - $499,999.00 | $2,916.25 |
| $500,000.00 - $599,999.00 | $3,619.41 |
| $600,000.00 - $699,999.00 | $4,192.25 |
How the Age of Your Conway Home Affects Your Insurance
The age of your home can affect your insurance in many ways. Older homes are more at risk of electrical, plumbing, and heating/cooling complications. These issues increase the risk of fire and water damage in homes. Also, older homes can be less structurally sound than newer homes. This could lead to more damage when natural disasters-like hurricanes- come through. All of these can result in higher insurance premiums. In contrast, newer homes may be immune to these issues, making them cheaper to insure.
How Does Location Affect Your Home Insurance in Conway?
Like your auto insurance, location is important in determining your Conway home insurance rates. For example, your premium may be higher if your city has a history of perils like vandalism, theft or even in an area with a weather risk. Conversely, your location could positively impact and lower your premium. In Conway, the ZIP code with the highest average premium is 29526. The average cost for home insurance in that ZIP code is $1,935 annually. Below is a comparison of the average cost of home insurance within ZIP codes of Conway: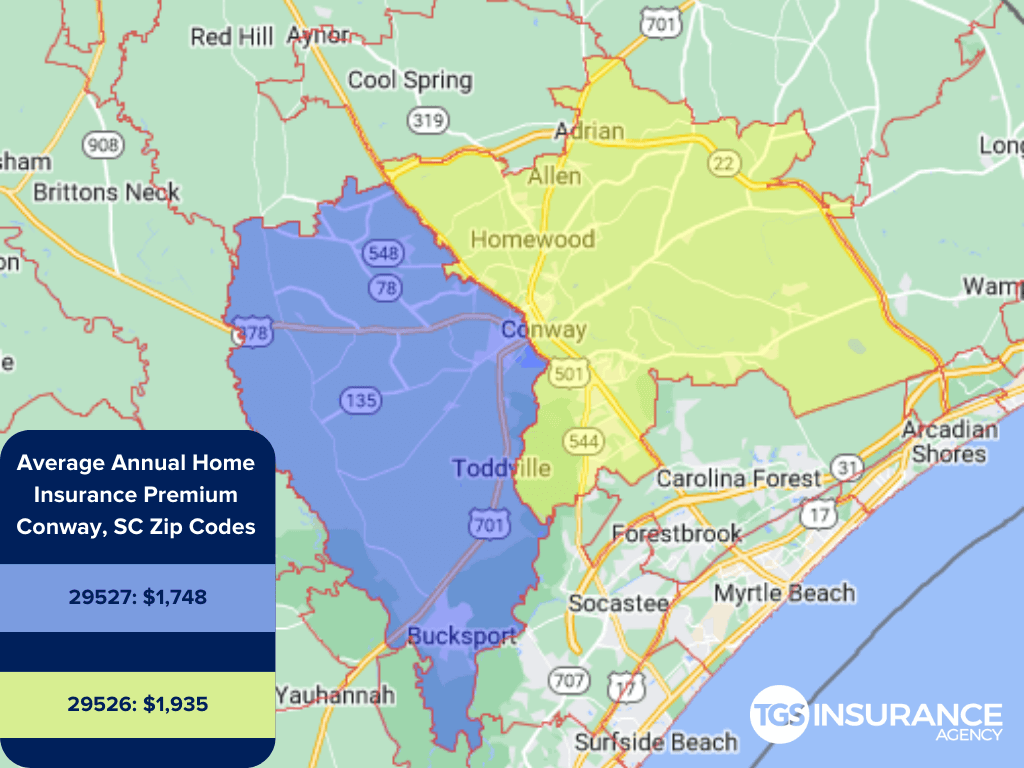 Conway Zip Codes We Insure
Zip code not listed? Don't worry! We can help homeowners throughout South Carolina save money on their home insurance. Get started with a free instant quote by providing your address above.