Comparison Shop Home Insurance in Greenwood from Multiple Carriers Instantly!
Being an independent insurance agency means we shop and compare the best Greenwood homeowners insurance options on your behalf to find you the best combination of cost and coverage. You'll love doing business with us if you want an easier insurance experience. How do you get started? Easy! All we need is your address; you'll get an instant quote in 15 seconds or less. After that, our agents will tailor and further customize your policy to fit your specific insurance needs. Did we mention we re-shop your policy renewal to ensure you are still getting the best deal year after year?
You're one click away from never worrying about home insurance again!
Greenwood Home Insurance Coverage: The Basics
If you're like most homeowners in Greenwood, your home is your most valuable asset, and you should protect it as such. It's important to understand that when you create your home insurance policy, it should meet your individual needs. Insurance companies offer different levels of coverage, endorsements, and protections with varying conditions and limitations that enable policies to be customized. With that in mind, the most common types of coverage you will see on a homeowners insurance policy include: 
Dwelling coverage for the structure of your home.

Other structures coverage for structures not attached to your home, like detached garages, sheds, and fences.

Personal property coverage for replacing and repairing furniture, electronics, clothing, etc.

Loss of use coverage for additional living expenses if you need to stay somewhere else while your home is being repaired.

Personal liability coverage for legal bills if someone gets injured on your property or you cause damage and get sued.

Medical payment coverage helps cover medical expenses for nonhousehold members injured on your property.
What Does Home Insurance Cost in Greenwood?
Homeowners insurance in Greenwood costs an average of $1,305 a year, or $109 a month, for TGS Insurance Agency customers. The cost of your home insurance premium will vary based on a few different things. This can be from your credit, location, value of your home, and what year your home was built. It is normal for your home insurance to vary from this average and other numbers you see online. The great thing about it is that you can completely customize your coverage.TGS has helped over 15,000 customers save on their home insurance premiums. To lock in your savings, type your address above for an instant quote!
Home Insurance in Greenwood Cost by Dwelling Coverage Limit
Dwelling coverage limits are one of the key factors that insurers consider when setting premiums. You'll generally pay a higher premium if you choose a high dwelling coverage limit. However, it's important to ensure adequate coverage to protect your home during a loss. If you have a mortgage on your home, your lender may require you to have a certain amount of dwelling coverage to protect your investment.
In Greenwood, South Carolina, a policy with $200,000-$299,999 in dwelling coverage costs an average of $1,181 per year. However, if your home is worth more, you'll want more coverage, so homeowners wanting $400,000-$499,999 in dwelling coverage will pay an average of $1,823 in Greenwood, South Carolina.
| Dwelling Coverage Limits | Average Annual Premium (incl. Windstorm & Hail Coverage) |
| --- | --- |
| $100,000.00 - $199,999.00 | $1,044.73 |
| $200,000.00 - $299,999.00 | $1,181.17 |
| $300,000.00 - $399,999.00 | $1,478.16 |
| $400,000.00 - $499,999.00 | $1,823.29 |
| $500,000.00 - $599,999.00 | $2,245.69 |
How the Age of Your Greenwood Home Affects Your Insurance
The age of your home can affect your insurance in many ways. Older homes are more at risk of electrical, plumbing, and heating/cooling complications. These issues increase the risk of fire and water damage in homes. Also, older homes can be less structurally sound than newer homes. This could lead to more damage when natural disasters-like hurricanes- come through. All of these can result in higher insurance premiums. In contrast, newer homes may be immune to these issues, making them cheaper to insure.
How Does My ZIP Code Affect My Home Insurance?
While some factors regarding your location, such as the probability of severe weather, are calculated at the city or county level. Some factors are analyzed as specifically as your zip code or neighborhood. Since the size and build of your home are usually consistent within neighborhoods, the location of your home plays a significant role in determining your risk of covered perils. In Greenwood, the ZIP code 29649 has the lowest average annual premium of $1,288 for TGS customers. The ZIP code with the highest premium is 29646, costing TGS customers an average of $1,345 a year.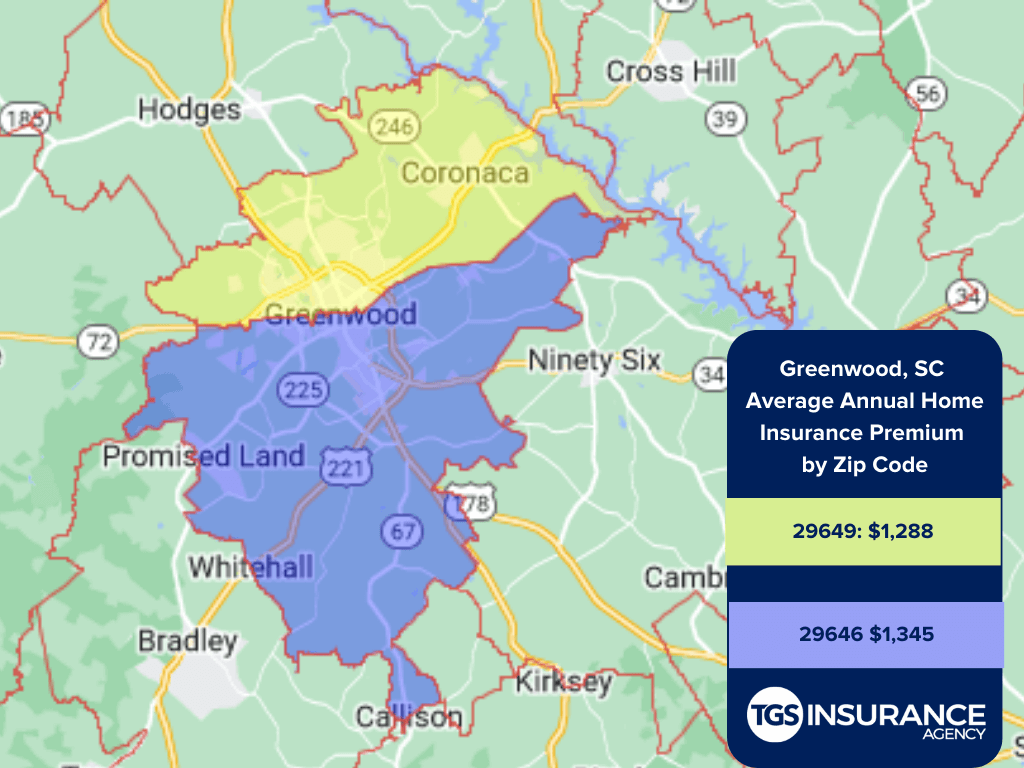 Greenwood Zip Codes We Insure
Zip code not listed? Don't worry! We can help homeowners throughout South Carolina save money on their home insurance. Get started with a free instant quote by providing your address above.