Shopping For Cheap Simpsonville Home Insurance Is Easier Than You Think 
As an independent agency, we represent 55+ top-rated insurance carriers, which allows us to offer comprehensive insurance options to meet your every need. The best part? Our highly qualified homeowners insurance agents do the hard work for you, making your home insurance shopping process easy and stress-free. Your savings start with an instant, free quote. Our agents are ready to help you further customize your quote and find any discounts you might qualify for! 
We shop. You Save. Yes, it really is that easy.
What Does Simpsonville Home Insurance Cover?
Most home insurance policies include some level of the following types of coverage. 
| | |
| --- | --- |
| Coverage A | covers damages to your home |
| Coverage B | covers damages to additional structures on your property such as detached garages, sheds, or fences |
| Coverage C | covers damage to personal property such as furniture, electronics, and clothes |
| Coverage D | covers additional living expenses if your home becomes uninhabitable due to a covered loss |
| Coverage E | covers personal liability including coverage for claims arising from accidents on your property |
| Coverage F | covers medical expenses for injuries occurring on your property for those outside of your household |
When it comes to home insurance in Simpsonville, there's no shortage of options. A standard policy typically covers a variety of losses, including damage caused by weather, theft, and accidents. But not all policies are created equal. That's why it's important to work with a knowledgeable agent who can help you navigate the complexities of home insurance and tailor your coverage to fit your needs. Whether you need more protection for your personal belongings or additional liability coverage, we've got you covered.
How Much Does Simpsonville Home Insurance Cost?
On average, a TGS customer in Simpsonville would pay $1,356 per year for home insurance. Home insurance rates vary based on several factors, including your home's age, value, and location, as well as your credit score and desired coverage levels. This average is based on policies with an average home value of $341,053 and includes windstorm and hail coverage with a 2% deductible. TGS Insurance Agency offers customizable options to all our customers so you can find the right policy and pay what you want. Get started with a free instant home insurance quote by providing your address above.
Average Homeowners Insurance Cost by Coverage Level in Simpsonville
The cost to replace your home is essential to determine the dwelling coverage you need on your home insurance policy; this limit directly impacts your home insurance premium. On top of affecting your average annual costs, having an accurate replacement cost can prevent you from being underinsured if a covered loss takes your entire house. These are the average annual home insurance costs in Simpsonville, South Carolina, based on dwelling coverage limits associated with the policy. 
| Dwelling Coverage Limits | Average Annual Premium (incl. Windstorm & Hail Coverage) |
| --- | --- |
| $100,000.00 - $199,999.00 | $1,008.06 |
| $200,000.00 - $299,999.00 | $1,104.26 |
| $300,000.00 - $399,999.00 | $1,354.28 |
| $400,000.00 - $499,999.00 | $1,649.04 |
| $500,000.00-$599,999.00 | $1,918.96 |
| $600,000.00-$699,999.00 | $2,091.90 |
How Simpsonville Home Insurance is Affected By the Size of Your Home
When it comes to determining the cost of your home insurance, there's a lot that goes into it. Carriers will look at your home's age, location, and size- among other things. The size of your home is a factor because it affects your replacement cost. 
If you have a house with higher square footage, your home will be more expensive to rebuild if a total covered loss damages it. If you think about it, a larger house requires more building materials, time, and manpower to rebuild from the ground up. It goes the other way for smaller homes. If you have less house to rebuild, your home insurance premium will be lower. 
Does My ZIP Code Affect Home Insurance Premiums in Simpsonville?
Insurance carriers look at more than your home state when pricing your premium- they can get as specific as your ZIP Code. For example, in South Carolina, when you are closer to the coast, you may experience higher annual premiums because of your risks of perils like flooding and hurricanes. In Simpsonville, the ZIP code 29680 is the area with the lowest premium of $1,246 for TGS customers. The ZIP code with the highest premium is 29681, costing TGS customers an average of $1,412 a year.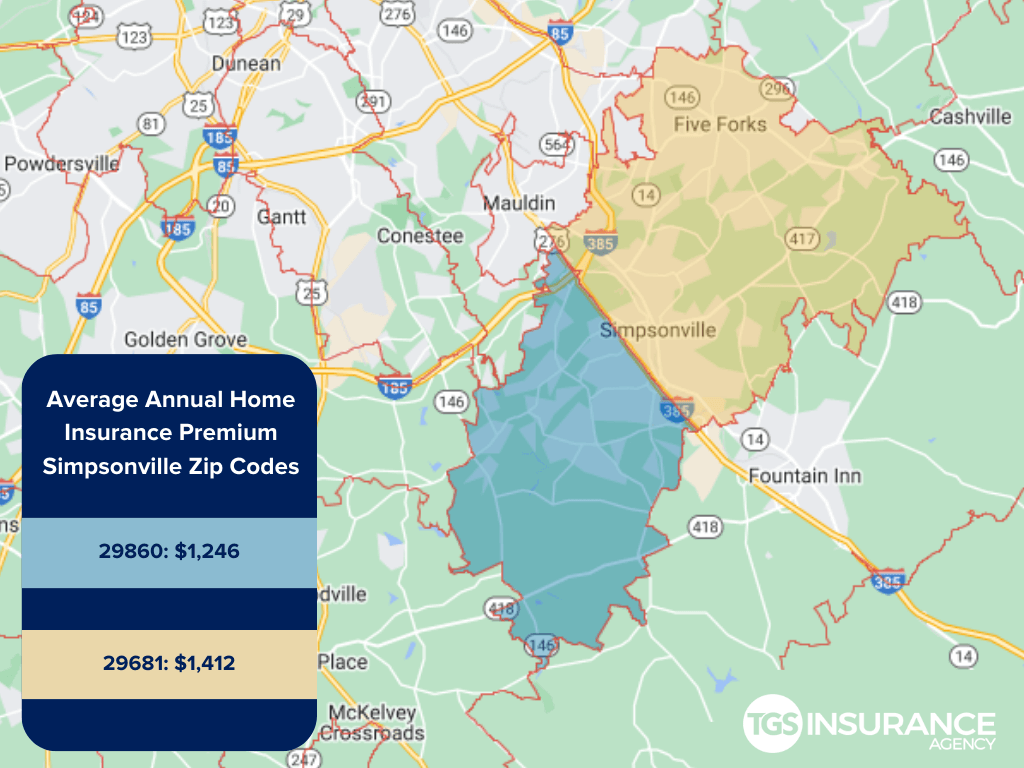 Zip Codes in Simpsonville TGS Insurance Covers
Don't see your zip code? We've got you covered! We make shopping for the best home insurance easy and hassle-free for all residents throughout South Carolina. Get started today with a free, instant quote!