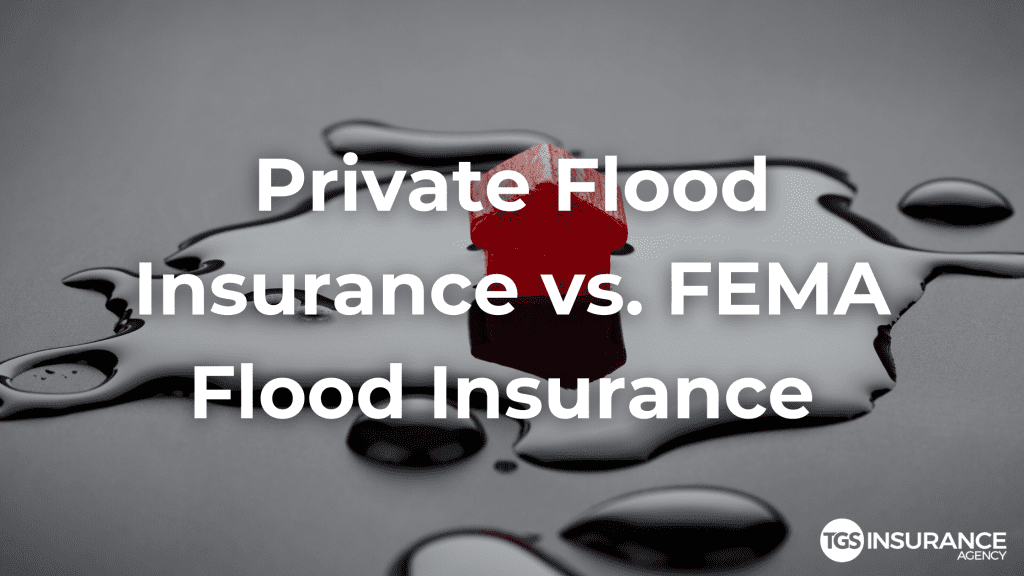 If you're in the market to buy flood insurance, there are many options you can choose between, from private insurers to government programs. Back in the day, there were few choices for homeowners to buy flood insurance and primarily relied on policies written by the National Flood Insurance Program (NFIP) through FEMA. But, since the emergence of private insurers, homeowners can obtain cheaper policies- but the grass isn't always greener on the other side. There are both pros and cons to buying either through the government or private insurers, so let's review what you need to know about the difference between private flood insurance vs FEMA flood insurance.
What is FEMA flood insurance?
The National Flood Insurance Program (NFIP) is managed by FEMA and provides homeowners with flood insurance policies through a network of 50 carriers and the NFIP Direct. The program was created in 1968 by Congress to help those living in high-risk flood areas. The NFIP offers up to $250K for property damage with an additional $100K max for contents coverage.
What is private flood insurance?
Private flood insurance is flood coverage offered by private insurance companies and not through FEMA's NFIP program. Flood insurance policies typically offer more robust comprehensive coverage limits than NFIP policies and depending on your insurer, more benefits such as loss-of-use coverage.
Private flood insurance vs. FEMA
There are quite a few differences between private flood insurance policies and NFIP policies, but the biggest differentiator is policy stability. Private insurers can cancel policies at renewal, leaving you without coverage and on the hunt for a new policy. NFIP policies cannot be canceled, so you've got coverage for life- so long as you're paying your premium. On the flip side, private flood insurers typically offer more benefits, such as loss-of-use coverage or more coverage in general.
| | Private Flood Insurance | National Flood Insurance Program (NFIP) |
| --- | --- | --- |
| Accepted by lender | Yes | Yes |
| Availability | Varies by state | All 50 states plus US territories |
| Building coverage | Replacement cost value or actual cash value (depends on policy) | 80% of full replacement cost or max amount of coverage available |
| Cancellation by carrier | Yes | No |
| Certificate of elevation requirement | No, but may help you get discounts | Yes if in a high-risk area |
| Contents coverage | Replacement cost value or actual cash value (depends on policy) | Actual cash value up to $100,000 |
| Debris removal | Yes but will vary by provider and policy | Yes |
| Loss-of-Use or Alternate Living Expenses (ALE) Coverage | Yes but will vary by provider and policy | No |
| Rebuild limit | $500,000+ depending on the policy | $250,000 |
| Waiting period | 15 days or less | 30 days |
What flood insurance policy should I buy?
Purchasing insurance is no easy feat, but the best way to buy flood insurance (or any for that matter) is to assess your current situation and shop your policy around for the best coverage and price. Some questions you should ask yourself are:
Do I need higher claim limits? If your home and personal property are worth more than what's offered through NFIP, then a private insurer is likely your best bet.
What benefits do I want? Should something happen to your home, forcing you out for some time while repairs are being made, do you have somewhere else you and your family can call home?
What can I afford? Finding a policy that works best for your budget is key here. You don't want to be underinsured to help save, but you also don't want to pay for more coverage than you need.
Do I live in a high-risk area? Where you live can help you determine what type and how much coverage you should carry. Even if you don't live in a flood zone, it's advised to carry some basic flood insurance policy because 25% of claims come from homes living outside flood zones. If you live in a high-risk area, a flood insurance policy is likely required as part of your mortgage.
Like homeowners insurance, buying a flood policy isn't a one-size-fits-all sort of thing and a decision that shouldn't be taken lightly. Sit down and make a list of what matters most to you regarding budget and coverage and talk to your insurance agent. Your agent will provide you with their recommendations on what they think is best for you.
How do I buy flood insurance?
Flood insurance can be purchased by contacting your home insurance agent, shopping for a policy through a list of NFIP's government-backed providers, or shopping through private insurers such as Assurant or Neptune.
However…
For the easiest insurance buying experience, use the experts at TGS Insurance. Your dedicated insurance agent will shop your policy across our bank of 35+ providers (both NFIP-backed and private) to find you a policy that is perfectly balanced in both coverage and price!
How much does flood insurance cost?
Policy premiums vary depending on coverage details and your home's location, so the price fluctuates across the board. The average NFIP policy costs around $700 per year, whereas the average policy through a private flood insurer costs anywhere between $400 to $700 per year.
Get the right flood insurance coverage with TGS Insurance
We know shopping for insurance can be confusing and meticulous, which is why we've created an insurance buying experience that's second to none. We not only find you the best policy the market has to offer, but we'll handle everything from start to finish, as well as monitor your renewals year after year to ensure you're always paying the lowest rate for the same (or better) coverage! Get a hassle-free flood insurance quote now and see why over 15,000 Texans trust TGS Insurance for all of their insurance needs.
Instant Home Insurance Quote
Recent Home Insurance Articles: