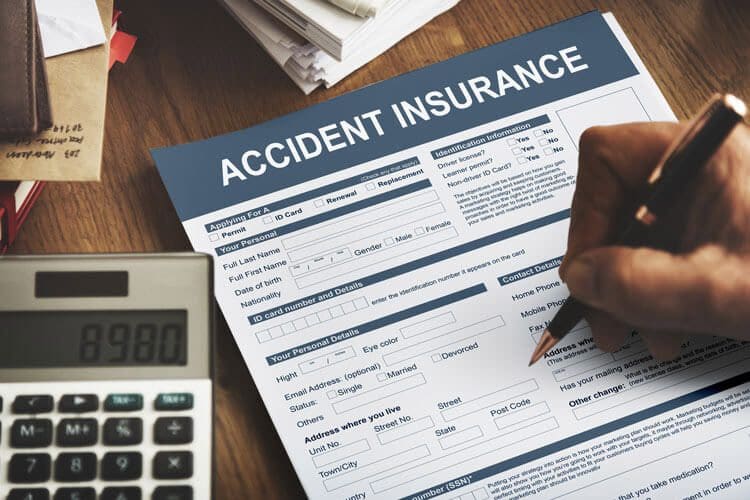 Accidents can happen and when it comes to driving, they're often unavoidable. However, when you're at fault, things can get a bit more complicated and worse…more expensive. On top of being financially responsible for a car accident, your insurance rate will also increase upon your next renewal. 
To keep from your auto insurance rates skyrocketing, there's actually something to help with that, it's called accident forgiveness protection. While this may seem like it's too good to be true, for those who may be accident-prone or unwilling to take on the financial risk, it may be a good thing to add to your auto insurance policy. Before you do, here's what you need to know. 
What is Accident Forgiveness Protection?
If you've had an accident and you're at fault, it's likely that your auto insurance premiums will increase as a result. Because your driving record determines your rates, being the driver who caused an accident will mean your rate will increase around renewal or when shopping for a new policy. 
Why is accident forgiveness protection a handy thing to have? It's because it's meant to help policyholders keep their rates down and can be purchased either as an add-on coverage option or have it automatically part of your auto policy or a mix of both. 
There are some important things to remember about accident forgiveness: 
Not every insurance provider offers accident forgiveness protection. In addition, not all states permit accident forgiveness, like California for example. 

Accident forgiveness isn't a free-for-all, there are some limitations. Accident forgiveness usually applies to one accident each policy, no per driver on your policy.

For example

, "Farmers forgives one at-fault accident for every three years you drive without an accident."

Even if your accident is "forgiven" by your insurance provider, it will still remain on your driving record by your insurance provider. So if you decide to shop your rates, other insurance companies will still have access to your driving record, and the accident could increase your future rates should you decide to swap insurers. 
What is a Chargeable Accident?
A chargeable accident is when you are to blame for an accident by your insurance provider. If you are more than 50% to blame, then your accident might be chargeable. A chargeable accident also includes damage to someone else's personal property, injury, or death.
A chargeable accident can be something as small as a minor fender bender in the Target parking lot to totaling someone's car. If the insurance provider concludes that the accident is chargeable, you can incur additional costs to your policy. 
Unfortunately, a chargeable accident may be stuck on your record for a while. Depending on your insurance provider, they might lower your fees every year you don't have an accident. In most states, your fees can continuously decrease over a three-year period until it disappears completely. It is important to remember that the fees will go down only if you are accident-free. 
On a positive note, not every kind of accident will lead to your rate increasing. Here are some examples of accidents that don't usually result in a rate increase: 
Defective tires were the result of an accident.

The accident was caused by physical loss caused by flying gravel, missiles, or falling objects.

The accident was affected by contact with an animal.

The other driver was convicted of the moving violation, but you were not.

You were involved with a hit-and-run driver.

Your car was rear-ended, and you are not convicted of a moving traffic violation in relation to the accident.

Your car was parked and was struck by another vehicle.
The Rules of Accident Forgiveness 
Even if your car insurer provides accident forgiveness coverage, you may not qualify and in some cases, you won't even be eligible for this type of protection. Below are some examples of the typical necessities and exclusions:
Having a clean driving record is typically required to be eligible for accident forgiveness insurance. 

Accident forgiveness doesn't mean you have a free pass to get into an unlimited number of wrecks and expect to be covered. Accident forgiveness only covers for one accident per policy. 
Alternate Protection Options for Responsible Drivers
Accident forgiveness is not an option that everyone can get. For example, some policies won't allow you to purchase accident forgiveness coverage if you have any drivers on your policy who are under the age of 21 or have been driving for less than three years. 
Good Driver Discounts
If you are not eligible for accident forgiveness, there might be a different option for you if you are considered a safe driver. For example, Geico offers a policy called "Five-Year Accident-Free Good Driver" discount, where drivers with a five-year clean driving record are qualified for a 26% discount on most types of protection.
Vanishing Deductibles
Another type of savings for safe drivers is a "vanishing deductible." This is typically an add-on that compensates safe drivers by decreasing their deductible expenses for claims as long as they maintain a safe driving record. For example, Travelers offers a Responsible Driver Plan which provides a "Decreasing Deductible" that gives you a $50 credit toward your deductibles for every six months you are accident-free.
If you are not eligible for accident forgiveness or don't want to pay for additional protection to your policy, then check with your insurance provider or the agents at TGS Insurance to see what your options are for a safe driver.
Insurance Providers That Provide Accident Forgiveness Insurance
Each insurance company has different benefits and requirements, so it is important to fully understand which type of policy best fits your needs. Here is a list of providers that have accident forgiveness programs:
Nationwide

Progressive

Travelers

Allstate
Should I Purchase Accident Forgiveness?
If you are considering adding accident forgiveness to your car insurance to your policy, there are a few things to keep in mind. 
First, you will want to consider the cost of accident forgiveness protection. If your insurance provider doesn't provide it for free, you'll want to determine if the cost of protection doesn't surpass the possible price of a policy increase. For example, if the price for the coverage is $150 each year and you don't have an accident for 10 years, then you're spending an additional $1,500 for protection you didn't end up needing. Additionally, if all the drivers on your policy have a clean record and are experienced drivers, then adding accident forgiveness might not be worth the additional expenses. And if you're also someone who doesn't drive much, it's likely not worth it. 
On the other hand, if you are considered a high-risk driver, then adding accident forgiveness to your policy or seeking out a provider that includes it as part of your initial policy might be valuable. Or if you're just someone who doesn't like to play with risks, it's good protection to have and can't hurt anything. 
At TGS Insurance, we'll always make the best recommendations for you on your auto insurance policy so you're always 100% protected when you need it most. Contact our team today to figure out how we can help you get an auto insurance policy with all of your coverage needs, at a rate that doesn't break the bank. 
Source: Forbes