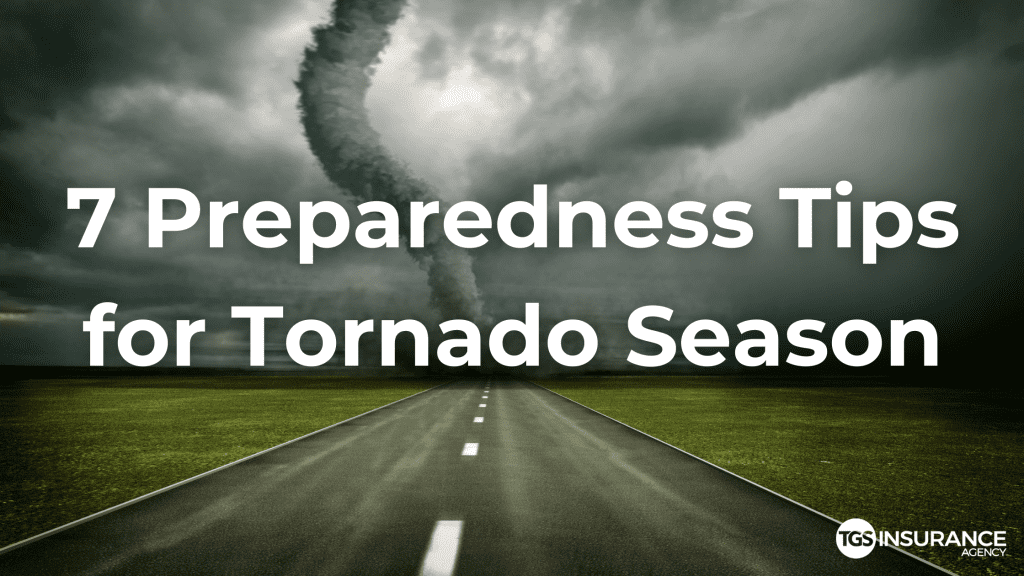 Tornadoes can cause serious damage to homes, buildings, cars, people, and so much more, so it's important to know what to do in the event a tornado strikes in your area. While the weather is out of your control, you can take the proper precautions to help prepare you, members of your household, and your home for tornadoes. With peak tornado season in Texas being in May through June, now is the time to start preparing. Here are seven tips to help every homeowner to stay safe during tornado season.
Understanding the Difference Between a Tornado Watch and a Warning
Knowing the difference between a tornado watch and a warning is an essential part of the preparedness process. A tornado watch means that a tornado could happen in your area, whereas a tornado warning means that a tornado has been spotted in your area. If your area is under a tornado warning, then it's time to take action and you should find shelter immediately.
Prepare Your Home for Tornado Season
It's important that every year you take some time out before tornado season hits to get your home ready, especially if you need to hire a professional to help with some of the work. A great place to start is to have your trees trimmed so that diseased or damaged branches are removed. You will want to move or secure debris and other loose items outside your home such as outdoor furniture or lawn decorations that can transform into a hazardous projectile during a tornado. If tornadoes frequently happen in your area, you may want to consider installing permanent shutters on your windows that can be easily closed before a storm. In addition, Ready.gov recommends signing up for your community's warning system such as the Emergency Alert System and NOAA Weather Radio to receive emergency alerts.
Create a Family Tornado Drill
You may have practiced tornado drills in school, but did you ever plan a tornado drill for your home? Having a tornado drill in place for you and members of your household can help keep everyone on the same page on where to go and how to stay safe. Your tornado drill needs to include a plan with which rooms in your home are the safest when a tornado strikes. For example, if your home has a basement, that should be your meeting spot. If your home doesn't have a basement, then the CDC suggests going inside a room that doesn't have windows on the lowest floor level such as your bathroom, closet, or center hallway. For more protection, get under something sturdy such as a heavy table or workbench.
Be Extra Cautious While Driving on the Road
If you are in your vehicle and a tornado is close by, pull over or find shelter in a sturdy building if possible. If you have no other option but to stay in your vehicle, Travelers advises that you should secure your seat belt, and put your head down below the window covering it with your hands or a blanket if you have one. It's also recommended to avoid stopping under bridges and tunnels because these over and under passages channel high winds, making them more dangerous than being out in the open.
Pack an Emergency Kit
If a tornado hits your area, your electricity may be out for a while and you may not have clean water for a few days. That is why you should always prepare an emergency kit before the start of tornado season with basic essentials. Ready.gov recommends a basic disaster supplies kit should include:
One gallon of water per person per day for several days, for drinking and sanitation
Non-perishable food for at least three days (Don't forget about pets!)
Battery-powered radio
Flashlight
First aid kit
Extra batteries
Whistle to signal for help
Dust mask to help filter contaminated air
Moist towelettes, garbage bags, and plastic ties for personal sanitation
Wrench or pliers
Manual can opener
Local maps
Cell phone with portable charger
Inspect For Damage After a Tornado
Just because you no longer hear the whistling winds anymore, doesn't mean that it's safe to leave your shelter. Stay in your sheltering area until the tornado warning has expired. When you do have the go-ahead to leave your shelter, you'll need to start documenting the damage immediately by taking pictures and videos of your home, vehicle, and personal property. Contact the authorities if there is debris blocking you from leaving your home and if you see power lines down or think there could be a potential gas leak that can lead to a fire hazard.
Contact Your Insurance Agent
Tornadoes are covered under your homeowners insurance policy as a windstorm event, however, if you live in a coastal region windstorm protection may be excluded, and you may need a separate windstorm insurance policy. Be sure to talk to your agent about what tornado coverage you do and don't have. It's imperative to do this before tornado season so if you need to add/update coverage, you've got enough time to do so. Also, you'll want to double-check you've got the coverage that you need, so you're not left underinsured should you suffer a loss.
Get Insured Against Tornadoes With TGS Insurance
At TGS Insurance, we automatically include a 2% wind/hail deductible into every policy we write, so you can have peace of mind knowing you're fully protected! Talk to one of our agents today about adding more coverage to your homeowners insurance policy or if you need to purchase windstorm insurance and we will find you a policy that is tailored to your needs and budget.
At TGS Insurance, we want our customers to have the resources they need to be prepared for any situation. (Along with a great insurance policy to protect you too!) By taking the proper steps before tornado season, you can help minimize your risk of severe damages to you and your home, as well as keep you and your family safe!
Source: Allstate