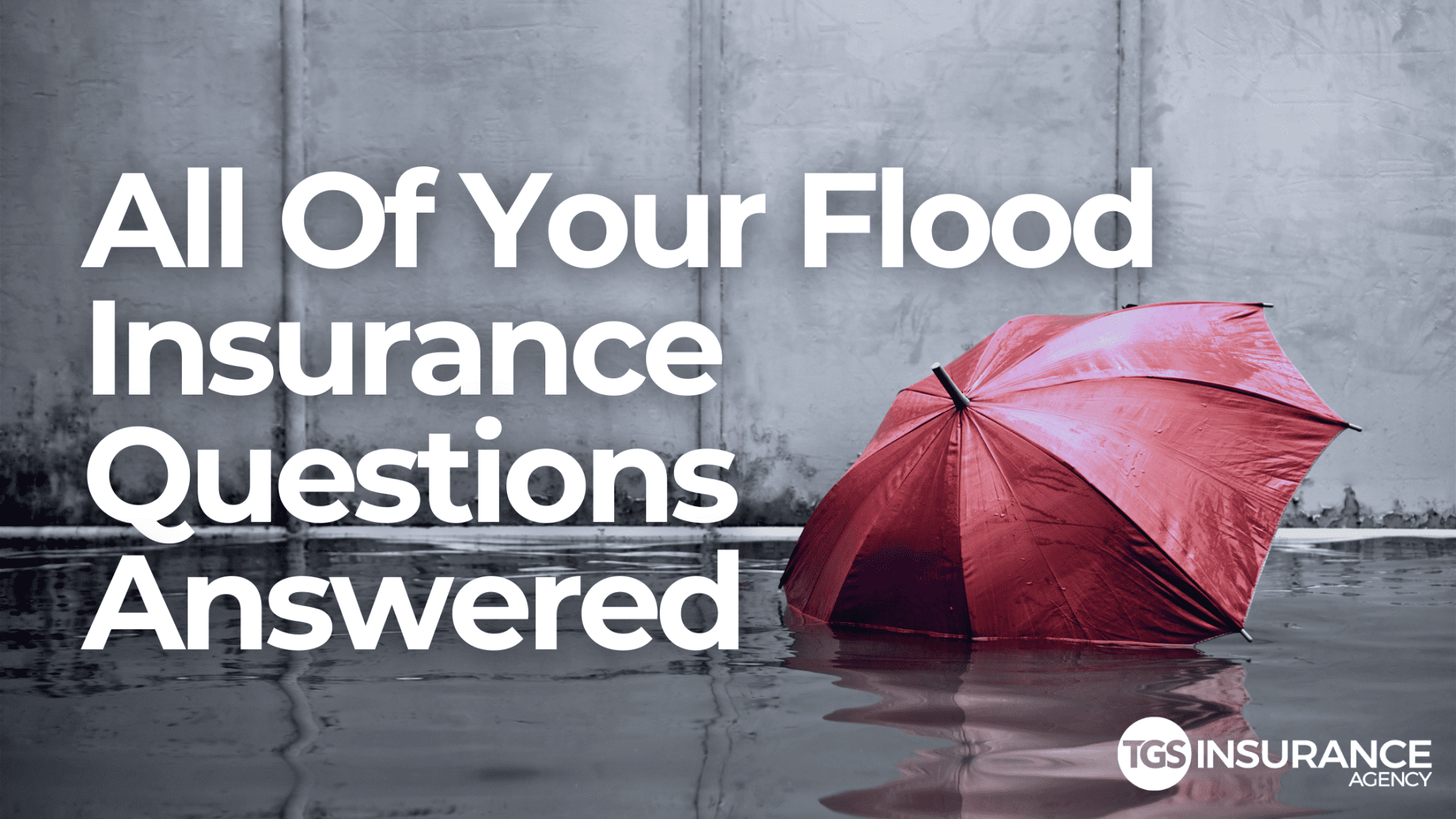 When your home floods, you'll likely have plenty of questions amidst the chaos. Flooding is one of the worst perils a homeowner can face and with "once in a lifetime" floods seeming to occur far more frequently than that statement would suggest, homeowners need to be prepared. Having the right flood insurance policy can be the difference between the start of restoring what is lost and adding more hurdles to your recovery. Learn more about how flood insurance works and what you can do to protect yourself against this destructive force of nature.
Do I Need Flood Insurance If I Have Home Insurance?
While flood insurance isn't always a requirement, it is always recommended. This is because your home insurance policy, while an important instrument for protecting your home, does not protect your home against flooding. Water damage caused by flooding that occurs outside of your home, including flood events from a swimming pool, is not covered by a home insurance policy, and without the right protection, you'll be stuck paying the bill alone. 20-25% of all flood claims come from outside of flood zones, meaning, flood insurance is important no matter where your home is located.
*Note: Most homes don't require flood insurance but homeowners using federally-backed mortgages must have flood insurance.
Do I Need Flood Insurance If I Rent?
Homeowners aren't the only ones who can benefit from flood insurance; renters would need flood insurance in the event of a flood to protect their personal property. The structure you rent would be your landlord's responsibility but possessions are a different situation. Renters insurance protects against a variety of perils including theft and fires but flooding is not a covered peril. Adding flood insurance prevents a gap in coverage during such events. 
What Is the Cost of Flood Insurance?
The average cost of flood insurance for homeowners can cost between $400 and $1,000 a year depending on where your home is located. At TGS Insurance, the average Texas homeowner spends under $700 a year, but many different factors go into creating your flood insurance premium, similar to how your home insurance premium is created:
The flood zone your home is located in (high-risk homes will have higher premiums)

Which coverage options you choose to enroll in

The cost of your home's building materials and your personal possessions

The year your home was constructed

The method in which your home was constructed (i.e. building materials, how many stories, the design of your home, etc.)

Your property's elevation and the elevation of your utilities and other contents
Because there are so many different factors and no two homes will have the same features and coverage needs, flood insurance rates can vary from home to home. The best way to determine how much you will pay for your flood insurance coverage, as well as finding the best coverage for the lowest price possible, is to comparison shop among brands and government rates. TGS Insurance assists homeowners in finding the coverage they need for the lowest rate on the market by comparison shopping among top-rated insurance brands and comparing government rates for all of our clients.
Do I Need Flood Insurance if I Don't Live in a High-Risk Area?
Yes, every property is at risk for flooding, regardless of the area. FEMA stated " it's five times more likely to flood than to experience a fire in a 30-year period. More than 20 percent of flood insurance claims are from properties that are not in high-risk flood zones." So if you live in a city that can flood, it's not a terrible idea to purchase flood insurance.
On the flip side, if you live in a neighborhood that is a part of the National Flood Insurance Program (NFIP) it's highly recommended to purchase a flood insurance policy.
Is Flood Insurance Worth It?
Yes, Some might not realize that even minor flooding can cause consequential damages. According to FloodSmart.gov, an inch of water damage in a home can cost up to about $25,000 in damage, and the typical insurance claim for individuals who have flood insurance is about $30,000.
When Should I Get Flood Insurance?
As soon as possible. Flood insurance is issued through either private insurance companies but mostly from the National Flood Insurance Program (NFIP) which is provided by FEMA. Homeowners looking to receive flood insurance will have to wait 30 days for their coverage to kick in while private insurance brands require a waiting period that may be shorter.
Can Anyone Buy Flood Insurance?
Flood insurance isn't just for homeowners in single-family homes, it's accessible for renters and commercial property owners too. Anyone wanting to protect their personal belongings and business is eligible for flood protection.
What Coverage Options Are Available for My Flood Insurance Policy?
For residential homeowners, the NFIP coverage limits $250,000 in coverage for your home's structure and $100,000 for the contents within your home. Each of these coverages is separate and both require separate deductibles. Your lender may require that your deductible(s) be set at a particular maximum, however, the higher your deductible(s), the lower your premium(s). According to FEMA, because each coverage is separate, should both your home and its contents become damaged, you'll need to meet your deductible for both separately to file a claim.
Will Flood Insurance Cover All Of The Damages?
Like typical insurance policies, flood insurance does have limits. According to FEMA, the common flood insurance policy covers about $250,000 in-home repairs and about $100,000 for personal belongings.
Commercial property owners usually receive a higher purchasing coverage plan and can typically collect up to $500,000.
How Do I Know If My Home Is In a Flood Zone?
To determine if your home is located in a high-risk flood zone, you can check out your address with this interactive map from FEMA. Remember, even if your home is located in a low-risk area, flood insurance is still an important coverage to maintain. Since 1996, the United States has seen 99% of its counties affected by flooding.
How Do I File a Claim With My Flood Insurance Provider?
Filing a claim with your flood insurance provider doesn't have to be as complicated as you think. Following these steps from FEMA, with a few additional suggestions from the experts at TGS Insurance, will help you effectively file your claim:
Contact your insurance agent as soon as it is safe to do so

. Homeowners must prove that there was a loss within 60 days of the flooding event. Time is of the essence. Your insurance agent is an expert and is ready to help guide you through these difficult times.

Apply for disaster assistance if applicable

. This is only possible should the President of the United States declare the affected area a disaster, but starting the process as soon as possible is important. To do so, affected homeowners can

apply online here

.

Document everything

. It is important to document as much as possible so that there is evidence to show what you have lost. To help with this, we've written a guide for creating

a comprehensive home inventory list

.

Work with your claims adjuster for further documentation

. Here, you'll gain an even deeper understanding of what your policy covers, what your adjuster needs to submit your claim, and how the process will proceed.
From here, you will then receive compensation to help restore what has been lost and return your life to a sense of normalcy.
What Causes a Flood Insurance Company to Deny a Claim?
You may think that your claim is a no-brainer, but your flood insurance provider may think otherwise. Learn some of the reasons flood insurance claims are denied by insurance companies:
The event suffered wasn't considered a flood event. Flooding must affect two acres of land or two or more properties due to excessive water on land that is ordinarily dry to qualify.

If the damage in question was there before the flood.

Your damage is determined to be caused by something other than flooding. (Ex. During a hurricane if you were to suffer a loss that you believe is damaged by flooding but is found to be the result of wind damage or if earth movement causes you to suffer a loss.)
If you are unsure about your flood insurance company denying your claim, be sure to speak with your agent to revisit your policy. You may also need to seek the opinion of a public adjuster as public adjusters work in your interests rather than your insurance company's.
Note: Flood insurance protects alongside homeowners insurance but during events such as a hurricane or a tropical storm, homeowners without windstorm insurance can find themselves in a very difficult situation. Be sure to avoid lapses in coverage with a proper windstorm insurance policy to stay better protected. TGS Insurance writes-in windstorm/hail coverage into each homeowners insurance policy we write for our clients to help them prepare.
Does Flood Insurance Cover Burst Pipes?
Some flood insurance policies may cover burst pipes but the general answer is no. You may rely on your home insurance policy in the event of burst pipes, however, here it will also depend on whether or not the event is sudden and accidental and if your policy considers it a covered peril. Speak with your insurance agent to better understand your policy and its coverages as no two policies are alike.
Doesn't the Government Cover Flooding With Aid?
Yes, but there are some harsh caveats:
First, the President of the United States must declare an emergency for the area that is experiencing flooding.

While you may receive assistance aid could come slowly and may not be near the amount you expect nor enough to restore what is lost. Though FEMA is capable of paying a maximum of $33,000 for disaster assistance, homeowners often find that their actual payments are far less. Take a look at our chart below.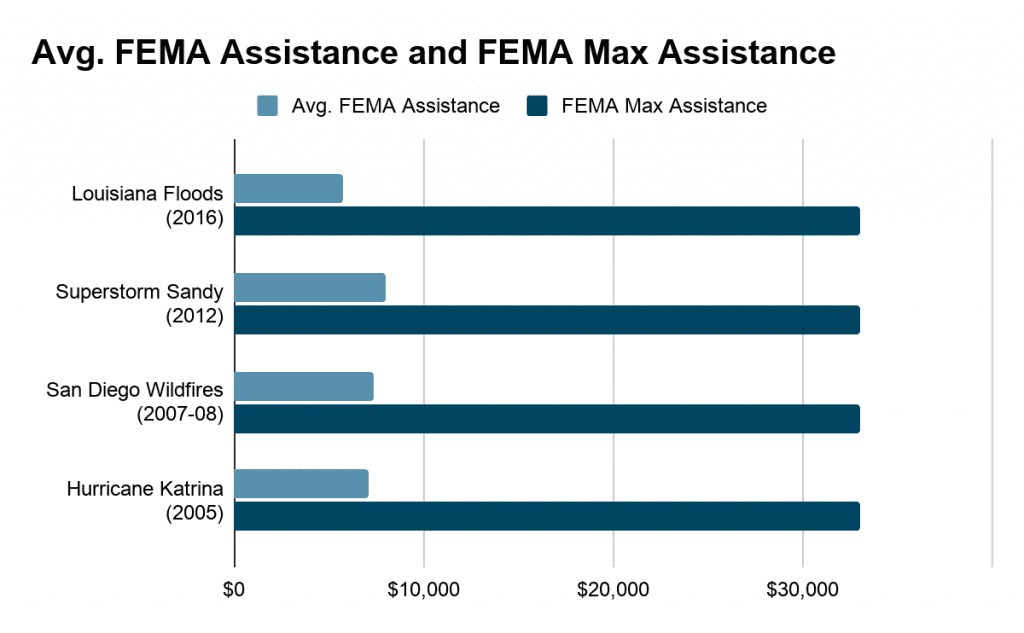 *Source: The Advocate
The bottom line, while there are cases in which disaster assistance from the government can be beneficial, it is always best to have a specific flood insurance policy to make sure that you are adequately covered.
Do Flood Maps Change?
A flood map displays an area's chance of flooding. What most people don't realize is that a home or property's chance of flooding can shift over time. As a community grows, the flood map changes to accommodate new construction and fewer green areas, resulting in less space for drainage. Other weather conditions and wildfires can also contribute to flood map changes, so it's always a good idea to stay up-to-date with any flood map changes.
Should I Get Flood Insurance if I Live in a 100-Year Flood Plain?
This term doesn't mean a flood will happen once every century, it means it has a 1 in 100 chance of flooding any year according to FEMA. So say your property is in a 100-year flood plain and it flooded last year, it could still flood this year.
It's crucial to be aware and prepared when it comes to a possible flood. The more you understand what is covered in your homeowners insurance policy and flood insurance policy, the better off you'll be.
How Do I Find the Cheapest Flood Insurance?
The best way to find the cheapest flood insurance policy for your home is to compare rates among private insurers and the NFIP. In Texas, homeowners pay $634 a year for their flood insurance, but not at TGS Insurance. Our clients pay an average of only $528 on their flood insurance each year. Contact us today to protect your home from flood events all while saving money before it's too late!