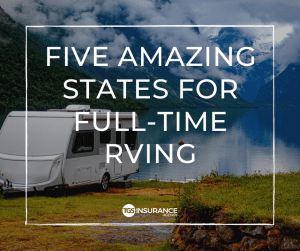 Traveling the country in an RV is a great way to take a trip for some, but for others, it's just not enough. Choosing to spend your life in an RV gives you endless destinations on the open road but picking a state to call home can be a bit daunting. Whether you're looking for a new place to visit or stay permanently, check out our top five picks for states that will take your RV-living experience to the next level. 
Texas
Texas is perfect for the RV lifestyle you know and love! The Lonestar state is one the biggest in the US and there are lots of different places to go. You can travel the coastline around Galveston or explore the desert in West Texas at Big Bend National Park. Or if you're more into a scenic countryside adventure, the Hill Country is calling your name. The running joke in Texas is that there are no seasons, just heat. But if you visit the northern parts of the state during the winter months you can enjoy a few inches of snow from time to time. Texas is a beautiful place to visit or live and offers a wide variety of different landscapes to explore. 
Arizona
Things can get a bit toasty in the summer but Arizona is a great place to be year-round to enjoy the best in RVing. When it comes to national parks you would be hard-pressed to find a better state than what Arizona has to offer. The Grand Canyon alone is a never-ending source of adventure and wonder. The Petrified Forest is another popular adventure as is taking a cruise down Route 66. There are many more places to hike, explore, and gaze up at the clear sky to reconnect with nature, and with a winter that keeps its day temperatures fairly mild, Arizona makes a great full-time RV destination. 
Florida
It's impossible to write about RVing without including the Sunshine State. Though Florida is known for its crystal blue waters and white sandy beaches, the state has so much more to offer. Popular places include The Everglades, Lake Okeechobee, various theme parks such as Disney World and Universal Studios, and historical locations such as the Castillo de San Marcos. The state stays relatively warm all year round and is also income-tax-free making it a great place to call home.
California
California makes our list as one of the best states for full-time RVing because, like Texas, the Golden State has beautiful beaches, famous forests including Big Basin Redwoods State Park and Anza-Borrego Desert State Park, as well as deserts and the Transverse Ranges- perfect for RV owners who want to bask in the great outdoors. California boasts many outdoor activities including swimming, surfing, hiking, skiing and so much more! For someone looking for a bit of everything, California is a great place to call home. 
South Dakota
South Dakota is one of the top destinations for RVers all across the US because of the state's natural wonders and idealistic landscape. South Dakota is home to a gorgeous landscape and picturesque wilderness. The Mount Rushmore State is home to you guessed it, Mount Rushmore, as well as Badlands National Park, Falls Park, Crazy Horse Memorial and Wind Cave National Park. Another reason to call South Dakota home? There's no yearly requirement to bring your vehicle in for inspection, as well as some other great tax benefits. With under a million people within the entire state, this is a great place to escape the city for a more rural lifestyle.
RV Insurance You Can Count On
At TGS Insurance, we work with a range of top-rated insurance carriers so we can always provide our policyholders with the best coverage possible at an even better rate. If you're wanting to take your life on to the open road, talk to our team so we can help save you some money while also keeping you and your RV properly covered. Don't wait, contact us today to get your easy hassle-free quote!