Getting a West Columbia Home Insurance Quote is as Easy as 1-2-3! 
Getting the best homeowner's insurance in West Columbia is easy when you use TGS Insurance's proprietary online quoting tool for a free, no-obligation quote. Did we mention it only takes 15 seconds?
Enter your address

View your quote 

Customize your coverage with the guidance of one of our expert independent agents
West Columbia Home Insurance Coverage: The Basics
If you're like most homeowners in West Columbia, your home is your most valuable asset, and you should protect it as such. It's important to understand that when you create your home insurance policy, it should meet your individual needs. Insurance companies offer different levels of coverage, endorsements, and protections with varying conditions and limitations that enable policies to be customized. With that in mind, the most common types of coverage you will see on a homeowners insurance policy include: 
Dwelling coverage for the structure of your home.

Other structures coverage for structures not attached to your home, like detached garages, sheds, and fences.

Personal property coverage for replacing and repairing furniture, electronics, clothing, etc.

Loss of use coverage for additional living expenses if you need to stay somewhere else while your home is being repaired.

Personal liability coverage for legal bills if someone gets injured on your property or you cause damage and get sued.

Medical payment coverage helps cover medical expenses for nonhousehold members injured on your property.
Cost of Home Insurance in West Columbia
In West Columbia, the average home insurance costs $1,311 per year for TGS Insurance customers. The cost of your home insurance is based on several different factors, including, but not limited to:
The value of your home.

Where your home is.

How old your home is.

The number of residents in your home.

Your credit score.
These factors set a base for your home insurance, and then you can customize your coverage. The more coverage you choose to have, the more your yearly premium will be. TGS Insurance is here to help you find the best price without sacrificing any coverage you want.
Average West Columbia Home Insurance Cost By Coverage Level
Dwelling coverage is a fundamental element of home insurance that protects the physical structure of your home against covered hazards. The intention is to cover the expenses of repairing or rebuilding your home if it is damaged or destroyed due to a covered event. The amount of dwelling coverage needed depends on the cost of rebuilding your home. Your home insurance covers the policy limit- which is coverage for up to a specified dollar amount. It is critical to ensure that your dwelling coverage limit is sufficient to cover the cost of rebuilding your home in case of a complete loss. Dwelling coverage limits can significantly impact home insurance premiums, with higher limits resulting in higher premiums since the insurance company is assuming more risk.
In West Columbia, South Carolina, if you need $200,000 in dwelling coverage, you'll pay an average of $1,213 per year. However, if your home is worth more, you'll want more coverage, so homeowners wanting $400,000 in dwelling coverage will pay an average of $1,809 in West Columbia, South Carolina. 
| Dwelling Coverage Limits | Average Annual Premium (incl. Windstorm & Hail Coverage) |
| --- | --- |
| $100,000.00 - $199,999.00 | $1,104.02 |
| $200,000.00 - $299,999.00 | $1,213.13 |
| $300,000.00 - $399,999.00 | $1,492.22 |
| $400,000.00 - $499,999.00 | $1,808.92 |
| $500,000.00-$599,999.00 | $2,103.73 |
| $600,000.00-$699,999.00 | $2,306.30 |
How Does Your Location in West Columbia Affect Your Home Insurance?
Where you live is one of the biggest factors that affect your home insurance premium. This gets so specific that carriers look at ZIP codes and neighborhoods. If your neighborhood has a higher theft rate than another neighborhood a few blocks down, your rates will be higher. Because carriers are very particular with risk evaluations, rates vary greatly-even within the same city. Below is a breakdown of the average annual premium for home insurance in West Columbia: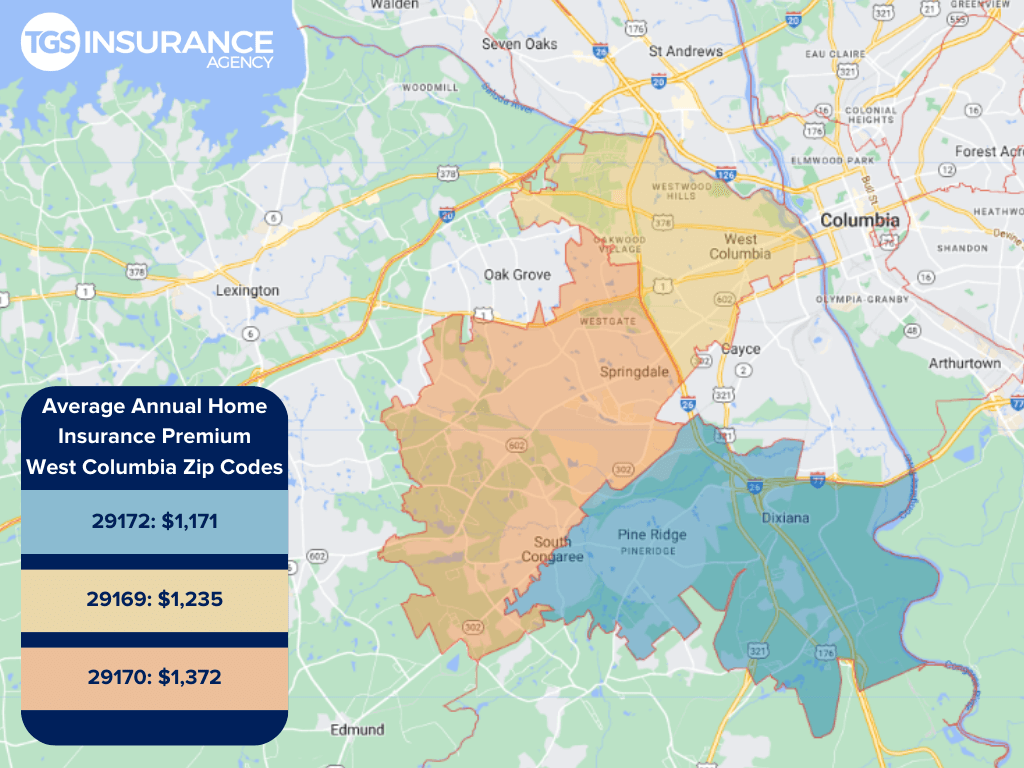 West Columbia Zip Codes TGS Insurance Agency Covers
If your zip code is not listed, fret not! We have access to amazing rates for homeowners all across South Carolina. Simply enter your address above to get started with a free instant quote.