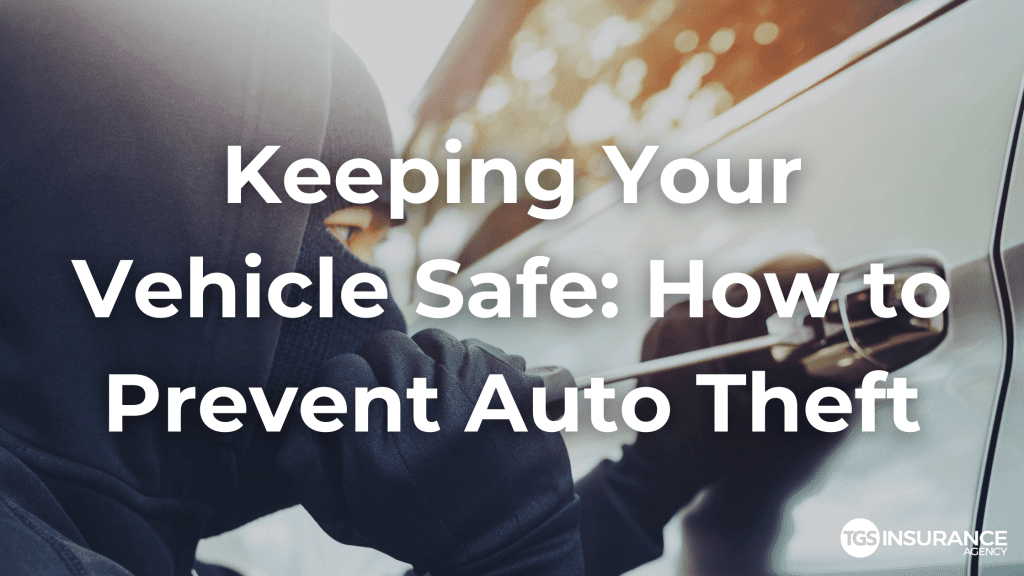 According to the National Insurance Crime Bureau (NICB), there were 873,080 auto thefts in 2020, a 9.2% increase since 2019 which had 799,644 auto thefts. Specifically in Texas, there were 77,489 stolen vehicles in 2019, which is the second-highest in the country.
With auto theft on the rise, thieves have become more experienced and advanced in using smart keys to steal cars and changing vehicle identification numbers to avoid being detected. But how do you avoid becoming a victim of auto theft? By being cautious about securing your vehicle as well as taking preventive measures. Below are nine protective tips you can do to help prevent your vehicle from being stolen.
9 Tips to Prevent Auto Theft
Lock Your Doors
Locking your doors may seem like common sense, but not everyone is aware of how important it is. Every time you park your vehicle, whether it's at your home or in a parking lot, you should always lock your doors. When you lock your car doors, it prevents thieves from having easy access to your personal belongings. If you have a key fob that automatically locks all of your car doors, be sure that you hear the beep before walking away. Making this a normal routine will help make your vehicle more secure in a very easy way.
Remove Keys From The Vehicle
You never want to leave any keys inside your car because it makes it easier for a thief to break in and quickly drive off. You also never want to leave your key in the ignition, even if you're going inside the store to run a quick errand. A vehicle left running is basically an open invitation to steal it, especially if it's unlocked and unattended.
Close All The Windows
Keep every window completely closed, even your sunroof. An open window gives thieves easy access to either reach in and grab what they can or even worse, open your vehicle from the inside and either steal more or take your vehicle entirely.
Never Leave Valuables in Your Vehicle
Those expensive sunglasses you leave on your dash, lets thieves know that you probably have other valuables inside your car. You never want to leave your purse, cell phone, laptop, or other high-priced items in visible places in your vehicle. If you must have a valuable item with you, put them in your trunk before you get to your desired destination, because some thieves scope out the parking lot searching for people who put items in their trunk.
Park in Well-Lit Areas
You never want to park in areas that don't have good lighting or in areas where it's hard to be seen. You always want to park in places that have good visibility and foot traffic. Thieves tend to avoid areas like this because it's easier for them to break in somewhere that is dark and secluded.
Install an Audible Alarm and Anti-Theft Devices
If your car doesn't already have one, installing an audible alarm will put out a loud noise, typically your vehicle's horn, in the event someone attempts to break in. The unbearable noise attracts unwanted attention and will typically scare off thieves. There are different types of alarms, but you may need a mechanic to help install the alarm.
Anti-theft devices such as a window etching, flashing lights alarm system, or a steering wheel lock, may be enough to avert car thieves. The idea is to make a thief think twice before breaking into your car because if they aren't sure they can get in and out easily, they'll likely avoid breaking in altogether.
Install a Vehicle Immobilizer System
Sometimes car thieves can start your ignition by hotwiring your car, but this can be prevented by having an immobilizer system. They typically have smart keys, kill switches, and wireless ignition authentication. The purpose of these devices is that they will disable your vehicle so that a thief cannot take off with it.
Install a Tracking System
Consider installing a tracking device on your vehicle to help police locate it faster should it be stolen. Check out these five GPS vehicle trackers from DriveWise to help you keep your car safe for less than $100.
Be Vigilant
When you pull into a parking lot, it's important that you are aware of your surroundings. If you are suspicious of someone loitering around the parking lot or you are unsure of the safety of your vehicle, then it's probably best to find somewhere else to park. You may also want to inspect your doors and windows to make sure they are locked before leaving your vehicle alone.
How to Prevent Catalytic Converter Theft
Theft for catalytic converters are on the rise so we felt it was necessary to address this subject as it's own section! Texas is second in the nation for the highest number of catalytic converter thefts, just narrowly trailing California. Catalytic converters are a hot item for thieves because they offer precious metals that can be sold for $300 to $1,500 a pop. And if the price tag weren't alluring enough, catalytic converters are easy to remove and there's no tracking systems, so it's really easy to make money with little risk. (As long as you're not caught.)
There are a few things you can do to prevent catalytic converter theft:
Know if your car is a target. According to CarFax, these are the top vehicles that have their catalytic converters stolen:

1985-2021 Ford F-Series
1989-2020 Honda Accord
2007-17 Jeep Patriot
1990-2022 Ford Econoline
1999-2021 Chevrolet Silverado
2005-21 Chevrolet Equinox
1997-2020 Honda CR-V
1987-2019 Toyota Camry
2011-17 Chrysler 200
2001-21 Toyota Prius

Install an anti-theft device. An anti-theft device can start at $30 with some running a few hundred dollars, depending on how sophisticated you want to get. Check out this list here.
Paint your catalytic converter. this may deter some buyers and your local policy department may offer a program for painting.
Etch your license plate or VIN number onto your catalytic converter. This may help alert a dealer that the converter was stolen.
Park in well-lit areas or in a garage when possible. If you have to park outside or in your driveway, consider installing motion-censored lights to deter thieves.
If you find yourself a victim of catalytic converter theft, your auto insurance policy will cover you in this event only if you have comprehensive coverage. The cost to replace a catalytic converter can range anywhere from $500 to $3,000 so if you're carrying a liability-only auto policy, then you could be out quite a bit to replace what was stolen. The average cost of comprehensive coverage is $250 to $300 per year, so talk to your insurance agent about potentially adding this coverage to your policy to keep you protected.
What To Do If Your Vehicle is Stolen
If you become a victim of auto theft, you need to contact the police immediately and provide them with the following information:
The make, model, year, and color of your vehicle
Vehicle Identification Number (VIN)
License plate number
You also want to get in contact with your insurance provider as soon as you can, to make them aware that your vehicle has been stolen. At TGS Insurance, we can help connect you with your insurance provider and give you our expertise on what to do in a situation like this. Although we can't file the claim for you, we can be a quick, reliable resource to help make this difficult situation a bit easier to handle.
If you need more auto insurance coverage or just want to look into a new policy our agents can help. From our bank of over 35 highly-rated providers, we will find you a policy that fits your specific coverage needs and budget. Our customer service team will handle the entire enrollment process from start to finish so you can have a hassle-free buying experience. We are the insurance experts so you don't have to be. Shopping for insurance can be so simple with TGS Insurance Agency!
Source: Allstate