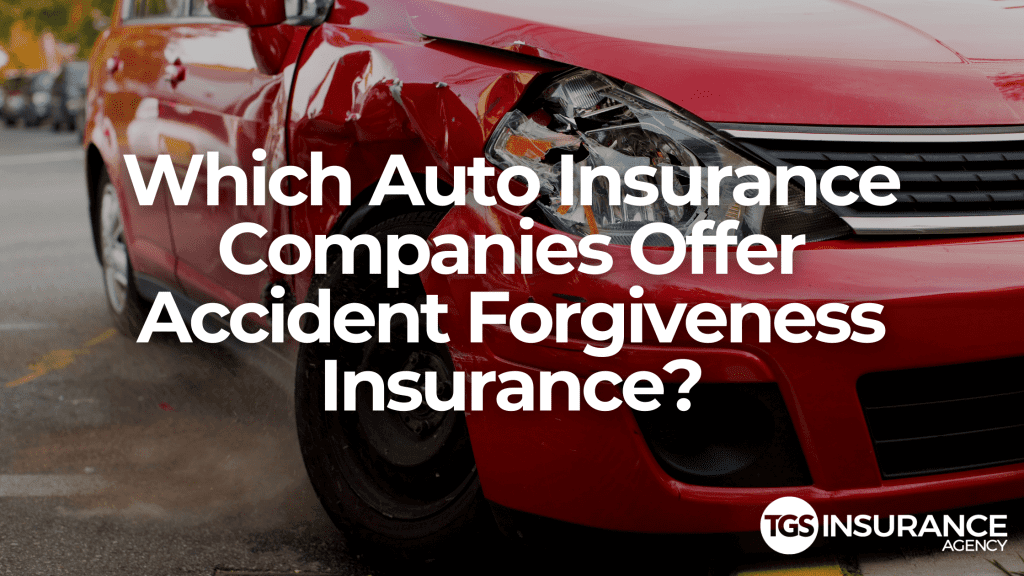 Unfortunately, accidents happen. Typically when you submit a claim with your auto insurance provider after an at-fault accident, you will see your rates go up as a result. This can feel like a kick when you are down as no one wants to pay more for their coverage. This is where accident forgiveness can come into play. Accident forgiveness is a benefit offered by some insurance carriers that prevent your rate from increasing after your first at-fault accident.
But not every auto insurance provider offers this helpful option. Furthermore, some states do not allow insurance companies to underwrite accident forgiveness. Luckily, the great state of Texas allows drivers to benefit from this wonderful safety net and TGS Insurance offers plenty of top-rated auto insurance brands that are ready to protect you and your vehicle. With over 563,000 accidents occurring during 2019 in Texas alone, drivers who find themselves a part of these events can help mitigate costs and keep their coverage through accident forgiveness. Learn more about some of the best options seeking accident forgiveness coverage.

*Note: Accident forgiveness should be treated as a safety net, not a guarantee. While you may be forgiven for causing an accident, many other factors can end up costing you serious money including legal fees, medical bills, fines, tickets, etc. Even companies that are offering unlimited accident forgiveness reserve the right to drop you as a client. Always drive safely and avoid accidents whenever possible.

Who Offers Accident Forgiveness?
Allstate Accident Forgiveness
Allstate offers accident forgiveness to its customers who enroll in its Gold and Platinum "Your Choice Auto" coverages. The price of these packages varies depending on many factors including which state you are in, your driving history, etc. Here are some of the main features regarding this protection for Allstate customers:
Not available in every state and drivers who qualify must do so under rules to determine whether or not they are a "good driver" or not by standards that will also vary by state.
There are no accident surcharges once your accident is forgiven.
Drivers with the Gold Package are allowed for one accident per policy every three years to be forgiven.
Drivers enrolled with the Platinum Package are allowed an unlimited amount of accidents to be forgiven immediately, do not forfeit their safe driver discount after their accident is forgiven, and reduce a driver's deductible $100 per year for every year of safe driving up to a maximum reduction of $500.
Nationwide Accident Forgiveness
Nationwide opens up eligibility to drivers seeking accident forgiveness who are enrolled with the company for at least six months. This term must be continuous and the price of your coverage will vary depending on a lot of factors surrounding you as a driver. Explore what you'll get as a Nationwide customer enrolled with accident forgiveness below:
Two violations (minor) and two at-fault accidents can be forgiven if they occur within three years.
Policies with multiple drivers/vehicles are allotted two forgiven accidents.
Drivers become eligible for a safe driving discount that saves drivers another 10% off of their premium if they remain accident-free for five years. This discount is not lost should you need to use your accident forgiveness and there are no surcharges added after the wreck.
Claims under $1,500 are given unlimited forgiveness.
Progressive Accident Forgiveness
Accident forgiveness comes in many shapes and forms depending on your auto insurance provider, and Progressive proves this statement by doing things a bit differently than most. Your accident forgiveness is free, however, you must be accident-free for a minimum of six months while insured with Progressive before you are eligible. There are tiers, and the longer you have been an accident-free customer, the better your tier, and your payout/protection after an accident, will be. Nevertheless, here are some of the features that define Progressive's accident forgiveness:
After a forgiven accident, drivers will not receive a surcharge nor will they receive an increase in their premium.
If Progressive customers use their accident forgiveness, they will lose their safe driver discount.
Available in Texas, but not in all states.
Travelers Accident Forgiveness
The amount you'll pay for accident forgiveness with Travelers will vary because the insurer offers it as a part of its Responsible Driver and Premium Responsible Driver plans, and still, it will depend on if your state allows this type of coverage in the first place:
You'll need to be a safe driver to qualify. This means no accidents or major violations in five years.
Your accident forgiveness includes one accident and one minor violation every three years.
If you are looking for more information on accident forgiveness and alternative ways to save money, be sure to click here for an in-depth look.
Who Should Consider Accident Forgiveness?
Some auto insurance companies provide accident forgiveness to their clients as a perk for free, but for many drivers, it can end up costing them additional money each month. Accident forgiveness is a great way to save money, however, if you don't have any accidents on your record after many years of driving, you could be overpaying for coverage you don't need. This is why accident forgiveness is a great option for drivers who find themselves involved in accidents every so often.
If you are a driver that comes with higher risk, you'll likely see higher premiums as your insurance provider will assess the amount of risk it will undertake while insuring you and your car and then craft a premium based on these many factors. Of course, accident forgiveness is a great way to lower your monthly premium and TGS Insurance is here to help. We work with top-rated carriers including Allstate, Nationwide, Progressive, and Travelers, who offer accident forgiveness for their clients throughout the state of Texas, and by searching among our bank of 35+ A-rated (or better) carriers, we work to find you the best coverage options for your auto insurance needs at the lowest rate available.
Each situation and driver is different. This means different protection needs, different budgets, different driving histories, etc. At TGS Insurance, we can find the perfect solution tailored to fit your unique auto insurance needs. We can also bundle your auto policy with a home insurance policy or umbrella coverage to give you even more savings while protecting what matters most to you. The average driver who enrolls with TGS Insurance saves $1,237 a year on their auto insurance policy!