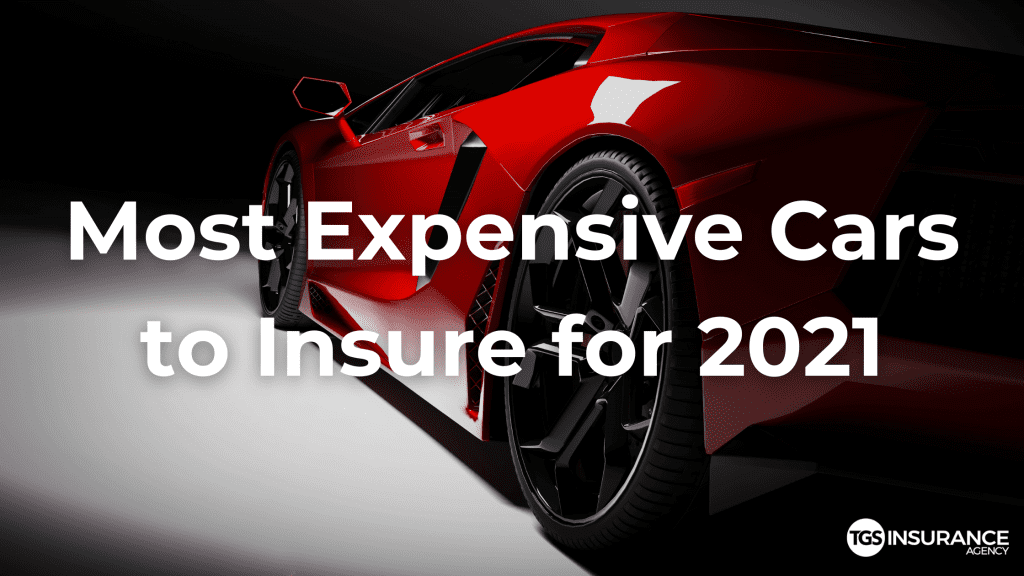 Auto Insurance rates are something to consider before buying the car of your dreams. With that higher price tag, oftentimes, comes higher insurance rates. The cost to insure some of these upscale vehicles can cost over thousands of dollars each year, and without factoring in the insurance premium, could leave you in a tough financial spot.
The car you drive is just one element in the auto insurance cost equation. Insurance providers also factor in:
Driving record
Use of vehicle (personal or business)
Location
Mileage
Credit score
Claims history
Vehicles with high repair costs will be more expensive to insure. For example, cars with advanced safety features such as parking assist, emergency braking including pedestrian detection, or HD backup cameras can increase repair costs because the equipment is typically more expensive to restore.
Let's take a closer look at some of the most expensive cars to insure according to MotorTrend.
10. 2021 BMW M5 Competition
This impressive midsize sedan combines stylish sophistication with super-competitive speeds. The M5 competition is racetrack-ready, yet is luxuriously spacious than any 5 series model. However, it's the most expensive 5 series to insure, with the national average being $3,777 annually.
9. 2021 Maserati Levante GTS
The Maserati Levante is the closest comparison to a Ferrari SUV. It's power-packed with a twin-turbo 3.8-liter V-8 engine that's built by Ferrari and offers a fascinating driving experience. On the other hand, this SUV is not ideal for cargo space, as it is limited compared to other midsize luxury SUVs. In addition, the most up-to-date Maserati models lack interior quality and are nothing special. When you factor in the average national premium of $3,803 to insure the Levante GTS, it's hard to compare to other sporty SUVs that have much lower auto insurance premiums. But the Levante GTS still provides an exciting ride that is much like a "prancing horse."
8. 2021 Nissan GT-R NISMO
Also known as "Godzilla," the Nissan GT-R NISMO is a mighty force to be reckoned with. This well-known sports car is one of the oldest cars still on sale. Over the years Nissan has developed the car by adding consistent improvements to make it more faster and sophisticated. As impressive as its performance is, the auto premium to insure the GT-R NISMO isn't so much. You have to be a serious Godzilla fan to pay the average $3,829 auto premium each year when similar sports cars cost less to insure.
7. 2021 Audi R8 Spyder
The first and only convertible on this list is the R8 Spyder, which has a V-10 engine that has a powerful sound. Not only does it sound amazing to any car lovers' ears, but it drives remarkably. On the downside, the R8 Spyder isn't the best car for a tall person, as the folding top's hardware pushes the seats substantially forward, which interferes with the legroom. But is the electrifying performance worth the $3,863 average auto premium bill each year?
6. 2021 BMW M8
This slick machine has unmatched performance. From powertrain to steering to even braking, the M8 can be tailored to your driving preferences. Whether you're cruising around the city or taking a scenic road trip, the M8 provides the latest technology features and sophistication you'd expect from a high-end BMW. But with high-end luxury comes with a high auto insurance premium, which you can expect to pay an average of $3,907 per year for the M8.
5. 2021 BMW M760i
The reputation and rareness of a V-12 engine could make you overlook the M760i's heavy insurance premium. As we see a decrease in V-12 engines, cars like the M760i are truly something to admire and protect simply because of how scarce they are. But if you have the privilege of owning an M760i, you can expect to pay an average of $3,914 annually for the luxury of enjoying one of the last V-12 engines.
4. 2021 Tesla Model X Performance Plaid
The "Plaid" classification Tesla applies to its quickest most powerful cars goes back to a scene in a 1987 sci-fi movie called Spaceballs, where plaid speeds are required for the villain in the movie to catch his prey. These speeds are no joke, as the Model X Plaid can launch you from 60 mph in under three seconds in an all-electric SUV. The $4,025 auto premium that comes with insuring these fast electric SUVs, is also not a laughing matter. But not having to pay for gas makes it better right?
3. 2021 Tesla Model S Performance Plaid
Similar to its SUV doppelganger, the Model S Plaid's acceleration was inspired by the fastest spaceships in the world. Its supersonic speeds can reach 60 mph in about two seconds, for an unbelievable experience. The Model S Plaid is proof that our world is moving to electric transportation and ending the era of gas-powered vehicles. For now, most vehicles that operate on fuel are much less expensive to insure. The Model S Plaid averages about $4,143 each year for auto insurance.
2. 2021 Maserati Ghibli S Q4 GranSport
The Maserati Ghibli seems less worthwhile than the skyrocketing insurance premiums it comes with. Don't let the sporty sedan fool you, its quality and technology lack significantly where some switchgear looks "straight out of the corporate parts bin." However, this Ferrari-made engine packs a serious punch and sounds amazing. But when you factor in the $4,208 yearly auto premium, is the Maserati Ghibli S Q4 GranSport worth it?
1. 2021 Maserati Quattroporte S GranSport
If you're in the market for a luxury sports car that's decent in size, then try the Maserati Quattroporte. You'll want to go over your priorities before making the decision to purchase this Italian four-door. Regardless of the Quattroporte's size, it thrives on the racetrack with its communicative steering and tail-happy balance. From far away, the interior may look expensive, but if you take a closer look at the materials, they are actually poor quality. When compared to other luxury sports cars, it's not the total package and costs way more than its competitors. To top it all off the Maserati Quattroporte S GranSport averages about $4,823 a year for auto insurance, making it the most expensive car to insure for 2021.
Purchasing a luxury high-end car may offer you everything you've ever wanted, but at a very high cost. You may have been fully prepared to pay the expensive costs of purchasing a luxury car, but it's important to factor in the auto insurance premium before you make such a costly transaction.
How TGS Insurance Agency Can Help You Save On Auto Insurance
At TGS Insurance Agency, we understand how time-consuming and frustrating finding the right auto insurance policy can be, so that is why we do all the work for you! Our agents simplify the process by searching across our list of A-rated insurance providers to find an auto policy that is customized to your needs and budget. We can even bundle your auto insurance with other policies to help you save even more. Shopping for car insurance is simple, affordable, and hassle-free when you roll with TGS Insurance. See how much your vehicle costs to insure today!
Source: MotorTrend