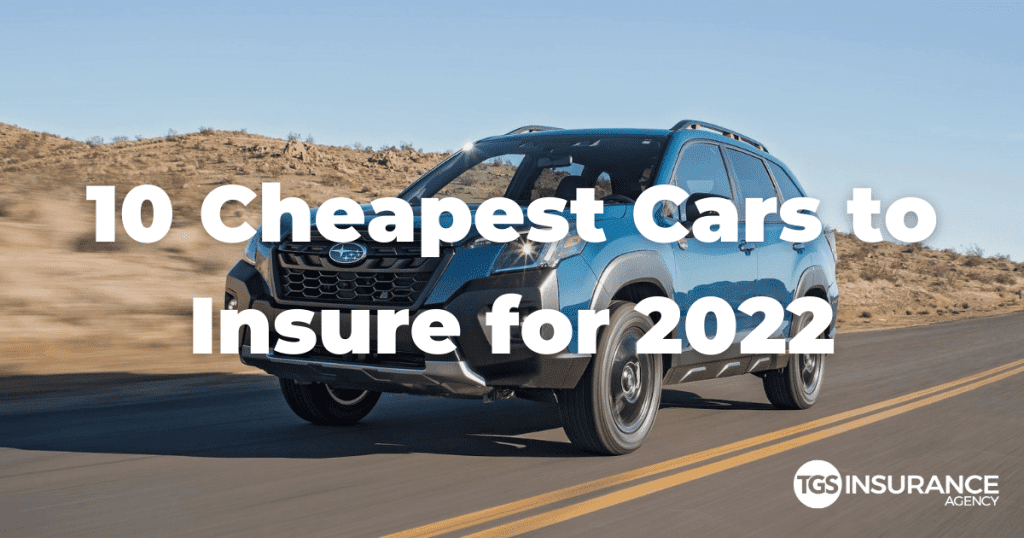 There's nothing wrong with a safe, reliable, affordable vehicle. Sure, they might not get some of the awe-inspiring reactions from strangers, but they can get you from point A to point B and save you some serious cash in the process. As we've seen, higher-end vehicles can cost a pretty penny when it comes to their sticker price, maintenance, and insurance. So let's talk the cheapest cars to insure in 2022.
Insurance providers assess a range of different factors to create your auto insurance premium. Your driving record will play a role, as well as other factors such as your intended use of the vehicle and miles traveled, your credit score, etc. Carriers assess these factors to determine the amount of risk you pose as a driver to insure. If deemed less of a risk, you can expect a lower auto insurance premium and vice versa.
Safer cars that are cheaper to fix should they become damaged in an automobile accident can help lower the cost of your monthly auto insurance bills. With the rising costs of vehicles, chances are, your monthly note is already high enough. There's no reason to add to it with a high auto insurance premium that costs an arm and a leg. Thanks to MotorTrend, we've pinpointed the ten cheapest cars to insure in 2022. Remember, averages are likely to differ due to individual factors determined by each insurance carrier. They are a guideline but not absolute.
10. 2022 Subaru Outback- $1,407 Per Year
Relaxing, up for the task, and simplistic, the Subaru Outback feels comfortable on the backroads, off-road, or in the city. This midsize SUV crossover is ready to handle any task ahead of it while making things easy on its driver. The Subaru EyeSight driver-assist and low price to insure, $1,407 per year, making this vehicle an affordable, reliable option great for any driver.
9. 2022 Mazda CX-5 S Select – $1,407 Per Year
A classic favorite among most car enthusiasts, the Mazda CX-5 S Select is new to the list this year because of its affordability, luxury-style steering, and stylish look. This sophisticated yet practical vehicle rings in about $1,407 per year to insure, nabbing a spot on MotorTrend's list of affordable cars to insure in 2022.
8. 2022 Volkswagen Tiguan S – $1,406 Per Year
Equipped with a spacious (yet slightly small) third row, this midsize crossover is perfect for those looking for a bit of extra space and a quality driving experience without breaking the bank. The 2022 Volkswagen Tiguan S is loaded with amenities to provide a luxury feel for its passengers without breaking the bank, coming in at $1,406 per year to insure.
7. 2022 Ford Transit Connect XL – $1,405 Per Year
If you're looking for a fleet or commercial vehicle packed with safety features, space, and wallet-friendly, the 2022 Ford Transit Connect XL is the ideal choice. This van is built for service and is perfect for getting things and people from point A to point B with a low insurance premium, averaging around $1,405 per year to insure.
6. 2022 Kia Seltos LX – $1,391 Per Year
Kia vehicles are known for being built with solid craftsmanship and quality parts, and the Kia Seltos LX is no exception! This vehicle was built for budget-friendly luxury for every driver at an affordable price. The entry-level Kia Seltos LX is an affordable $1,391 per year to insure- making it a smart buy for anyone.
5. 2022 Toyota C-HR – $1,384-$1,387 Per Year
The 2022 Toyota C-HR is an appealing choice for any driver. It has an upscale-feel interior, reliable safety features, strong fuel economy, and much more. One of the best buying points? Affordable insurance! The entry-level XLE starts at $1,384 per year to insure, with the Nightshade Edition estimating around $1,387 per year.
4. 2022 Mazda CX-30 – $1,379-$1,388 Per Year
Mazda hits it out of the park with this classic offering from its lineup. The Mazda CX-3 Sport is a sleek, stylish design that handles well on the road. The standard model includes Apple CarPlay and Android Auto, which enhances your entertainment and navigation. Plus, the 2022s all offer now-standard all-wheel drive! For only $1,379 per year, you'll gain coverage at one of the lowest rates on the market.
3. 2022 Honda CR-V LX – $1,366-$1,391 Per Year
When vehicles score high on their safety score, you win because you gain a safer vehicle, which helps you receive lower car insurance premiums. The Honda CR-V LX is a safe ride with plenty of features. The Honda Sensing suite alone combines adaptive cruise control, front automatic emergency braking, and lane-keep assist. You also benefit from the automatic brake hold, automatic high beams, and stop/start engine capability add to the great experience this vehicle provides. MotorTrend's top-rated compact crossover will only cost you $1,366 per year for the LX trim and $1,391 per year for the EX trim for auto insurance coverage.
2. 2022 Hyundai Venue – $1,360-$1,402 Per Year
Price-conscious shoppers looking for the perfect blend of SUV storage and fuel economy of a smaller vehicle will love the 2022 Hyundai Venue. This subcompact crossover packs a punch for its size, offering a wide range of features, such as lane keep assist, Apple CarPlay, and an 8-inch touch screen, for the lower price tag compared to others like it on the market. If you go with the entry-level SE trim, your average yearly insurance cost will be around $1,360 for the 2022 Hyundai Venue.
1. 2022 Subaru Forester Wilderness – $1,353 Per Year
An all-wheel-drive (AWD) crossover that can get you where you need to go in comfort? Why, it's the Subaru Forester, of course! The vehicle inside has an excellent feel, giving everyone their personal space and an extraordinary, user-intuitive entertainment interface. You'll have no problem navigating its pristine, large windows, either. The base-trim model will run you an average of $1,353 per year for auto insurance premiums, making the 2022 Subaru Forester Wilderness one of the cheapest cars to insure.
TGS Insurance Helps You Spend Less on Auto Insurance
No matter the make and model of your vehicle, TGS Insurance is ready to help you save more on your auto insurance. You may not have one of the cheapest cars to insure, but we're going to find you the best deal possible! Here, you're not just a policy number, you're our client, and each of our agents will take the time to get to know you and your needs. This means finding the coverage you need for less by applying every applicable discount and finding even more savings through bundling with another policy like home insurance. 
Our experts shop your coverage among our bank of 35+ car insurance providers to ensure that you receive the best policy for the lowest price every time! We'll even review your coverage when it's time to renew and shop again should you receive a rate increase so that you never overpay again. See how much you can save on your auto insurance with TGS Insurance today!