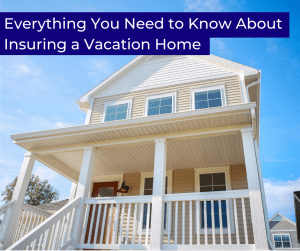 A vacation home is a great place to escape the day-to-day norm, whether it be a home on the beach, lake or in the mountains. As with any home, you'll need to purchase a homeowner's insurance policy and there are a few important things to consider before signing on the dotted line.
Typically, a home insurance policy on a second home is more expensive to insure than your primary residence because it's uninhabited, there's a greater risk of perils such as vandalism or theft, and problems like burst pipes can go undetected resulting in a bigger claim. 
Important Factors That Influence Your Vacation Home Insurance Policy Prices 
Your homeowner's insurance policy for your vacation home will mimic the home you primarily live at, but with a few caveats. Here are the factors that will influence the cost of the policy for your vacation home: 
Location

is usually the biggest factor when determining a policy price. For example, if your home is along a coast, you'll likely see a higher rate because it's a higher risk for hurricanes, tropical storms and floods among other things. Or a home that's located in the mountains is at greater risk for wildfire. Where your home is located will heavily influence the price to protect your vacation home. 

The type of property

also impacts the cost of your policy. The age and type of materials the home was built in will influence the cost as well as if the home is a single occupancy, condo or townhome. A condo, for example, will be less to insure because there's an HOA that takes care of the property and offers some sort of security. Your own condo insurance policy will cover specific areas as well as your personal belongings.

Amenities

are the last key influencing factor on your policy. Though a hot tub or pool is relaxing a fun addition to your home, amenities like these will result in a higher premium. We would advise that you also add additional liability protection, though it would increase your overall policy price. 
Insuring a second home can be more expensive, but there are simple things you can do to help lower your costs. 
Key factors on how to save on home insurance costs
Select a location that is not in a high-risk area. For example, if you want a beach home but don't want to pay a high premium, find a home that is further from the shore so it's not as high-risk to windstorm damages.
Bundle your protection policies.

There may be an option to bundle your insurance options with your current provider that can give you a way to save money on your vacation home. 

Install an alarm system.

Having an alarm system that can identify when a fire or break-in occurs can also help lower your policy premium. 

See what your provider options are.

Shop around to see what insurance providers offer the best deals for vacation home coverage before you decide to renew with your current provider. Use an agency like

TGS Insurance

to help. Our team will shop your policy with 35+ A-rated (or better) providers and help you find a policy that fits both your coverage and budgetary needs! 
Source: Insurance Information Institute