Start Your Free Auto Insurance Quote Now
TGS Insurance » Auto Insurance » 2023 Car Insurance Discounts Guide »
Car Insurance Discounts For First Responders
Everybody wants to lower their monthly car insurance premium; hidden discounts are everywhere! Want a discount on a new car? For the field, you are lucky! First responders and other occupations are eligible for specific auto insurance discounts. Below is more information on how to score car insurance discounts for first responders.
Key Takeaways
Law enforcement officers are ideal candidates for auto insurance carriers; their rates reflect that.
Firefighters are classified as less likely to cause an accident and are discounted for this.
EMTs and firefighters are known as low-maintenance customers for insurance carriers.
Table of Contents
Who Are Considered First Responders?
First responders are those who arrive first and help in an emergency. First responders include various professional roles, like;
firefighters,
police officers,
EMTs,
and paramedics.
According to the Texas Department of Insurance, first responders can also be medical employees who work for a political subdivision in Texas, like a county, city, or school district.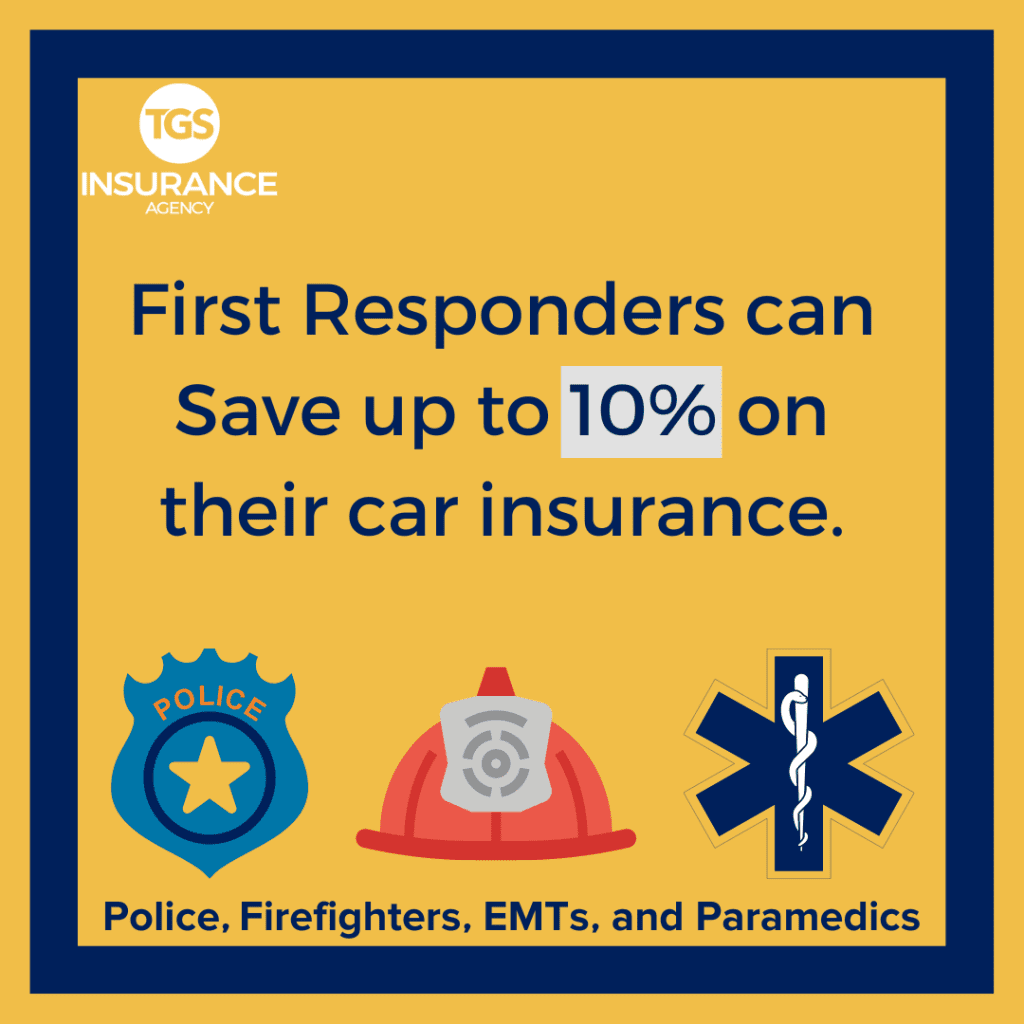 Auto Insurance Discounts For Law Enforcement Officers
Police officers' strong knowledge of road rules makes them ideal car insurance carriers' customers. Police officers and law enforcement have access to a car insurance discount classified under occupational discount. Most insurance companies require the individual to provide proof of occupation or membership in a law enforcement organization when applying the discount.
Auto Insurance Discounts For Firefighters
From our research, car insurance carriers also classify firefighters as less likely to cause an accident or file a claim. Due to this, insurance carriers reward firefighters with a discount. While the discount amount can vary by location and insurance carrier, firefighters can expect a 3% to 10% discount on their auto policy by providing proof of their affiliation with a fire department.
Car Insurance Discounts For EMTs And Paramedics
Insurance carriers typically see first responders like EMTs and paramedics as low-maintenance customers. Depending on your location and the availability of discounts in your area, EMTs and paramedics could be eligible for auto insurance discounts.
How Much Does Car Insurance Cost for First Responders?
Auto insurance rates can vary due to several particulars, based on your vehicle, location, and the coverage you choose, among many other things. Below is an example of some factors that influence your premium and how they do so.
Age/Driving Experience: Young drivers will pay the most for car insurance because their lack of experience behind the wheel equates to a higher risk. Typically, rates will decline with experience after the age of 25 and then start increasing again after 60.
Driving history: Car insurance providers look at your driving history to accurately predict your driving future. You will be paying for speeding tickets if you have an account for speeding tickets.
Credit Score: Drivers with excellent credit may see considerably better rates than those with poor credit.
Vehicle: Insurance for a brand-new car will be more expensive because it will be more expensive to fix and replace than an older car. The value of your vehicle also plays into your premium for the same reasons.
Annual Mileage: Statistically, the more time drivers spend on the road, the more likely they will have an accident, so higher annual mileage can mean higher premiums.
Location: Insurance providers consider many things regarding your site, such as vandalism, theft, and accident rates in the area and where you park your car (in a garage versus in the street or outside exposed to the elements). Urban drivers who park on the road see higher rates than those who live in a more rural area and park in the garage.
Other Ways First Responders Can Get Discounts on Car Insurance
Job-specific reductions and professional factors are only a few ways healthcare workers can lower their insurance rates. Carriers offer various car insurance discounts for all drivers that can significantly affect how much you pay per year.
Vehicle safety discounts: Certain features such as anti-theft systems, passive restraints, or anti-lock brakes can reduce insurance costs.
Bundling policies: Drivers can save by having multiple cars on their insurance policy or car and home insurance policies with the same insurer.
Safe driving: Discounts reward you for long periods without an accident or incident.
Defensive driving course: A state-approved course can make you eligible for various discounts.
Usage-based: Almost every primary carrier offers a program tracking your driving metrics, and you could get a discount. The agenda will not usually raise your rates but can lower them.
Pay in full: Insurance carriers often reduce prices if a policy is paid upfront instead of monthly.
Drivers can also save money by contacting an agent to adjust their coverage and shopping for the best prices.
Get Car Insurance Rates You Will Love
We want you to have the best car insurance rate out there! At TGS Insurance, we take the hassle of shopping for your policy. We can look at your driving record and the make and model of your car and find your potential for auto insurance premium discounts. Leave your agent today to learn how you can save.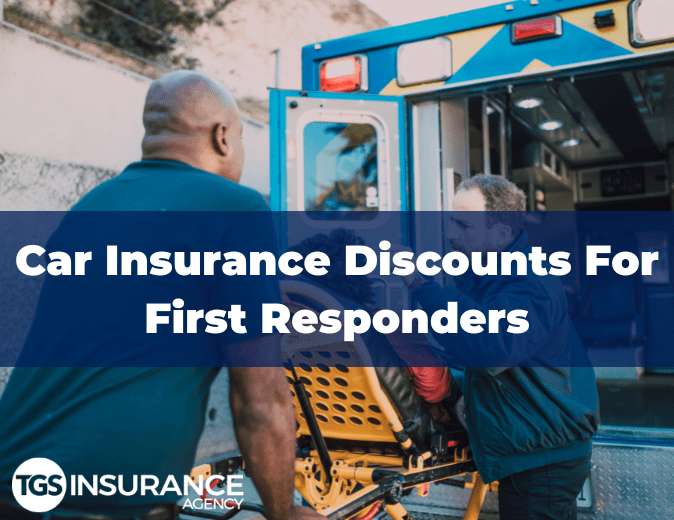 Explore Other Auto Insurance Discounts and Savings:
Recent Auto Insurance Articles: