Start Your Free Auto Insurance Quote Now
TGS Insurance » Auto Insurance » 2023 Car Insurance Discounts Guide »
Car Insurance Discounts For Low-Mileage
If you're like many of us, your driving habits probably changed because of COVID-19. According to US News, nearly half of the drivers- 49%- reportedly drive less than they did in pre-pandemic years. Though only some people switched to a completely remote position, there are still more hybrid careers, leading to less commuting. Find out if you could get car insurance discounts for low-mileage.
Key Takeaways
Driving less than 7,500 miles a year can save as much as 20% on your premium.
Pay-per-mile discounts allow you to control the cost of your auto insurance.
This is the best for people who live in cities, use public transportation, and do not use their cars often.
Table of Contents
What Is Considered Low-Mileage?
You must drive less than the average driver to be considered low-mileage. On average, people drive around 12,000 miles a year. This can be more if you travel a lot, or less if you live in a city and use your car only some days during the week. You must drive less than 7,500 miles yearly to qualify for low-mileage discounts.
Is Car Insurance Less Expensive If You Drive Less?
If your habits have changed over the last year, you could be paying too much for your car insurance. That's why it's a good idea to shop around your car insurance quotes and look into auto insurance for low-mileage drivers. If you don't drive as much as you used to, you could get anywhere from a 5-20% discount on your car insurance.
Pay-per-mile car insurance is a good option for drivers who do not rack up mileage. With this style of car insurance, you pay as you go. The frequency you drive determines the cost of your monthly coverage. Remember that you pay a monthly fixed rate to help keep your car covered, even if you are not driving it. Then, you will have to pay a per-mile rate. This is typically only a few cents for each mile you drive.
How Do I Get a Low-Mileage Discount for Car Insurance?
It is silly to pay the same price for car insurance if you're not putting in the miles like you used to. Whether your insurance carrier has low-mileage savings for those who don't drive a lot, here are a few tips you can try to lower your premium:
Driving less often. If you still need to meet the requirements of your insurance provider's low-mileage discount, try to lower the number of miles you drive. There are various ways to do this. You can ask your company if you can work from home more often- like a hybrid schedule- or start taking other means of transportation. Walking if you are in a big city, taking public transit more often, and carpooling with your co-workers can help reduce driving miles.
Negotiating with your current insurance carrier. If you already qualify as a low-mileage driver, let your insurance agent know you're driving less and ask for available discounts. Some insurance providers might ask how you typically use your car; for business or personal.
Switch to PPM insurance. With pay-per-mile insurance, your rate is solely based on your driving habits, making it an excellent option for low-mileage folks who commute under 10,000 miles a year. At the end of each month, you pay the cost based on the miles you drove over the last month. No need to change your driving or proactively seek a discount on your premium.
What Are the Different Types of Low-Mileage Car Insurance?
Low-mileage car insurance programs often use telematics, a device or tracker, to monitor your driving habits. Some carriers will ask you to plug the device directly into your car. The device will track how fast you drive, braking, when you get in your car, how long you drive, and other driving habits. There is also technology that tracks your phone usage while driving.
Another way they could monitor your mileage is to have you photograph your odometer every month. This method is less reliable and is simpler to use telematics technology nowadays.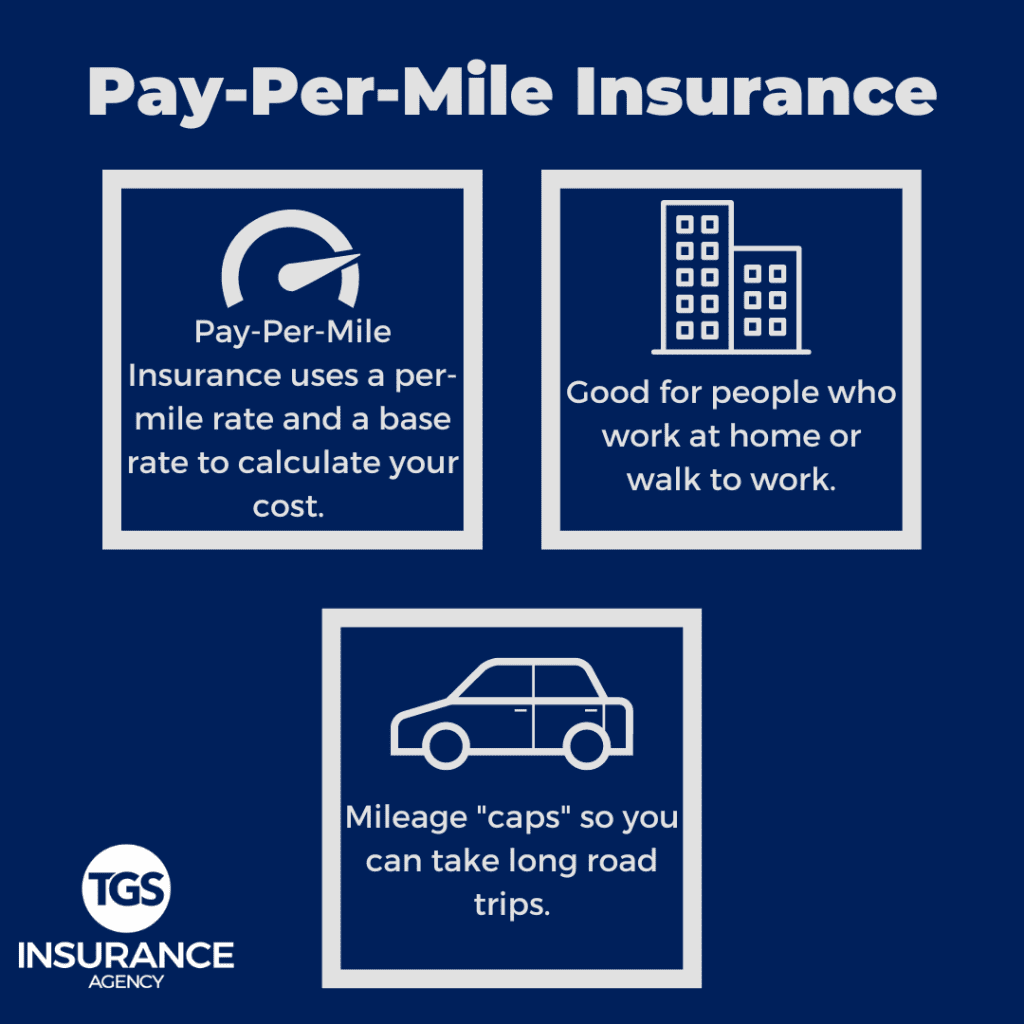 Auto insurance carriers will usually take one of two approaches to low-mileage auto insurance:
Low-mileage discounts: Some car insurance providers offer discounts if you drive less than a certain number of miles, like 6,000 miles per year.
Pay per mile: Pay-per-mile insurance is also known as usage-based and pay-as-you-go — you pay a set monthly rate; after that, your premium depends on how many miles you drive. If you drive less, you pay less.
Is Low-Mileage the Best Option For Me?
Other than low-mileage discounts, there are many options for discounts for drivers. Anything from your occupation, your vehicle's safety features, and even your age can affect your car insurance cost and how much you can knock off it! TGS compiled an ultimate guide to car insurance discounts for 2023!
Get Car Insurance at a Rate You Love
We want you to have the best car insurance rate out there! Here at TGS Insurance, it is our job to take the hassle of shopping for your policy from you. We can look at your driving record and the make and model of your car and find your potential for auto insurance premium discounts. Leave it to us! Call one of our agents today to learn how much you can save.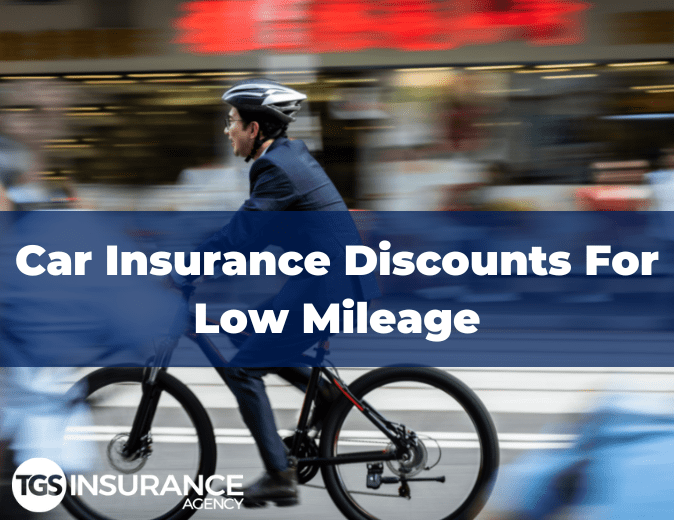 Explore Other Auto Insurance Discounts and Savings:
Recent Auto Insurance Articles: