Start Your Free Auto Insurance Quote Now
TGS Insurance » Auto Insurance » 2023 Car Insurance Discounts Guide »
Car Insurance Discounts For Healthcare Workers
Working in healthcare is admirable, challenging, and fulfilling. The sacrifices healthcare workers make and their ability to save lives comes with a few perks! There are car insurance discounts for healthcare workers. Healthcare workers incorporate a large group of professionals. Including physicians, physician assistants, registered nurses, veterinary assistants, veterinary technicians, veterinarians, dentists, optometrists, and more!
Key Takeaways
Some carriers partner with healthcare employers and organizations to provide discounts.
Carriers see those with higher education as safer drivers, sometimes resulting in lower rates altogether.
If your carrier does not have healthcare-specific discounts, there are other discounts to look at.
Table of Contents
How Much is Car Insurance for Healthcare Workers?
The cost of car insurance for a healthcare worker differs from one insurance provider to another. Along with your profession, insurance companies take other factors into account, such as your:
Driving Record
Vehicle Usage
Type of Vehicle
Your Age
Location
Additionally, while your job as a healthcare worker could impact your car insurance rates, the type of job you have in healthcare is essential when considering your monthly rates.
Carriers Offering Healthcare Workers With Car Insurance Discounts
Carriers offer insurance discounts to people who are members of organizations for healthcare workers. Some of the partnerships are local, so check with a TGS agent to learn if any are available in your area. Professional organizations like the American Healthcare Worker Association partner with insurance carriers to get discounts or lower participant rates. Here are a few healthcare organizations that provide discounts on coverage through carriers:
Geico: They partner with the Association of Women's Health, Obstetric and Neonatal Nurses, and several other healthcare organizations nurses can join.
Liberty Mutual (SafeCo): Partners with medical organizations and employers to get customer discounts.
Nationwide: Works with the American Nurses Association and provides discounts to members of that organization.
Farmers: Nurses fall under the company's 5% profession-based discount program. It also covers doctors, lawyers, teachers, police, and firefighters.
AAA: Partners with several organizations, including the American Society of Registered Nurses.
Disclaimer: Discount eligibility is determined by the provider on an individual basis. Please contact an agent to see if you are eligible for discounts.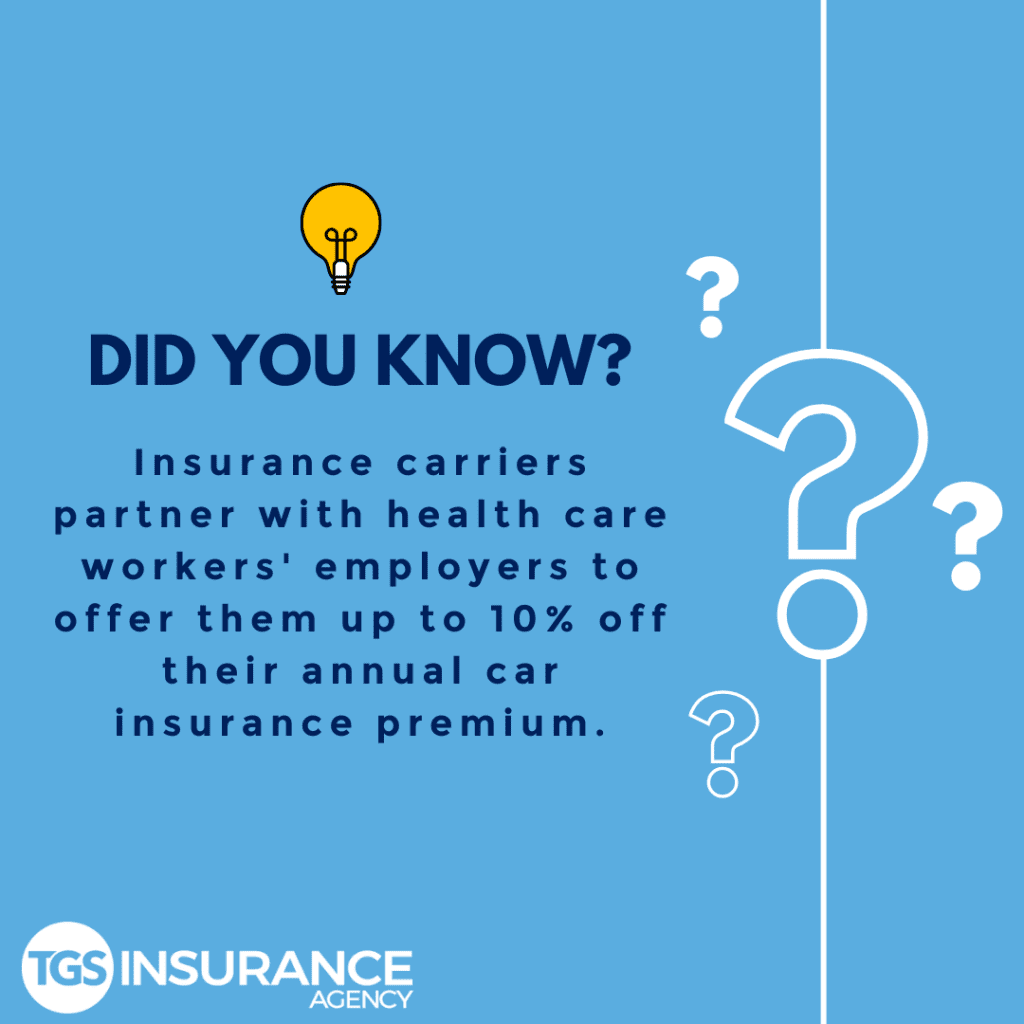 How Can Healthcare Workers Save on Car Insurance
There are factors other than being a healthcare worker that can lower your car insurance rates. Insurers often consider a customer's profession and level of education when calculating a quote. Drivers with more education and specific jobs are often considered less risky and may acquire lower car insurance premiums. Not all insurance carriers ask for a driver's occupation when providing quotes online; some do not list "healthcare worker" as an option. Here are some other discounts that are available to healthcare workers.
Vehicle safety discounts
Bundling policies
Safe driving
Defensive driving course
Usage-based
Pay in full
Drivers can also save money by contacting an agent to adjust their coverage and shopping for the best prices.
Car Insurance Rates as Unique as You
We want you to have the best car insurance rate out there! Here at TGS Insurance, it is our job to take the hassle of shopping for your policy from you. We can look at your driving record and the make and model of your car and find your potential for auto insurance premium discounts. Leave it to us! Call one of our agents today to learn how much you can save.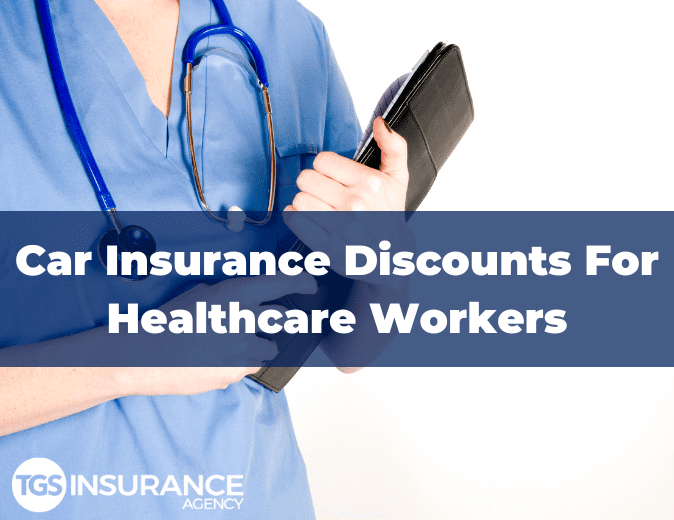 Explore Other Auto Insurance Discounts and Savings:
Recent Auto Insurance Articles: