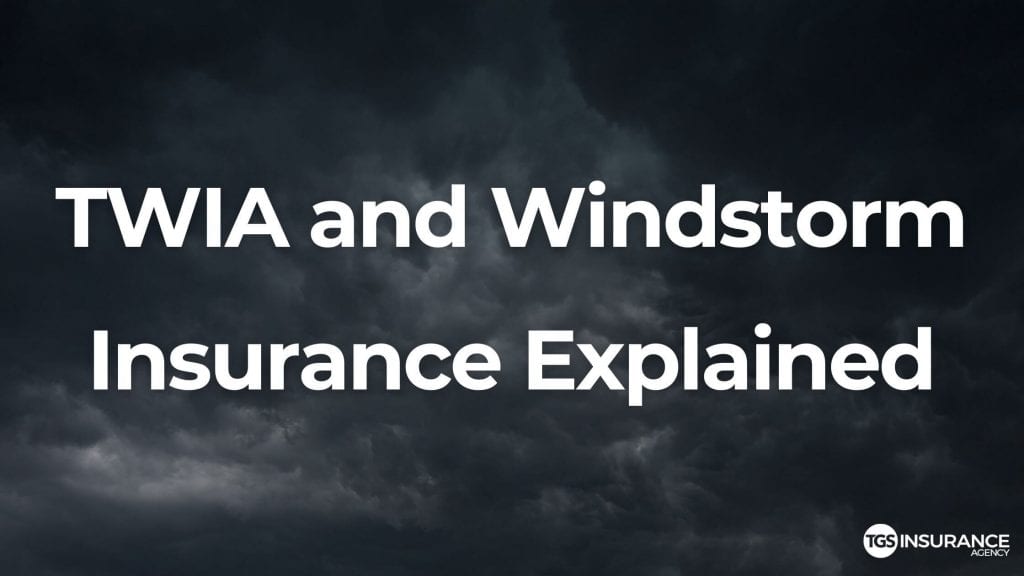 Hurricane season is just around the corner and for Texans living near the Gulf Coast, this means it's important to protect their homes from potentially devastating winds. But understanding how windstorm insurance works is the first step to gaining the protection you need. The Texas Windstorm Insurance Association (TWIA) protects against windstorm and hail perils for homes in 14 distinct counties along the Gulf Coast as well as a portion of Harris County.
There are different methods of obtaining windstorm insurance but some homes may be deemed too much of a risk. This is where TWIA steps in. Homeowners who are unable to find insurance through private insurance providers can still protect their homes from extreme winds. Finding the right protection for your home is possible and when done correctly, it should provide peace of mind knowing you are covered for these weather-related perils without spending an arm and a leg to do so.
Who is Eligible for TWIA?
TWIA has several criteria that must be met before a policy can be written. Because TWIA only covers wind and hail perils, homeowners are on their own for their other coverages and the association focuses on providing an avenue for homeowners that are otherwise unable to obtain coverage from such events. Let's review the criteria homeowners must fall within to receive coverage from TWIA:
The home must be located in one of the following counties in a designated catastrophe area: Aransas, Brazoria, Calhoun, Cameron, Chambers, Galveston, Harris (east of Highway 146), Jefferson, Kenedy, Kleberg, Matagorda, Nueces, Refugio, San Patricio, and Willacy.
You must have been denied coverage from at least one insurance brand in the private market.
Your home must be certified and up to code (limited exceptions may apply).
Homes located in specified flood zones (V zones) that were constructed, altered, remodeled, or enlarged after September 1, 2009, and that can obtain flood insurance through the NFIP must provide proof of flood insurance coverage.
Homes must be in an insurable condition according to the Association in the Plan of Operation to receive coverage.
Source: TWIA
If you fit within these criteria, you can receive windstorm and hail protection from TWIA to best protect your home. Additional criteria involving building codes and construction can be found in the link above.
What are the Windstorm Requirements in Texas?
To obtain windstorm insurance in Texas, you must live in one of the high-risk designated areas as listed by the Commissioner of Insurance, you've been denied at least once by an authorized insurer, your home or business has received a TWIA certificate, a flood policy if you live in a designated zone, and your property meets all other TWIA underwriting requirements.
What Counties in Texas is Windstorm Insurance Required?
The following counties where windstorm insurance is required are Aransas, Brazoria, Calhoun, Chambers, Galveston, Jefferson, Kenedy, Kleberg, Matagorda, Nueces, Refugio, San Patricio, and Willacy. Windstorm insurance is not legally required by the state of Texas in these counties BUT it will likely be required by your mortgage lender since you're living in what's considered a high-risk area.
Calculating Your Rates When Enrolling With TWIA
The way insurance companies assess how much your premium will be is by analyzing key factors surrounding the risk involved in having you as a client to insure. Homeowners with more risk will see higher premiums whereas clients with lower levels of risk will see cheaper premiums. TWIA assesses a variety of traditional factors similarly. These include your home's type of construction, your deductible, the amount of coverage you require, etc. One major difference, however, is that TWIA will not consider credit scoring or territorial rating. Your rate is created by the TWIA Board of Directors but can be reviewed by the Texas Department of Insurance (TDI). The average rate for those insured through TWIA is around $1,700 per year.
Because TWIA is an opportunity for homeowners who cannot find insurance elsewhere, the idea is to keep rates at a fair level for everyone. Again, your home's location is not considered as a factor, and homeowners can even view proposed and accepted rate increases throughout the history of the association since 2011 on its website.
What is a TWIA Certificate?
To get a windstorm policy through TWIA, homeowners need to provide what's called a TWIA certificate. This means that your home has been inspected by a registered structural engineer in the state of Texas and meets all of the windstorm building codes in your area. For more information, click here.
Additional Windstorm Insurance Options for Homeowners
Homeowners that are unable to find the right windstorm insurance may turn to TWIA as a solution, and rightfully so, but there are other solutions available. Here at TGS Insurance, we write windstorm coverage into every homeowners insurance policy we issue because we know the importance of this coverage, especially for homes near the Gulf Coast. We want to ensure that our clients are ready for whatever may come their way and can protect their homes from powerful wind and hail events.
Texas Windstorm Zone Map
If you live in any of the highlighted coastal counties, a windstorm policy is likely required.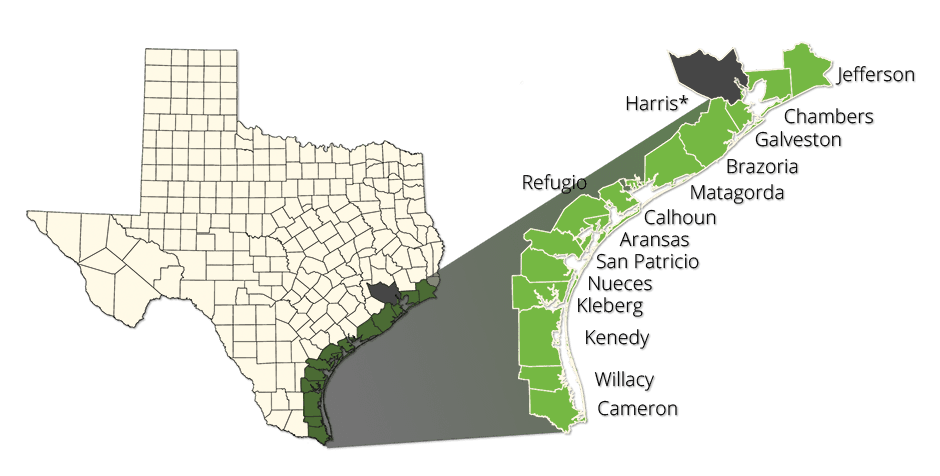 Compare Your Rates and Coverage for the Best Windstorm Protection
Finding the best windstorm coverage for your home doesn't have to be a hassle. To best protect your home, it is advised that homeowners compare multiple insurance brands to be sure that they are receiving the right amount of coverage for their homes all while paying the best price possible. Of course, we realize this can be a time-consuming endeavor, which is why we do it for you!
TGS Insurance will shop your windstorm insurance policies among private and government-backed insurers. We do the heavy lifting for you and will provide the best coverage option for your home at the lowest price on the market. Our impressive bank of over 35 A-rated or better insurance carriers provides us with a wide range of protection options for our clients.
Instead of receiving "cookie-cutter" insurance that may leave you vulnerable to coverage gaps, we take the time to deliver a personalized policy that protects your home while saving your money. This includes taking advantage of discounts and bundling your home and auto policies, with windstorm coverage included, so that you get the lowest price possible. But that's not all! Year after year, if you were to receive a rate increase, your TGS Insurance agent will shop your coverage all over again to continue delivering you the protection you need without having to overpay. Contact us today and see how much you can save while protecting your home this hurricane season and beyond!
Instant Home Insurance Quote
Recent Home Insurance Articles: