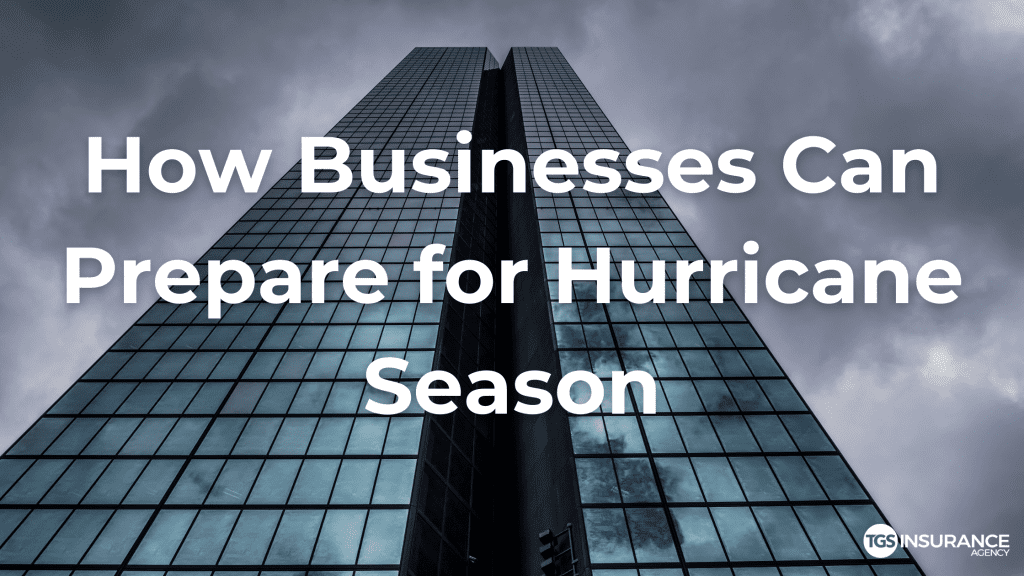 The 2021 hurricane season is less than a month away, and early preparation is the most efficient way to ensure your employees are protected and your business can remain stable. Creating an early plan of action helps businesses prepare for hurricane season communications ahead of time, map out their evacuation routes, and brace for the worst. You will save yourself a headache by developing a plan before the start of hurricane season.
While businesses can't control the severity of a storm or where it will hit, having a plan in place is crucial in minimizing impact. Here are some simple yet effective steps to prepare your business for hurricane season.
Determine What Matters Most
Start by looking at what keeps the business flowing smoothly and what factors are important when dealing with a hurricane. These factors are most likely your employees, assets, and location.
Protect your employees
A company cannot function properly without its employees. You expect your employees to handle your workforce, but they look to you for leadership and direction should a hurricane strike. Your employees turn to management to help keep them safe, informed, and connected. To protect your people, you need to take these factors into consideration:
Where is each employee located, not just in a directory but in real-time?
Which employees come to work, and what is their current schedule?
Has the COVID-19 pandemic led to more employees working remotely? If so, are their addresses and contact information up to date?
Do you have a mass notification system in place to easily notify your entire company?
Do an Inventory Check on Your Assets
Networks, technology, data, supplies, equipment, products, and facilities might be a few of the assets you're considering when protecting your business. Hurricane threats include flooding and gusty winds, but they also have the potential to knock out power and lead to gas shortages. Here is what to consider when identifying which assets to protect:
Where are your assets located?
What type of physical protection do you have for each asset?
Which assets are most important for the continuity of your business?
Which assets are leased, and what are you liable for if they are damaged?
Which assets are owned and insured?
Reinforce your locations
Whether your business has one location or 10 locations, you need to consider how you will reinforce and protect each location. Even if your business's location is more inland, you're still exposed to severe damage. Here are some questions to ask yourself before a storm occurs:
What are the addresses of each location of your business, including facilities and transportation lots?
Which people/teams work at each location?
What is the evacuation plan for each location?
What are the major risks for every location, and how secure can they withstand potential damage?
What materials do you need to get each location back up and running again?
Develop Your Emergency Plan
It's natural to panic and lose focus in the midst of a hurricane. An emergency plan tailored to your company's needs is essential to reduce any confusion surrounding a hurricane. Your plan should adapt to unavoidable changes in people, assets, and locations. It should include basic elements that will not change as your business develops.
Back-up your data
Be sure your data is backed up on an offsite device to protect against on-premises damage, as flooding can destroy on-site servers. To save you some time, back up your data regularly so it's one less thing you have to worry about. Backing up your data will protect your business's information against loss. If one server goes down, the backup will save the day!
Create checklist
Generate a checklist of tasks to perform throughout the duration of a hurricane. Ensure this checklist is available for all your employees and key stakeholders if you're away or unavailable. This will be a resourceful source to help everyone stay safe.
Map out Evacuation Routes
Help your employees find the quickest and safest way out of the building to reduce confusion. Work with your facility managers to figure out which stairwells and doors should be used, identify parking lot exits, and what streets in the area should be taken. Email or post a physical map on each floor so your employees know where to go if you all need to evacuate. 
Review Contracts and Insurance Policies
Review your contracts with vendors, landlords, and insurance providers to determine your contractual obligations. Your insurance policy should specifically list what weather-related events, damages, and complete loss it protects, but if you are unsure, contact your insurance provider for clarification.
At TGS Insurance, we can help you determine your coverage and see if you need to make any adjustments. We aim to find you full coverage for the lowest price on the market, so you don't have to compromise on great coverage and a low rate. Our agents will take care of everything from start to finish so you can have a hassle-free buying experience!
Implement a Two-Way Communication System
A two-way communication system for your business is a life-saving tool for your emergency plan. This is to ensure every employee is safe and can communicate during a hurricane with leadership and each other. Regardless of whether you have power, you should still be able to communicate key information to everyone.
Emergency communication software allows you to deliver information to all your employees simultaneously. You can also get notifications from every employee on status updates and provide them with evacuation details. This communication software can help your team stay safe and informed, no matter where they are located and what device they are using.
Establish Your Response Teams
After you have your plan in place, practice it and assign the responsibility to employees up for the challenge. It's important for everyone to have a good understanding of what to do and where to go in any weather-related scenario.
Delegate Roles and Responsibilities
Assign roles to employees familiar with the building and up for working under intense pressure. Be sure to clearly communicate everyone's responsibilities and ensure they have the necessary tools and technology. Inform everyone on the team they are and who they can contact for specific information.
Prepare teams
Gather the teams together to review protocols and clear up any confusion they may have. As your company changes over time, your emergency plan should also evolve. Be sure to notify team members of any modifications dealing with location, expansion, or change to a facility.
Practice, Practice and Practice
Practicing your emergency plan may seem silly, but it's better to have everyone know where to go and what to do if. We hope this helps businesses prepare for hurricane season. Send out an evacuation route that shows where each team should go so they have a clear, direct path for exiting the building. Conduct a drill that mimics a real-life emergency so your employees aren't left with a surprise in the middle of a real-life situation.
Living on the coast means that hurricanes can sometimes be unavoidable. The good news is that you have a solid plan in place to help you and your employees know what to do if a hurricane hits your area. By following the guidelines above, you can help your employees and assets stay protected and maintain the continuity of your business!
Source: AlertMedia
Instant Home Insurance Quote
Recent Home Insurance Articles: