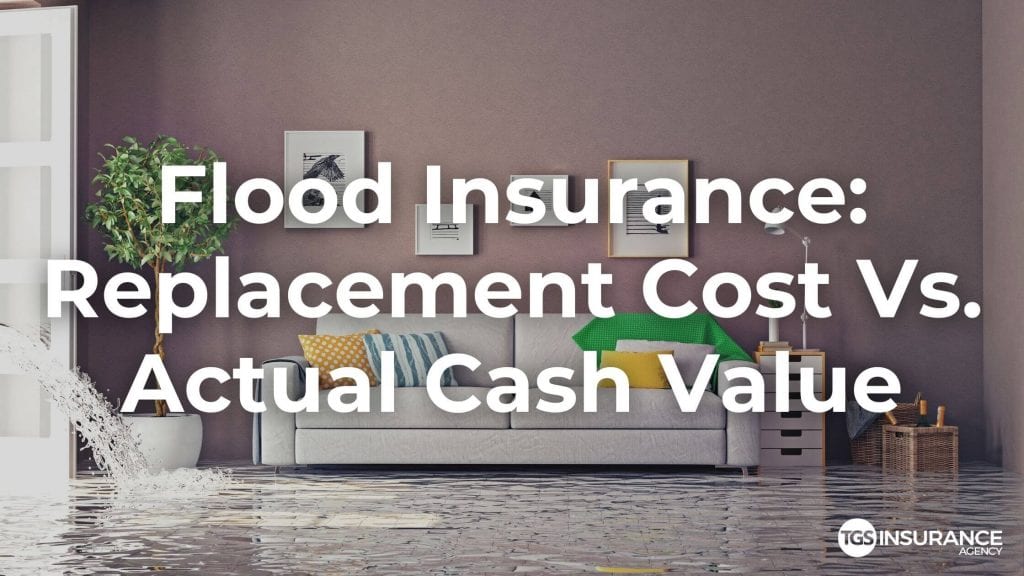 Flood insurance is there to help homeowners during some of the most devastating weather events they and their homes may face, but the aftermath of a flood can be very different depending on how your policy is slated to compensate you for your losses. This is because policies can pay you in different ways. The two common forms of flood claim reimbursement are replacement cost value (RCV) and actual cash value (ACV). Let's explore what RCV vs ACV flood insurance looks like and which might be the best bit for your home.
RCV pays you what it would cost to replace what is lost with a modern equivalent and usually come with higher premiums. ACV is your replacement cost minus depreciation and will come with lower premiums. We have a great article going into more detail on ACV vs RCV, but when it comes to flood events, it is important to consider the devastation they can bring before rushing to sign up for a lower premium.
Average flood claims were $42,580 in 2018 which pales mightily when compared to 2017 during which Hurricane Harvey would cause claims to skyrocket to $97,500 per loss, according to the Insurance Information Institute. This is important to consider because ACV costs less in premium but may not cover your entire loss. Because of depreciation, you'll likely receive less than your claim and the difference will need to come out of your pocket to restore the loss. Replacement costs can save you money when you are most vulnerable and keep you prepared should you ever need to use your flood insurance policy.
The Difference Between Homeowners Insurance and Flood Insurance
A common misconception is that homeowners insurance will protect a home from water damage. This is partially true, but flood events are not covered. Accidental spillage by an appliance, sudden and accidental damage caused by plumbing, and rain damage that is due to sudden and accidental damage to your home can all be covered by your homeowners insurance, but a flood event will not be. Your flood insurance policy will provide two main forms of coverage:
Building coverage is there to protect the physical structure of your home including your A/C unit, foundation, walls, flooring, and more.
Contents coverage protects your possessions such as electronics, furniture, washers and dryers, and some valuables, though policy limits exist.
Flood insurance is there to protect your home from flood events which bring water from outside of your home, inside. It is specific protection for flooding and necessary if you are looking to protect your home as other policies will not cover flooding as a peril. While this coverage is not mandatory in most cases, homeowners who are using government-backed loans to purchase their homes may be required as a condition of the loan.
Homeowners insurance protects you from many other perils including fires, lightning, theft, vandalism, damage from automobiles and aircraft, windstorms, and medical/legal liability, just to name a few. Working side-by-side, both home insurance and flood insurance can be powerful tools for protecting your home no matter what comes your way.
Consider the Costs of Rebuilding After a Flood
An unfortunate factor of homeowners insurance and flood insurance is that policies can go up even if you do everything right and experience no loss. One of the culprits is completely out of the hands of homeowners and revolves around the cost of rebuilding continues to rise. Whether you are looking at labor or skyrocketing materials, this causes higher premiums. This is exactly why it is important to comparison shop your rates for both homeowners insurance and a flood insurance policy.
These rising premiums are because when an insurance company insures your home, they are taking into consideration how much risk they'll take on to protect your home. Higher rebuilding costs mean higher payouts when a claim is made, but these rising costs are important for homeowners to consider as well. With the cost of rebuilding continuing to rise, paying out of pocket can be a costly endeavor. This is why replacement cost may be a short-term cost that turns into a long-term wise investment as you'll receive a better payout capable of covering your losses.
Notable Building Cost Increases Since 2011:
Lumber is up 194%
Steel rebar is up 64%
Concrete has jumped more than 242%
Prices have seen extreme increases in many cases since the COVID-19 pandemic due to supply chain issues, political actions such as tariffs, lower interest rates creating a demand for homes, and more. As building materials continue to climb, homeowners need to be careful to review their policy limits and to remain covered for enough to restore any loss they may suffer from. This includes your home's contents and bringing your home up to code in the aftermath of a natural disaster.
As Many as 25% of All Flood Claims Come From Outside Flood Zones
A shocking truth is that even homeowners outside of high-risk flood zones should prepare for the worst because a quarter of all flood claims are not from homes within flood zones. Urban areas are especially vulnerable as concrete developments continue to pour into cities, displacing where water can go. This means that as cities continue to build, there are more and more homes at risk of flooding, even where they historically have never held water.
TGS Insurance Saves Clients $1,237 a Year on Flood Insurance
At TGS Insurance, we help our clients save more because we understand that great coverage doesn't mean you have to overspend. Through comparison shopping, our established relationships with more than 35 insurance providers, and the incredible bundles we can offer our clients, we can find the right flood insurance policy for your needs all while saving you money. We'll even shop your rates among private insurers and government policies to make sure that you receive the best possible coverage for the lowest possible price. Contact us today to protect your home and see how much you'll save with TGS Insurance!
Instant Home Insurance Quote
Recent Home Insurance Articles: