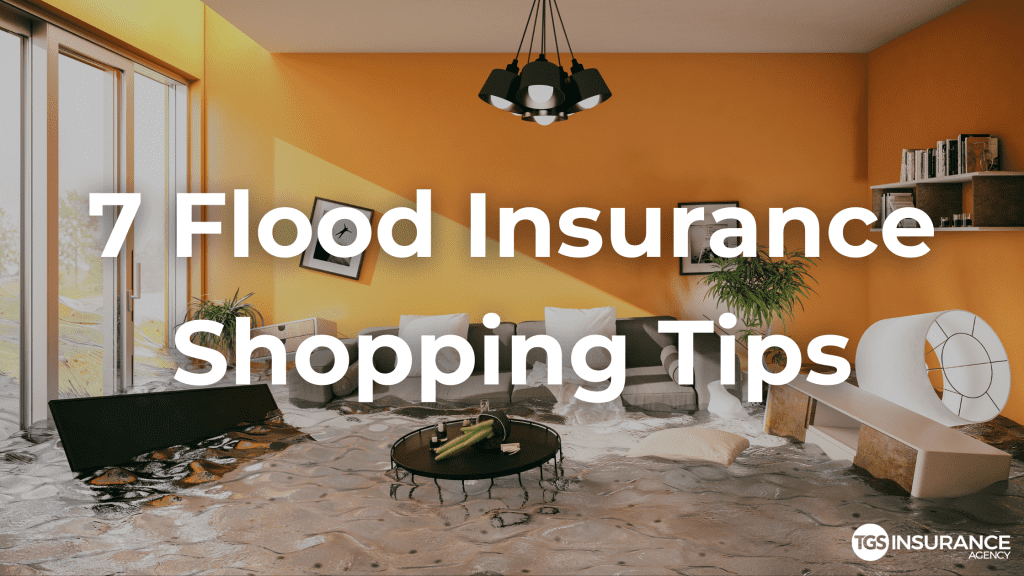 Floods are destructive events that can lead to permanent loss of your personal belongings, damage to your home, and put you in a financial bind. Homeowners who are insured are shocked to find out that their homeowners insurance policy doesn't protect them from flood damage. According to the Insurance Information Institute, about 43% of homeowners incorrectly believe the damage from heavy rain flooding is covered under their standard homeowners insurance policy. This common misconception is untrue, so you will need to purchase a separate flood insurance policy to ensure you are protected against flood damage.
If you live in an area that experiences gusty storms often such as hurricanes, tropical storms, or even heavy rainfall, you should strongly consider purchasing a flood insurance policy. Having a flood policy in place will help you protect everything you care about. Here are seven flood insurance shopping tips for homeowners who want to ensure they are fully protected.
1. Purchase Enough Coverage For the Amount It Would Cost to Rebuild It
The National Flood Insurance Program (NFIP) only provides coverage up to $250,000 for your home and $100,000 for your personal items. In the United States, construction for an average single-family home costs about $296,652, which is a lot more than what NFIP will offer you for flood coverage.
If your home costs more than what NFIP offers you, speak with your insurance agent to see if you qualify to purchase excess flood insurance, which is provided by private insurers. When you buy flood insurance through NFIP, you have to purchase NFIP coverage before they can add on more protection. You can also buy a stand-alone flood insurance policy from a private insurance company if you need more coverage.
You want to get enough coverage equal to the amount it would cost to completely rebuild your home. A lot of homeowners underestimate this amount, but your home insurance provider can help you determine an accurate estimate. You can also get a rough estimate on websites like Zillow or Rocket Mortgage.
2. Create An Inventory Checklist
Take a few hours out of your day to put together an inventory checklist for the items around your house. You'll want to include big-ticket items like your appliances, electronics, jewelry, artwork, as well as your clothes, sporting equipment, and small kitchen appliances just to name a few. This will save you the hassle of trying to determine how much personal property protection you need. Without one, you could underestimate how much coverage you need and be left paying out of pocket for your items. You can use online applications such as Sortly, Nest Egg, Blue Plum, or MyStuff.
3. Choose Replacement Cost Insurance
Replacement cost insurance pays for the full replacement cost of your items, whereas actual cash value insurance only pays for the depreciated value. It may cost more, but you don't want to replace your 10-year-old couch with a 10-year-old couch. It offers you peace of mind knowing that if you do lose your valuables in a flood, you at least will be able to buy similar quality items to replace them.
4. Get Temporary Living Expenses Coverage
Living expenses or additional living coverage is the biggest "gotcha" when it comes to flood destruction. This type of protection covers hotels, restaurant meals, and some other expenses while your home is uninhabitable. These costs are excessive when you're in the middle of a stressful evacuation, and often many people forget to plan for this in advance.
5. Get External Coverage
Also known as other structure coverage, it will protect structures on your property that aren't directly attached to your home such as your garage, pool, shed, fence, mailbox, etc.
6. Manage Your Deductible
Typically if you have a higher deductible you will have a lower premium, but you will have to pay more out-of-pocket in the event you have to file a flood claim. In contrast, lower deductibles mean you will have a higher premium, but your out-of-pocket expenses will be moderate.
7. Consider Purchasing Flood Insurance From A Private Insurer
The NFIP only provides limited coverage to your home and personal items. It does not provide protection for any of the additional coverages listed above, so to have full coverage, you should get a quote from a private insurer and compare it with an NFIP quote. Private insurance companies offer flood coverage all throughout the country and allow homeowners to customize their coverage to tailor to their home's needs.
TGS Insurance Agency Can Help You Save On Flood Insurance
At TGS Insurance, we view the world of insurance differently because we have a different approach than our competitors. Our agents specialize in finding our customers the best coverage for the lowest price on the market! From our pool of over 35 highly-rated insurance providers, we'll find you a flood insurance policy that fits your needs and budget.
It's important to us to help each of our customers save money and our numbers reflect that. On average, homeowners spend about $634 on flood insurance, but at TGS Insurance, our customers spend about $528 per year on flood coverage.
We promise to help you every step of the way and provide you with an exceptional customer service experience. With TGS Insurance, shopping for insurance is simple, affordable, and stress-free!
Source: Property Casualty 360