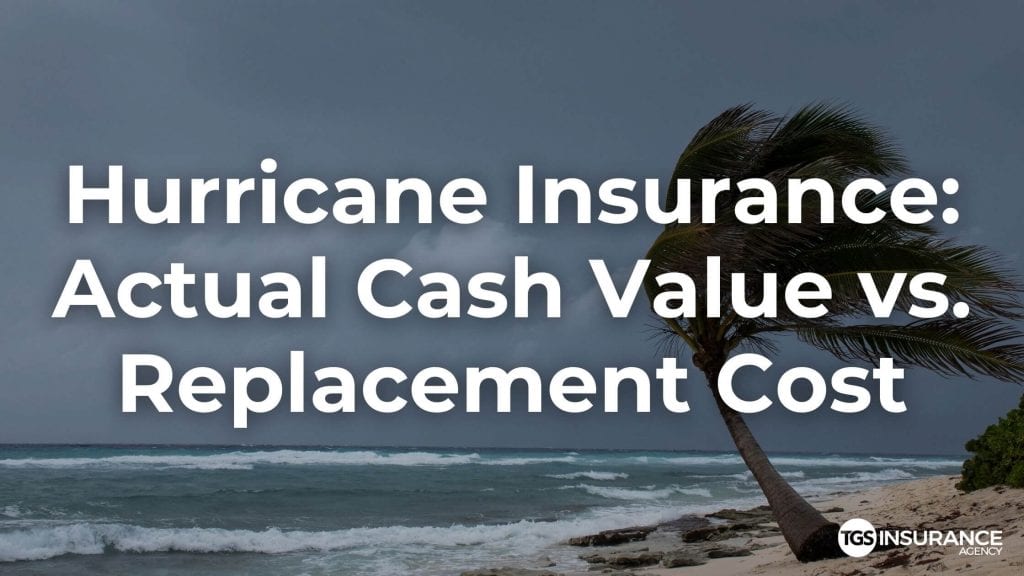 Hurricane season for the Gulf of Mexico and Atlantic begins on June 1st, and after a very active season in 2020, the National Hurricane Center is issuing Tropical Weather Outlooks starting on May 15, 2021. That's two weeks earlier than normal! This is important because it points to the likelihood that residents living in at-risk areas in Texas will need to begin preparing for storms of all sorts immediately, and one of the best ways to do so is to protect your home and your finances with hurricane insurance.
Not all hurricane insurance policies are the same, and there are many factors to consider when protecting your home. Each home is also different; as a result, their coverage needs will differ, but every homeowner needs to take these perils seriously. Hurricane Harvey made landfall in 2017, and the devastation from Hurricane Laura in 2020 are two of the easier examples of recent storms that have harmed Texans, and both serve as reasons to stay prepared.
A major factor determining how your protection is there for you after a hurricane is how your policy pays out after a loss. This will affect your coverage, and premiums, and can be the difference between restoring everything to be made whole or incomplete. Explore hurricane insurance, the options you have as a homeowner to stay protected, and tips on saving money in the short term and the long run with the right policies.
Breaking Down Hurricane Insurance
The way hurricane insurance works are that it is actually a combination of two important policies: flood insurance and windstorm insurance. Flood insurance helps protect your home from weather events that cause flooding, and windstorm coverage is there for you should wind or hail damage affects your home. It is clear that between torrential rains, storm surges, and extreme winds, hurricanes will require both workings in conjunction with your home insurance policy if you are going to protect yourself against everything these mighty storms may bring your way.
Many homeowners assume that their homeowners insurance will protect against floods, and they are sadly wrong. Even homes outside of flood zones run the risk of flooding as many of these homes account for flood claims, up to 25% of homes, to be exact. Windstorm protection is a part of many home insurance policies, but not all, and different companies work in different ways, so you may not be as covered as you think with a standalone home insurance policy. Here at TGS Insurance, we work to ensure that your home is ready for whatever comes its way and can write in windstorm coverage to your home insurance policy. In fact, we do so for all of our clients with a 2% deductible depending on where your home is located.
Understanding the Actual Cash Value vs. Replacement Cost
Choosing the right coverages is only part of the equation. How you decide to accept payment when you submit a claim plays a big part in how much you'll pay for your premium and how much money you'll receive when you need it the most. Here you can read a more in-depth discussion on the differences between actual cash value and replacement cost, but for now, we'll have a quick review and explore what it means for your hurricane insurance coverage:
Actual cash value (ACV) considers depreciation. This means you'll receive a payout that is the amount it costs to replace your loss minus depreciation, likely a lower amount. ACV policies offer lower premiums to homeowners.
Replacement cost is a payment that covers the amount it costs to replace what is lost with a comparable, modern version to restore the loss and make it whole again. Premiums are higher for these policies.
It may seem like a no-brainer to choose ACV, but when you consider that if your loss is larger than your payout, you'll end up paying out of pocket, homeowners are wise to consider all the factors surrounding a potential insurance claim before choosing a policy.
The Cost of Building Continues to Rise
Homeowners insurance and related policies tend to trend upwards for two reasons: the increase in natural disasters affecting homes in the United States and the rise in labor and building materials. When your insurance premium is created by an insurance company, the risk factors and costs that go into ensuring your home are what are calculated. More risk means higher premiums and vice versa. This means that as building materials rise, you'll pay more premiums to compensate for the potential risk your insurer is undertaking should they have to restore your home due to a claim.
During 2020 and 2021, the striking increase in building materials is more prevalent than ever before:
Lumber is up over 281%
Steel prices have risen nearly 44%
Concrete costs builders 4.7% more in 2021 than in 2020
Copper prices are up more than 33%
Bricks have seen an increase of 11%+ this year as opposed to last
Sources: Trading Economics, Home Advisor, HomeX, Remodeling Calculator
There are many other considerations when looking at a hurricane's aftermath. Building codes are always an issue when building or modifying a home, but they can be amplified after a storm. Consider this, if your home's elevation is deemed to be too low due to new guidelines, and you do not have the right policies in place or do not have the money to cover where your policy limits end, how will you rebuild your home? These issues can complicate some of the most vulnerable homeowners and create an expensive and complicated rebuilding process.
Hurricane Insurance Coverage That Protects for Less
Texas is a wonderful state, but its residents deal with hurricanes more than almost any other state ranking second in the nation for the most hurricanes to make landfall. Within the state, 14 counties are at the highest risk of feeling the effects of tropical storms and hurricanes:
Aransas County
Brazoria County
Calhoun County
Cameron County
Chambers County
Galveston County
Harris County (east of Highway 146)
Jefferson County
Kenedy County
Kleberg County
Matagorda County
Nueces County
Refugio County
San Patricio County
Willacy County
While neither flood insurance nor windstorm coverage is necessarily mandatory, homes living in flood zones with government-backed loans are required to carry flood insurance. Homeowners insurance is also not mandatory by law, but your lender may make it a condition and term of your mortgage. Either way, hurricane insurance is a great way to stay protected against rain, wind, and storm surges; without it, your home can be exposed.
TGS Insurance helps homeowners protect against perils for less. We believe great coverage doesn't mean you have to overpay. The average TGS Insurance client pays only $528 per year compared to the average Texan, who pays $634 per year for flood insurance coverage. By comparing shopping insurance rates among 35+ top-rated insurance providers and even against government policies offered by TWIA and FEMA, we can provide you with the best coverage for your home available at the lowest price on the market.
It takes 30 days for a flood insurance policy to go into effect. Insurance providers will also cease to write windstorm policies while a named storm is in the Gulf of Mexico. This means that homeowners are wise to act now instead of waiting until it is too late and facing a storm and the aftermath alone.
Instant Home Insurance Quote
Recent Home Insurance Articles:
Hurricane seas