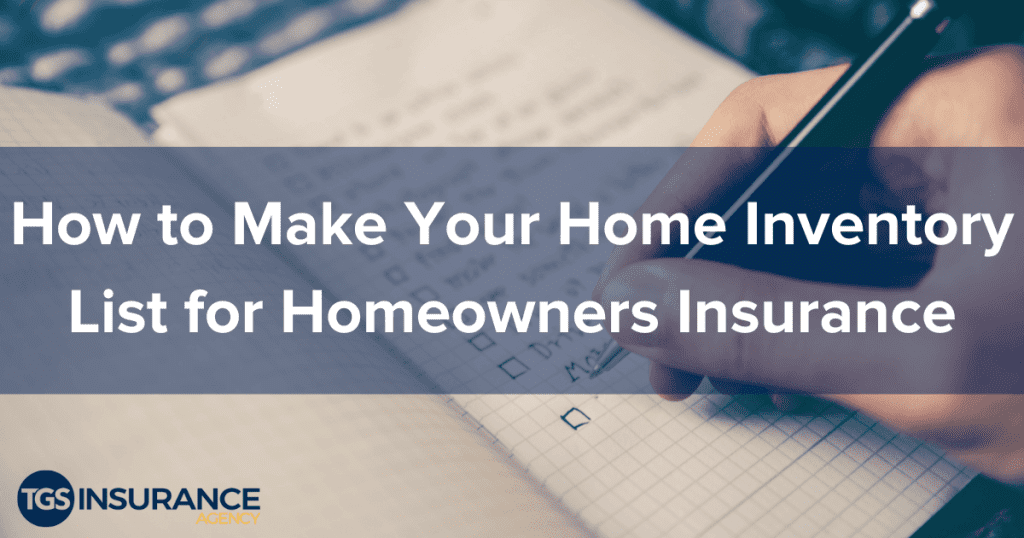 Creating a home inventory list of your hard-earned possessions will save you headaches and complications in the event of a tragedy. Here at TGS Insurance, we hope homeowners never face a devastating fire or any other weather-related event that would cause severe damage to their homes or property. Still, we understand the importance of staying ready to face the worst.
A home inventory list allows you to record what you need to be protected should it become damaged or lost. Insurance providers will need this information to help restore your possessions should they become affected by peril in your policy. Homeowners are wise to keep track of these items to avoid discrepancies. Learn more about how you can make a home inventory list to help you stay better protected and your things accounted for.
Why Do I Need to Make A Home Inventory List
There are many different ways to ensure you account for your possessions. Writing down everything you own is the most traditional method available. You simply list your protected items. You'll want to record much more than just the name, however. Be sure to include serial numbers, brand and model information, value, receipts if possible, and any other relevant information that could come in handy. Proof of ownership is essential should the item in question become lost or destroyed.
Do I Need a Physical or Virtual Copy?
One of the problems with making an inventory list solely in the physical world is that if your home experiences damage and your home inventory list is inside of your home, then how much good can it do? We recommend a physical list kept securely inside a safety deposit box or a fireproof/flood-proof safe.
Written lists can be a great complement to an online option. By creating a spreadsheet or using one of the many apps available, homeowners can find online solutions that keep their inventory consolidated and secure. You can add other items, including scanned receipts, records of purchases, emails, and other documents, to help you identify and claim items with your insurance carrier.
TGSI Tip: Use our Personal Property Calculator to print and save on your devices for a physical and virtual copy.
Even an online option or a saved spreadsheet on your computer can use additional support. For this reason, we also recommend considering a video inventory. This can be vague if you walk through your home and rely on the camera to do all the work, and in the end, you'll have just as many headaches.
Follow these steps to make your recorded inventory a success:
Take your time, record slowly, and actively speak about what you are recording.
Don't do everything in one take; go room by room, and allow each to have a separate video. Accompany these videos with still photos also.
More information is always welcome. Add receipts, certificates of ownership, proofs of purchase, dates of purchase, etc.
Don't think of something as "too small." Even small items can add up during a catastrophic event. If it is covered, record it.
Upload these in an organized fashion to your digital inventory to provide additional backup and information for your comprehensive list.
Combining these three techniques will help you achieve the best results for keeping your home inventory accurate and informative. Remember to keep your sensitive information safe digitally and online, and always consider backing up your files in the event your primary list is to become destroyed or deleted.
TGS Insurance Helps Homeowners Prepare for the Worst
At the end of the day, nobody wants to endure a catastrophic event involving their home nor their possessions. Rebuilding is stressful but staying prepared can help you down the road should you come face to face with such peril. TGS Insurance understands the importance of preparing for the worst while hoping for the best and has been assisting homeowners by finding the right homeowners insurance for a lower cost in the Gulf Coast region for over 20 years. We even include windstorm/hail coverage in all of our customizable home insurance policies and can bundle auto or flood insurance for even more savings. Contact one of our expert agents and have us compare our bank of more than 35 top-rated insurance carriers to find your home the best coverage for a lower price today!
Instant Home Insurance Quote
Recent Home Insurance Articles: