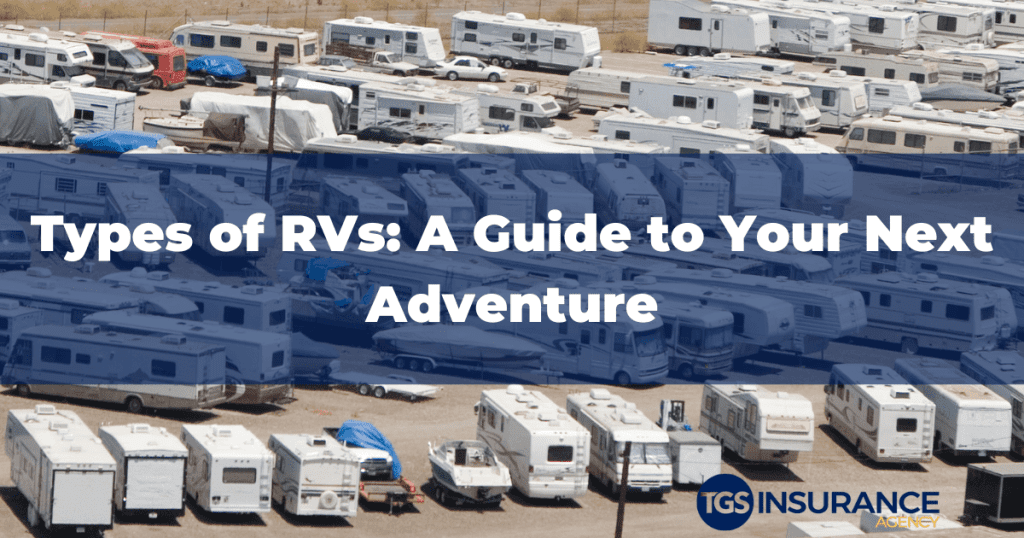 Recreational vehicles are growing in popularity, and it's easy to see why. RVs allow you to hit the wide-open road to any destination you wish whenever you want, giving you the ultimate freedom to travel and explore. Getting started can be overwhelming with several different types of RVs on the market.
RVs come in various styles and sizes, from small-scale RVs perfect for one traveler to mobile mansions big enough for the whole family- there is something suitable for all of your needs. With so many types of RVs on the market and such a wide variety between them, it's important to become familiar with the different RV classes to help you determine which kind of RV might be best suited for your needs. What makes a Class C different from a Class A RV? Do I need insurance for my trailer? And does every RV require a certain license to operate?
Whether you're thinking about purchasing an RV in the near future or just want to understand more, we've broken down the different types of RVs and need-to-know qualifications for each class.
Class A RVs: The Mobile Mansions of the Road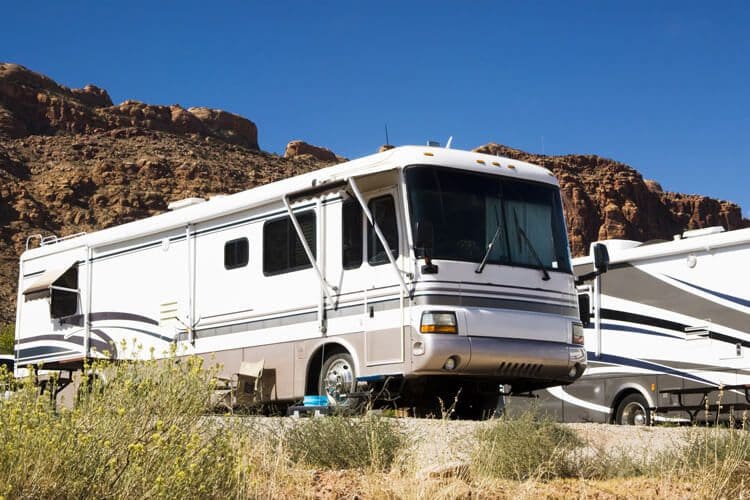 Weight: 13,000 to 30,000 pounds
Length: 26 to 45 feet
Class A RVs are the largest recreational vehicles. These bus-sized vehicles are customizable and allow you to make them as simple or as extravagant as you want. They can sleep up to 10 people and feature high-class amenities, including king or queen-size beds, full-sized kitchens, bunkhouses, and so much more. Travel in style while having some serious square footage in a Class A RV.
The large size of the RVs in this class also comes with a large price tag. Often times Class A RVs start at $50,000 to $100,000 and can run into the millions depending on how you decide to deck it out. In addition to their high price tag, they don't get the best gas mileage, and parking is limited due to their enormous size and hookup requirements.
In Texas, you must have a Class A or B Non-Commercial License to operate any vehicle over 26,000 pounds. Class A RVs can weigh more than that, so it is something to consider before purchasing.
Since a Class A RV is something you drive (as opposed to tow ), RV Insurance is required in Texas. RV insurance typically includes liability coverage, which covers any losses or injuries you are deemed responsible for. You can also add more coverage to protect your personal belongings. Our team at TGS Insurance can help you insure your vehicle with all the necessary coverages without breaking the bank.
Class B RVs: The Camper Van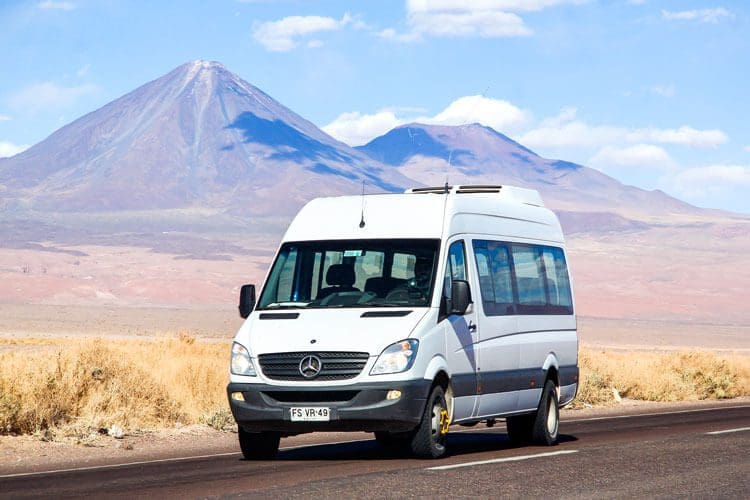 Weight: 4,000 to 9,000 pounds
Length: 17 to 24 feet
Class B RVs are often called camper vans and are the smallest of the three driveable RV classes. They resemble a large van rather than a house on wheels, and without a doubt, have less livability space and sleeping areas than the Class C and Class A RVs. Class B vehicles are for people who want something that allows them to pick up and go easily, provides a basic space to sleep and store personal items. Popular Class B vehicles include the Mercedes Sprinter, Ford Transit, and Ram Promaster.
While they don't have the space for all the amenities commonly found on larger RVs, Class B RVs utilize every square inch that they do have and often host a kitchen, toilet, and shower, among other amenities. Class B RVs are easy to operate, get great gas mileage, have a four-wheel-drive option, fit in the average parking spot, and easily get to secluded areas for camping.
Since camper vans are under 26,000 pounds, these vehicles don't require a special license to operate, and your Class C driver's license will be sufficient enough. The Class B RV requires basic liability insurance that protects you in the unfortunate event you are at fault for bodily injury or property damage to someone else. If you want more coverage, visit TGS Insurance to get more information and our team can carefully craft a policy that best fits your RV insurance needs.
Class C RVs: The Average Size Option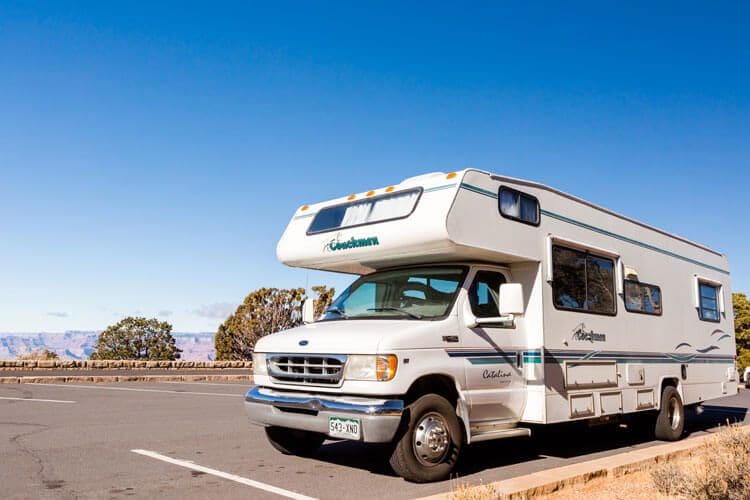 Weight: 10,000-13,000 pounds
Length: 24 to 32 feet
Class C motorhomes are the middle sibling of the motorhome classes in terms of size. These types of RVs are bigger and more spacious than a Class B vehicle but they're smaller than a Class A RV. Their most popular feature is the iconic over-cockpit area that can be used for storage or sleeping, with additional sleeping areas, including a bedroom in the back and slide-outs. Compared to the giant Class A vehicles, Class C vehicles are more affordable, slightly smaller, and get better gas mileage while still providing enough livable space and amenities. They're often a popular option for those who want an easier driving experience since they are combined with the chassis of the average pickup truck.
Since the Class C RVs weigh under 26,000 pounds, you are not required to have a special license to operate one. In Texas, Class C RVs require liability insurance specifically for your RV and separate from your auto insurance policy.
Travel Trailers: The Towers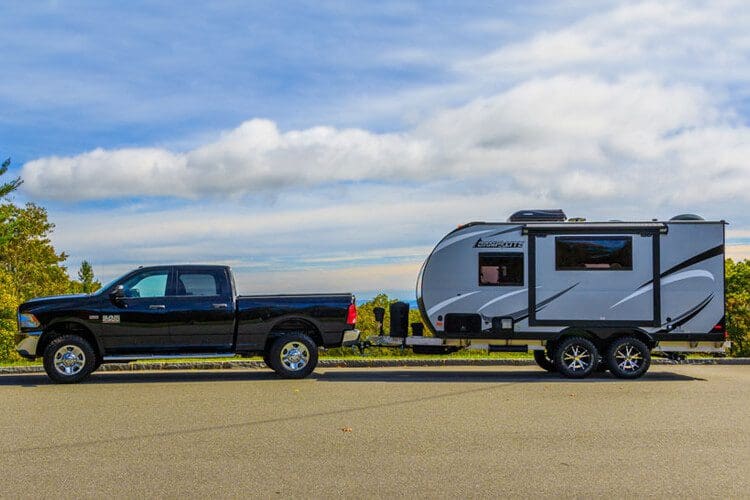 Weight: 1,100-12,000 pounds
Length: 13 to 40 feet
Travel trailers are towable RVs that can be as big or small as you need them to be, making them more budget-friendly as there is an option for everyone. Travel trailers are an ideal option for those wanting a basic living space, some amenities, and the ability to detach and go whenever they please. A travel trailer also doesn't require a special license to tow unless it's over 10,000 pounds. Additionally, because you are not driving the trailer, Texas law does not require you to have insurance on your travel trailer. However, we strongly recommend you purchase insurance coverage because it's a valuable asset that should be protected.
Your auto insurance may offer some type of liability coverage for your travel trailer, but only if you have ownership of it. Contact an agent at TGS Insurance to help see if your travel trailer is protected by your auto insurance policy.
Fifth Wheel: The Biggest Trailer on the Market
Weight: 1,100-12,000 pounds
Length: 25 to 40 feet
A fifth-wheel trailer is similar to a large tow behind but connects to the vehicle differently; a fifth-wheel trailer connects to the bed floor of a pickup truck with a special hitch. This hitch creates stability when moving and provides extra space in the trailer by creating a raised forward section.
Typically, your auto insurance policy will extend to your fifth-wheel trailer, but only for liability protection. Since the fifth wheel cannot be towed without a separate vehicle, it's not a requirement to purchase RV insurance in Texas. However, we highly recommend you consider RV insurance because your auto policy limits protection.
RV Insurance Made Easy
Juggling the different types of RVs available can be daunting, but remembering which type of licenses and insurance each class requires is crucial. Once you find the right type of RV for your lifestyle, let us help you worry about the insurance needs so you can focus on planning your next adventure!
If you need more information on RV insurance or want to know if your current auto insurance policy covers your trailer, or want to increase your coverage, contact us at TGS Insurance.
Start Your Free Auto Insurance Quote Now
Recent Auto Insurance Articles: