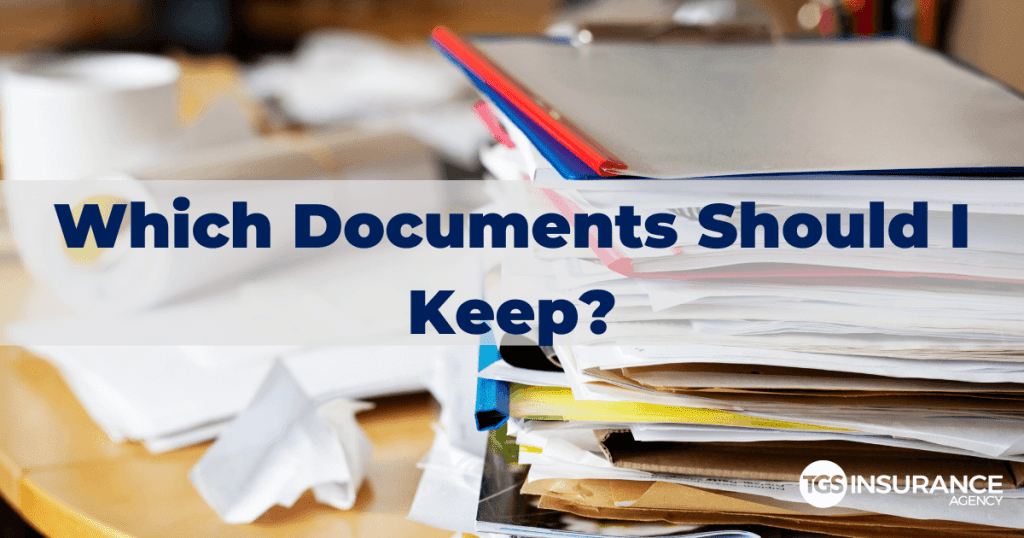 Investing in the right insurance policy is essential to protecting yourself, and your assets, but there is more you can do to make sure you're as prepared as can be. After purchasing the appropriate policies, the next, and often dreaded, task is to keep and organize your key documents that you'll need on hand should you need to file a claim. To make this a bit easier, we've gone ahead and made a list! Which documents should I keep?
Keep For 1-3 Months
Paystubs: Always keep your pay stubs, but there's no need to hoard them. Having the last one to three months worth of your paystubs is more than enough for any occasion.
Utility Bills: Much like pay stubs, it's important to keep the last few months of your utility bills, but there's no need to hold onto more than that. There really isn't an occasion that calls for more than that.
ATM & Bank Deposit Slips: If you are still using paper banking, it can be helpful to hold onto your last few ATM and bank deposit slips. However, if you have migrated to completely digital banking practices, you can access these files online at any time.
Keep For A Year
Monthly Mortgage Statements: These are important to hang onto and often are required to show a pattern of consistent payments. There's no need to keep more than a year's worth at a time.
Expired Insurance Records: Even though they are expired, if they are recent these insurance records could still prove useful. It's worth hanging onto these for about a year after they expire.
Checkbook Ledgers: If you still write checks on a regular basis, you should absolutely hold onto those ledgers for at least a year. If you're not writing checks regularly, it's not as important.
Keep For 5-7 Years
Bank Statements: Again, this is only important if you haven't signed up for online banking statements. If you are still receiving paper statements, they are worth holding onto. However, in 2017, it's much easier to simply sign up for digital bank statements.
W-2 & 1099 Forms: For tax purposes, it's important to save these for at least five years. Many tax professionals suggest that you keep these documents for seven full years and it does make sense. If you've changed employment it can be difficult to track down the correct documents years later.
Medical Bills/Claims: Medical costs in the United States can follow patients around for decades. Knowing that, it's important to hold until all your medical bills and claims for as long as possible. This is another example of documents that should be kept for around seven years.
Unemployment Income Stubs: If you've ever collected unemployment, it's important to keep those stubs for several years in case you're called upon to account for that income by the IRS or another government entity.
Keep Indefinitely
Annual Tax Returns: Your tax returns are the most obvious example of documents that should be kept indefinitely. You never know when you'll need to show your tax history.
Deeds, Mortgages & Bills of Sale: It's always important to keep any official documentation that proves your ownership of something. Whether it's a car, or a house you need to keep those deeds, mortgages and bills of sale indefinitely.
Year-end Investment Statements: This is another example of a document that is important to keep, but not necessary if you are getting digital investment statements. Either way, make sure you have access to these statements as long as you have the investments.
Legal Documents: This should go without saying, but any legal documents including marriage licenses, pre-nuptial agreements, divorce papers, wills etc. should be kept as long as they are legally valid.
Current Insurance Policies: It's important to keep all of the documentation pertaining to any current insurance policies you have as long as the policies are active. Once they expire, it's still important to keep those documents around for at least a year.
TGS Insurance Is Here to Help!
While organizing paperwork is never an enjoyable task, it is an incredibly important one. Take the time to devise an organized file system, and follow our general guidelines for which documents to keep! You'll rest easier knowing that you have everything ready to go should you need it.
Instant Home Insurance Quote
Recent Home Insurance Articles: