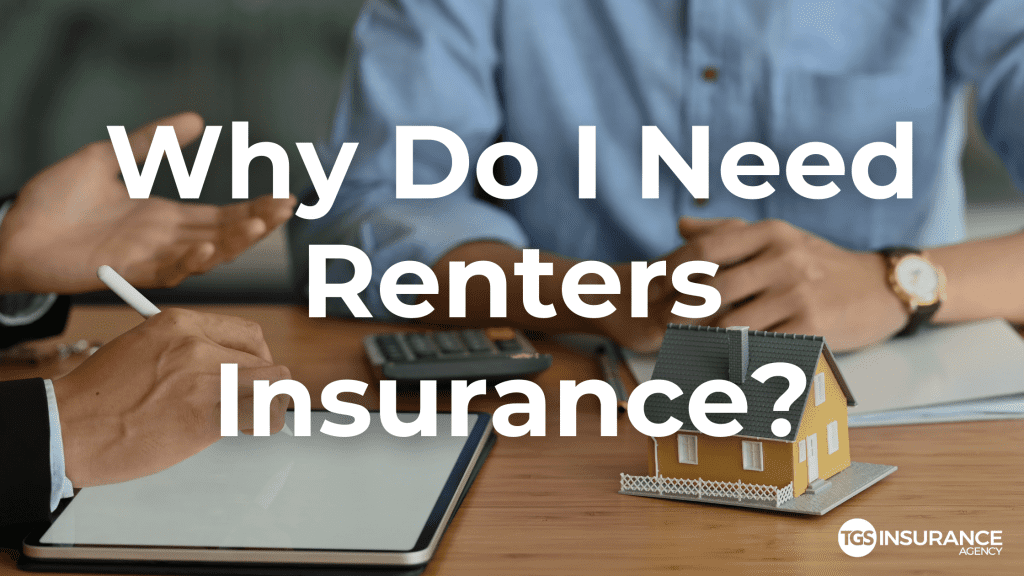 When you rent an apartment or home, you'll want to have the necessary insurance policy to protect your personal possessions. Your landlord's property insurance policy will cover the damages to the building, whether it be a home, apartment, or duplex. To ensure you have liability coverage and your personal items are protected, you must purchase a renters insurance policy.
While 95% of homeowners have a homeowners insurance policy, only 41% of renters have a renters insurance policy, according to the Rental Housing Journal. But why do so many renters not have the proper coverage? One reason may be that many renters incorrectly believe that they are protected under their landlord's policy. Another reason could be that they underestimate how much all of the costs of their items. Or simply, they don't want to spend the money on it.
Any way you slice it if you rent you need a renters insurance policy. Let's take a look at six key reasons why every renter should have a renters insurance policy in place
1. Renters Insurance is Inexpensive
According to the Insurance Information Institute, the average cost for a renters insurance policy in the US is about $14.90 per month. You can expect to pay about $179 every year for renters insurance, but your actual costs depend on various factors such as how much coverage you need, the type of coverage you choose, how much your deductible is, as well as the location of your home.
2. It Protects Losses and Damages to Your Personal Property
A renters insurance policy will cover the costs for damages against your personal possessions including your clothes, furniture, electronics, appliances, etc. but only to a specific limit. You may think you don't own a lot but the value of your items can add up quickly and it's probably more than you want to pay for out of pocket. A renters insurance policy covers a variety of perils including:
Damage from water or steam from household appliances, heating, plumbing, air conditioning, or fire-protective sprinkler systems
Weight of ice, sleet, or snow
Windstorm or hail
Theft
Vandalism
Smoke
Fire or lightning
Falling objects
Explosion
Volcanic eruption
Riot or civil commotion
Fire or lightning
Damage caused by aircraft or vehicles
It's important to take note that floods and earthquakes are not covered by renters insurance. You would need to purchase a separate earthquake or flood policy to ensure your personal items are protected for these two types of perils.
Something to take into consideration is that your renters insurance policy will not protect you if your losses were caused by negligence or intentional acts. For example, if you avoided fixing a leaky faucet and it leads to mold damage, your renters insurance policy will not cover you for the damages because you neglected to get the issue fixed.
3. It Offers Liability Protection
The standard renters insurance policy includes liability coverage, which protects in the event someone gets injured in your home or if you or another covered person is liable for accidentally injuring someone else. It also covers the costs for any legal fees or court judgments, up to your policy limit.
Renters insurance liability coverage typically starts at a $100,000 limit for claims or lawsuits, but some experts recommend that you buy at least $300,000 worth of coverage, according to the Insurance Information Institute. Your renters policy also offers No-Fault Medical Coverage, so if a guest is injured in your home, you can submit their medical bills directly to your insurance company. On average, renters get $1,000 to $5,000 worth of this type of coverage. However, it doesn't pay the medical bills for you, your family, or your pets.
4. Your Landlord or Property Manager Might Require It
Whether you are renting an apartment or home, your landlord or property manager may require that you purchase a renters insurance policy. Most landlords and property managers require you to have one because it helps shift the responsibility from them and/or it's required by the insurance carrier providing their landlord insurance policy.
5. It Provides Additional Living Expenses
A lot of renters don't realize that a renters insurance policy includes additional living expenses coverage! It offers financial help in the event your home or apartment is destroyed by a covered peril and you need to live somewhere else temporarily until your home is repaired. Renter policies typically compensate you for hotel bills, temporary rentals, restaurant meals, and other expenses you have incurred while your home is being rebuilt or repaired, according to the Insurance Information Institute.
6. It Protects Your Possessions When You Travel
Your renters policy doesn't limit its protection just inside your rental home or apartment. Your personal possessions are covered from loss due to theft and other covered losses anywhere in the world. So if you're on vacation and your laptop gets stolen, you're covered up to your policy's limit! The reason being, it's still considered personal property and protected when you're home or not.
The Bottom Line
The key point is that renters insurance is important for every renter to have because it provides coverage for your personal possessions whether you're home or jet-setting to an exciting destination. In addition, it offers liability protection in case someone is injured in your home or you or a covered member of your household is responsible for accidentally injuring someone.
It's important that you understand what your renters policy protects because you may be missing out on coverage benefits. Talk to your insurance agent about available discounts, coverage limits, and your deductible.
Hire a Pro: Contact TGS Insurance Agency for Your Renter Insurance Needs
At TGS Insurance, we specialize in finding renters insurance policies from over 8 A-rated (or better) carriers that have a low monthly premium and great coverage. Get your hassle-free renters insurance quote now! From your initial quote to setting up your policies, or even updating coverages- TGS Insurance is here to help with all of your renters insurance needs!