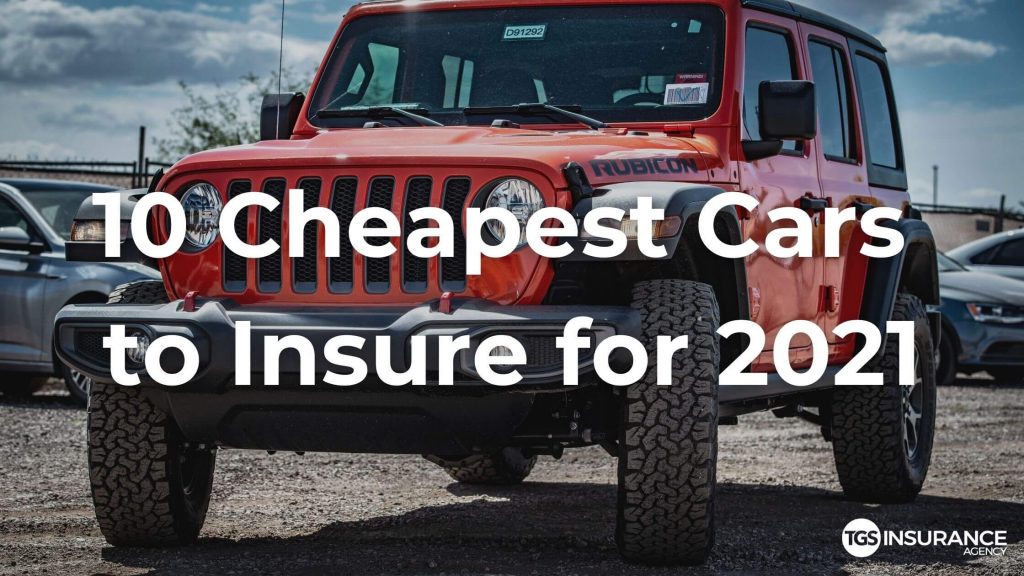 There's nothing wrong with a safe, reliable, affordable vehicle. Sure, they might not get some of the awe-inspiring reactions from strangers, but they can get you from point A to point B and save you some serious cash in the process. As we've seen, higher-end vehicles can cost a pretty penny when it comes to their sticker price, maintenance, and insurance.
Insurance providers assess a range of different factors to create your auto insurance premium. Your driving record will play a role as well as other factors such as your intended use of the vehicle, miles traveled, your credit score, etc. Carriers assess these factors to determine the amount of risk you pose as a driver to insure. If you are deemed less of a risk, you can expect to have a lower auto insurance premium and vice versa.
Safer cars that are cheaper to fix should they become damaged in an automobile accident, can help keep the cost of your monthly auto insurance bills lower. With the rising costs of vehicles, chances are, your monthly note is already high enough. There's no reason to add to it with a lofty auto insurance premium that costs an arm and a leg. Thanks to MotorTrend, we've pinpointed the 10 cheapest cars from 2021 to insure. Remember, averages are likely to differ due to individual factors that are determined by each insurance carrier. They are a guideline but not an absolute.
10. Jeep Wrangler Sport
A rugged vehicle that is ready and capable of taking on off-road, the Jeep Wrangler Sport continues its iconic status. Though it's not the safest vehicle on our list, it's clear to see the appeal this SUV continues to deliver year after year. Understand that this SUV may not be the smoothest ride you can find, but it is built to face uncomfortable terrain and overcome it. However, the entry-level models of the Jeep Wrangler Sport carry an average price of only $1,339 per year to insure.
9. Subaru Forester
An all-wheel-drive (AWD) crossover that can get you where you need to go in comfort? Why, it's the Subaru Forester, of course! The inside of the vehicle has a great feel to it, giving everyone their personal space and an extraordinary entertainment interface that is user intuitive. You'll have no problem navigating its pristine, large windows either. The base-trim model will run you an average of $1,333 per year for auto insurance premiums.
8. Subaru Outback
Relaxing, up for the task, and simplistic, the Subaru Outback feels comfortable on the backroads, offroad, or in the city. This mid-size SUV crossover is ready to handle any task ahead of it while making things easy on its driver. The Subaru EyeSight driver-assist and low price to insure, $1,330 per year, make this vehicle an affordable, reliable option great for any driver.
7. Mazda CX-5 Sport
Style doesn't have to be expensive and the Mazda CX-5 Sport is proof. This crossover SUV has a sleek design that features a massive entertainment screen (10.3") and steering control. Insuring this vehicle will only cost you $1,328 per year.
6. Jeep Compass Sport
The Jeep Compass Sport blends some of the offroad features Jeeps are known for with a bit more luxury. We won't pretend this is the highest-rated SUV on MotorTrend's list, but what it may lack in features, it makes up for in cargo space. With an average of only $1,324 per year in premium, you can spend less money on protecting your car and more on an adventure.
5. Honda HR-V LX
If you are looking for an affordable car that provides economy gas mileage, the Honda HR-V LX checks all of the boxes. You will love the "Magic Seat" feature found on the second row, which adds to the natural spacious interior you'll enjoy as soon as you sit down. If you upgrade from the base model, you'll receive even more fun features such as the Honda Sensing suite of driver-assist and additional safety features. But the base model will surely get the job done and only costs you $1,322 per year.
4. Fiat 500X Trekking
Italian craftsmanship is matched with an SUV that comes with standard AWD. Its compact design may leave a little less room for storage than desired, but it's part of what gives this vehicle its great gas mileage. Its entertainment features include HD radio and smart device connectivity that makes the ride even more enjoyable. The Fiat 500X Trekking will only set you back $1,301 per year on auto insurance premiums.
3. Mazda CX-3 Sport
Mazda hits it out of the park with this classic offering from its lineup. The Mazda CX-3 Sport is a sleek, stylish design that handles well on the road. The standard model includes Apple CarPlay and Android Auto, which enhances your entertainment and navigation. For only $1,294 per year, you'll gain coverage at one of the lowest rates on the market.
2. Honda CR-V LX
When vehicles score high on their safety score, you win because you gain a safer vehicle, which helps you receive lower car insurance premiums. The Honda CR-V LX is a safe ride with plenty of features. The Honda Sensing suite alone combines adaptive cruise control, front automatic emergency braking, and lane-keep assist. You also benefit from the automatic brake hold, automatic high beams, and stop/start engine capability add to the great experience this vehicle provides. MotorTrend's top-rated compact crossover will only cost you $1,285 per year for auto insurance coverage.
1. Chrysler Voyager L
You'll find a sense of luxury with the Chrysler Voyager L, but its primary focus is on service. You can fit more passengers than any other Chrysler model. The Voyager L also offers steel wheels for an elevated look. There are fewer frills and thrills but it is a solid offering that focuses on getting the job done, for less. Your annual car insurance premium will only cost $1,272 per year making this the cheapest car to insure for 2021.
TGS Insurance Helps You Spend Less on Auto Insurance
No matter the make and model of your vehicle, TGS Insurance is ready to help you save more on your auto insurance. Here, you're not just a policy number, you're our client, and each of our agents will take the time to get to know you and your needs. This means finding the coverage you need for less through applying every applicable discount and finding you even more savings through bundling with another policy like home insurance. 
Our experts shop your coverage among our bank of 35+ car insurance providers to ensure that you receive the best policy for the lowest price every time! We'll even review your coverage when it's time to renew and shop all over again should you receive a rate increase so that you never overpay again. See how much you can save on your auto insurance with TGS Insurance today!