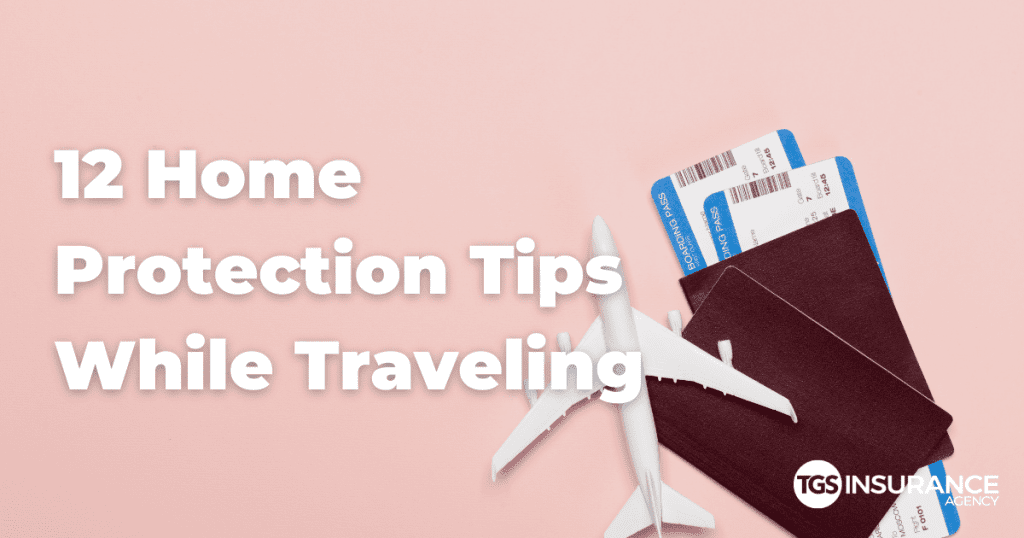 Going on vacation is an exciting time for anyone and it's easy to get caught up in the excitement and everything that goes into planning a trip, but it's important to remember what you're leaving behind. Before you head out, make sure your home is secure and safe. This will give you peace of mind knowing you've minimized your risk of anything happening while you're gone and avoid coming home to an unwanted surprise. Check out our top 12 home protection tips while you're away.
1. Consider a Home Security System
About 66% of all break-ins occur in the home and with how frequently home break-ins happen, having a home security system is essential. Some home security systems will notify you when someone is at the door and even provide you with live footage from your phone so you can see what exactly is happening in real-time. This small investment will give you a sense of comfort knowing your home is properly secured.
Once you get a home security system, it's a great idea to advertise that. Post signs near the entry points of your home letting everyone know that your home is being monitored by video surveillance. Even if you haven't purchased a home security system before your next trip, you can still buy the signs just to make burglars think you have it.
TGSI Tip: Talk to your insurance agent about discounts that could be available on your home insurance premium for having upgraded security features on your home! It pays to have home protection!
2. Lock and Secure All Windows and Doors
Locking your doors and windows may seem pretty obvious, but according to ADT about 34% of burglars twist the doorknob and walk right in. Unlocked windows are also an easy access point for burglars, even if your home is a two-story. A smart burglar will still find his way into your home by entering through windows, leaving your home vulnerable.
3. Keep Some Lights on While You're Away
Leaving on a lamp or just any type of light source will help give the illusion that someone is home. The darkness is commonly correlated with an empty house and it allows burglars to easily go unseen while breaking into a house. You can even go a further step by installing motion-sensor lights outside your home to help give a spotlight to intruders. If you are concerned about wasting electricity, you can put your lights on a timer or get smart lighting and control them from an app on your phone! Home protection can be simple, yet effective.
4. Unplug Nonessential Electronics
Before you leave, be sure to go around your house and unplug electronic devices such as TVs, computers, coffee makers, fans, etc, because both will reduce the risk of a fire starting and save you money. The power used by electronics that are plugged in while not being used accounts for five to 10% of residential energy use and costs each household about an extra $100 each year.
Unplugging your devices also protects them from electrical surges, which can short out a fuse or cause a fire. If you are away from your home there, unfortunately, isn't much you can do to stop these fires when something malfunctions. You can read more about other fire risks in your home here.
5. Be Sure to Remove Any Spare Keys You Have Hidden Somewhere
Having a spare key stashed outside your house isn't a great idea even if you aren't going away on a trip. Be sure to pick up any keys you have hidden because your hiding spots aren't as clever as you may think. Try investing in a smart door lock so you can unlock your house with a code instead of using a key. If that's not possible, leave your key with a trusted neighbor just in case someone needs access to your home.
6. Hide or Lock Up Valuables
Valuable items that are easy to grab are very attractive to burglars. If you have a household safe, then you should lock up your most important items in there. It's important to remember that criminals aren't only after physical valuables, they also want to steal your identity. Be sure to lock up your social security cards, financial information, and any other personal identification that you aren't bringing with you.
The average loss from burglary is $2,661, and most limits on a home insurance policy average around $2,000 so you should be well-protected! If you've got high-dollar valuables that can't fit into a safe (or just have any in general) you may want to consider adding on a scheduled personal property endorsement to your homeowner insurance policy. It provides coverage for a greater number of risks and it increases coverage limits on high-value items such as jewelry, fur, art, antiques, firearms, etc. Talk to an agent at TGS Insurance to see how you can add scheduled personal property coverage to your policy.
7. Hire Someone to Maintain Your Lawn While You're Away
A lawn that looks overgrown just screams "no one has been home for days." Be sure to make arrangements to have someone maintain your lawn if you're on an extended vacation. This will help make it look like your home is occupied as well as avoid a fine from your HOA.
8. Ask a Trusted Friend or Neighbor to Check In 
Have someone you trust check in on your home periodically to look for signs of attempted entry, burst pipes, or any other potential problems. Tell them to park in the driveway, adjust some blinds or maybe even move patio furniture so it looks like from the outside that someone has been there recently.
9. Temporarily hold mail and package deliveries 
A home with a bunch of packages on the front porch or an overflowing mailbox is a major sign that no one has been home for a while. You can sign up online to have the USPS hold your mail at your local post office for up to 30 days. If you will be gone for more than 30 days then you should arrange to have your mail forwarded or have someone you trust to pick it up for you.
10. Do NOT Broadcast Publicly That You Will Be On Vacation
As exciting as an upcoming trip is, avoid broadcasting it if you can. Doing so is the perfect setup for a burglar to take advantage of your vacant home. Don't put anything on your voicemail, email auto-reply, or social media announcing that you'll be gone. Be sure to leave your voicemail as normal and keep your auto-reply email brief. It's tempting to post your vacation photos in the moment, but it is best to wait until after your trip to share. If you can't resist the urge to post, make sure your photos and stories are private and can only be viewed by family and friends, and never mention the exact dates you'll be on vacation.
11. Close and Locks Your Garage and Shed
Your vehicle (s), tools, and lawn equipment are often lucrative steals, so be sure to lock anything you don't want to be stolen up securely. 
12. Review Your Homeowners Insurance Policy 
Before you head out on your trip, be sure to brush up on your homeowners insurance policy to see what coverage you have. Your homeowners insurance offers dwelling, personal property, and other structures coverage to help recover from a burglary. Talk with your insurance agent to see if you need to adjust any of these coverages so you can be sure you are fully protected. 
It's easy to get caught up in the excitement that comes when going on a trip. But before you turn on vacation mode, it's important that you take the proper steps to make sure your home is secure so you don't come home to any problems. Following these home protection tips will give you peace of mind knowing that you took the right precautions before leaving your home unattended. 
Stay Protected with TGS Insurance
If you experience a burglary, the TGS Insurance Agency team is here to help when you need it most. Our agents will help you navigate the claims process from start to finish so you don't have to add more stress to your plate. We understand how devastating a home burglary can be and we want to help get your life back to normal as quickly as possible. With a great customer service team, TGS Insurance is here to help point you in the right direction to make the claims process as seamless as possible! We can also help beef up any policies to make sure you're fully protected from anything, without costing you everything. We're specialists in finding and crafting perfect home insurance policies that meet all your coverage needs without breaking the bank.
Check out our reviews– we'll let our customers do the bragging for us! Get your hassle-free quote in just 15 seconds or less using just your address– it's that easy! No-fuss, no gimmicks, just great home insurance for all.
Remember, home protection is all about prevention, so do what you can before theft to minimize any damage or loss!