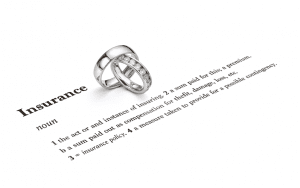 Jewelry is an important and valuable possession that we all take pride in owning and want to protect. Unfortunately, bad things can happen, and sometimes that valuable item can become lost, stolen, or damaged. Whether it's a diamond necklace your grandmother passed down to you, or a very expensive watch or fur coat, the is insurance to protect these precious items.
Insurance makes it possible to be compensated for your most valued jewels in the event something unfortunate were to happen to them. Below are three reasons why it's important to insure your jewelry:
Reason #1: Could protect you from a financial loss
Your home insurance policy will provide you coverage for any precious items and are covered for losses caused by perils listed in your policy including fire, windstorm, theft, and vandalism. Usually, there are special limits of liability such as theft. The standard policy limit for liability of theft is around $1500 because jewelry can be easily stolen. This means that in the event your engagement ring valued at $5000 is stolen, your insurance carrier will only cover the amount specified in your policy up to $1500, or whatever the liability limit is set at. 
If you want more protection, there are two additional ways you can increase coverage. You can raise the limit of the reliability or purchase a floater policy and "schedule" your individual valuables- this is the more costly option but does offer the most protection. Floater policies cover anything not included in your home insurance policy such as accidental losses, like dropping your earrings down the sink or leaving a watch in a hotel. To purchase a floater policy, your jewelry must be professionally appraised- your TGS Insurance agent can help with that. 
Reason #2: To keep the emotional value behind your jewels
Home insurance will provide basic coverage that will give you peace-of-mind knowing your most valuable items have some protection. You'll have the option to be able to replace or reimburse any items should something happen to them. 
Reason #3: Protecting it from possible damages
If your jewelry or other special item is damaged due to one of the listed perils in your policy such as a fire, then your home insurance policy will help cover the costs up to your coverage limits. So for example, if there was a fire in your home and it caused damage to your watch collection, the damage would be covered under your home insurance policy up to your limits. 
How to Obtain Coverage for Your Jewelry
Protecting your jewelry is simpler than ever with your home insurance. There are two factors to take into consideration when insuring your prized possessions:
Acquire an extension or a rider. When you have home insurance, you can buy a rider to cover your jewelry.

Research well-known independent jewelry insurance companies. If you do not have homeowners or renters insurance coverage, then it is a smart move to pursue an independent company for jewelry protection. Many firms concentrate on jewelry coverage and your TGS Insurance agent can help you explore options that best protect you and your valuables. 
If you're interested in obtaining a floater policy to maximize the protection of your prized possessions outside what's covered in a homeowners insurance policy, you'll need to get your jewelry evaluated professionally. Your jewelry will be evaluated in three ways: 
Replacement value: The insurance company covers the costs for the loss at the current market worth at the time you lost it.

Cash value: This is about the jewelry's worth at the value the market is today. This only pays attention to the price of the jewelry when it was originally purchased, not the present worth at when it was lost.

Agreed value: Using an agreed value for your insurance protection allows you and your insurance provider to determine what to provide at the time of loss. In this evaluation, there isn't a set amount to be reimbursed. 
Accidents and mistakes can happen and protecting your most valuable items by insuring them is something you'll want to consider doing. At TGS Insurance, our team specializes in protecting the things you value most, at a rate that doesn't break the bank. Contact one of our agents by either calling us at 1-855-771-4509 or fill out a quick form on our website here.