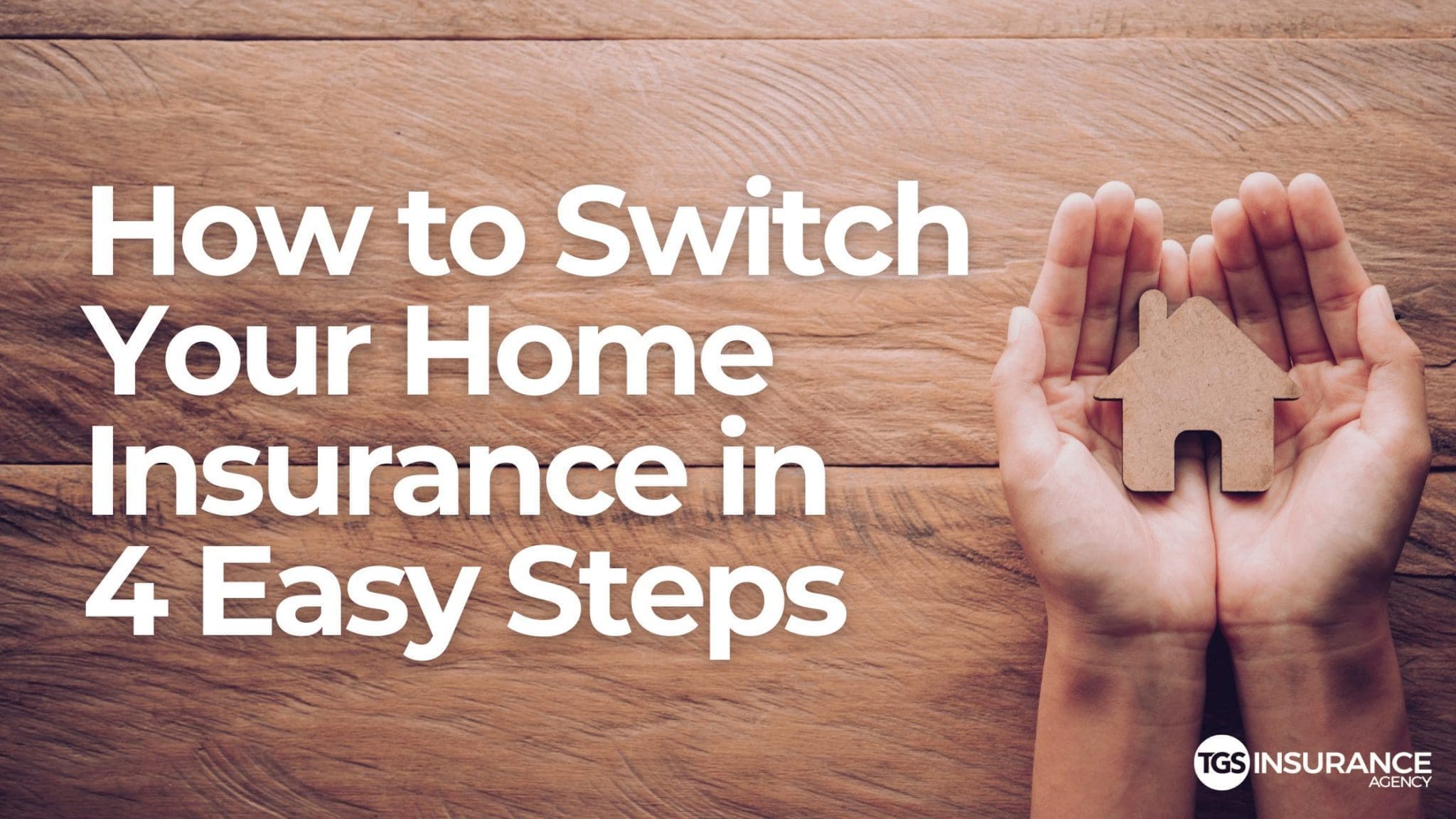 Homeowners may be shocked to hear that changing homeowners insurance can save them hundreds of dollars each year! This is because, over time, rate increases contribute to a larger bill. There are plenty of reasons for your bill to rise including submitting a claim, the continued rise in rebuilding costs, and an uptick in expensive natural disasters. It can be even more of a surprise to homeowners that switching their home insurance policy doesn't have to be a hassle. In fact, with TGS Insurance Agency, we can deliver you a personalized quote built to protect your home in just seconds! Follow these four steps to switch your home insurance policy with ease:
Review your current homeowners insurance policy for penalties and terms and conditions on switching before your policy is finished.

Identify your coverage needs and research your next home insurance company by comparing 5 to 10 top-rated homeowners insurance providers to find the best rate.

Contact your new agency and always begin your new policy before canceling your old one to avoid any lapses in coverage.

Once you have confirmed that your policy is in fact canceled, be sure to contact your mortgage lender with the properly updated information so that your escrow payments are directed to the appropriate company.
While the process is simple, it doesn't mean that changing homeowners insurance doesn't have its own set of hurdles. For instance, the time it can take average consumers to research and compare alone can be time-consuming and incomplete. This is where TGS Insurance Agency comes in. We can shop through our bank of more than 35 top-rated home insurance carriers and can deliver a personalized quote for you and your home instantly. It's one thing to research your coverage but you'll also need to find the coverage you need all while saving money. With our average home insurance customer saving $870 a year on their coverage, TGS Insurance continues to provide quality customer service, the protection you can count on and helps save you money. Contact us today for one of our expert agents to guide you through the process or learn more below on what to consider when switching your home insurance policy.
What to Consider When Changing Homeowners Insurance Carriers
Many factors go into creating your home insurance coverage. TGS Insurance helps homeowners through the entire process and is proud to be a resource to our clients along the way to ensure a seamless transition. We'll even work with your lender to ensure that your payments are in order and that there is no lapse in your coverage. Take a closer look at these additional considerations homeowners should be aware of when switching their home insurance policy:
While you can change your home insurance policy at any time, it is important to understand if there are cancellation fees for your policy before doing so. This is why it is important to consider how much time you have left with your current policy.

You'll also want to consider your timing because lapsing your coverage can not only leave you vulnerable but put you in a bad place with your mortgage provider as home insurance is likely a requirement of the loan. A knowledgeable agent can help you transition to avoid such timing issues with your lender.

If you are dealing with a claim, remember that it will be handled by your current provider even if you switch insurance brands.
Risks of Changing Insurance Companies
Protecting your home is a huge responsibility and making the switch between home insurance brands is an important decision. By doing so, you can save hundreds of dollars, however, there are things homeowners should be aware of when switching companies:
Be sure to know your policy to avoid those fees and penalties we mentioned before.

Understand the coverages that are available for your home when going to a new home insurance provider. Not all brands are the same with the coverages they offer. For instance, a unique benefit for all TGS Insurance homeowner customers is that we automatically include

windstorm/hail coverage

as protection with your homeowners policy with a 2% deductible. We also offer

flood insurance

and can compare among both government and private policies to ensure that you receive the lowest cost for your coverage.

It is important to conduct adequate research on your new home insurance provider. Do they have a high financial rating? How do they handle claims from a customer service perspective? These questions and more can help guide you to the right home insurance company.

Always confirm that your old homeowners insurance policy is canceled and that your escrow is paying the appropriate company for your home insurance.
Switch and Save on Your Home Insurance With TGS Insurance
Saving our clients $870 per year on average and top-level customer service, at TGS Insurance, we work hard so you don't have to. By comparing your rates through our bank of 35 A-rated or better home insurance companies, we can find the right coverage for your needs, all available at the lowest price on the market, and in seconds instead of days, weeks, or months. You can even bundle your auto insurance policy or umbrella policy with your homeowners insurance to save even more. Contact TGS Insurance today and our diligent agents will craft a home insurance policy that covers what you love all for one low price!