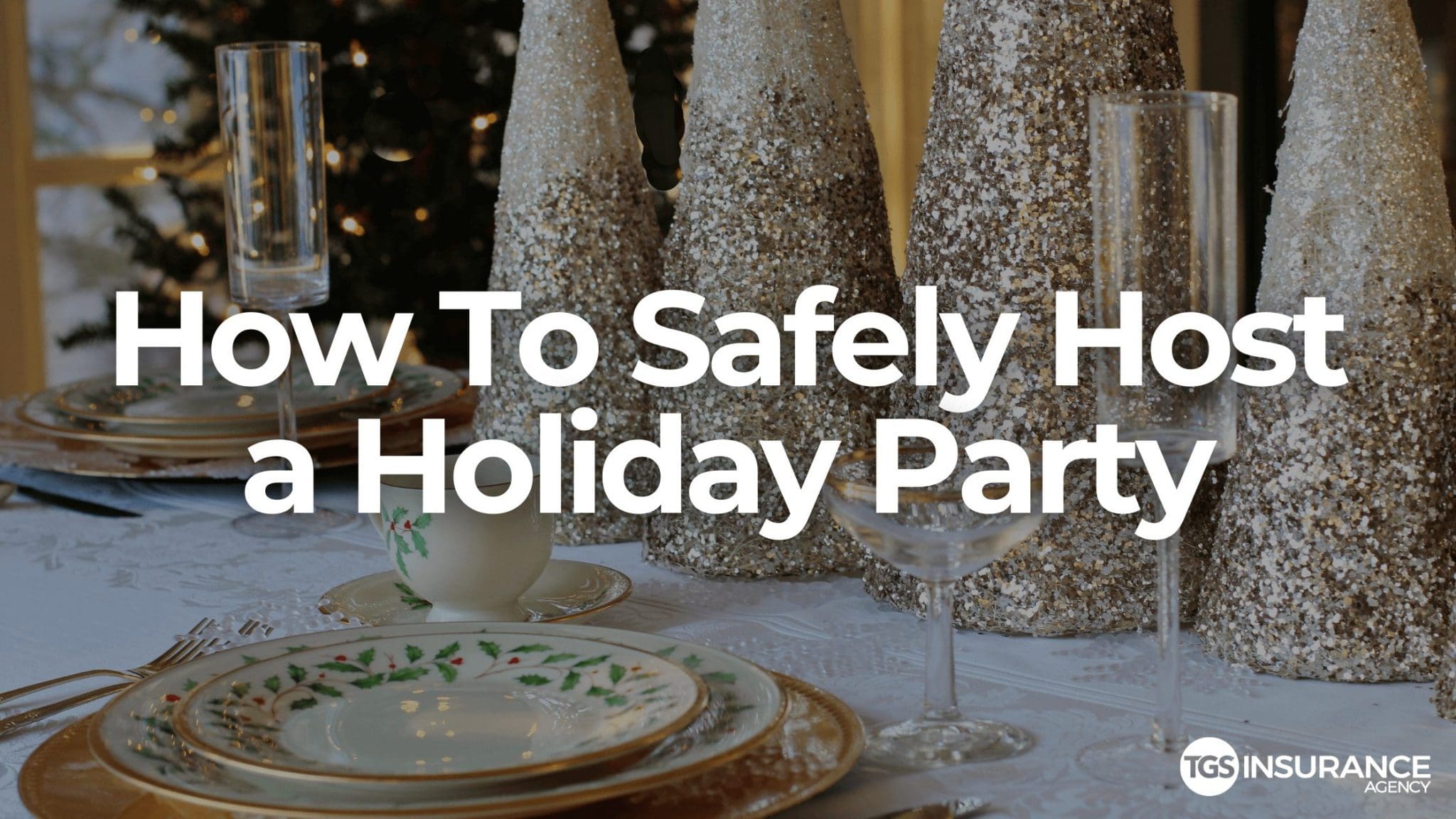 The holidays are finally here!
This is a time for coming together, goodwill toward others, and togetherness, but as we have heard all year long, the way we do this is going to be much different this go-'round. While we may be celebrating differently this year, there are still many activities that remain the same. Decking the halls, cooking the most delicious holiday meal, exchanging gifts, and much more are still all on the table. 
We may have a few added precautions to adhere to, but being safe during the holidays is always the goal. From fires to injuries to thefts and more, the holidays are a time in which insurance agencies see a spike in claims across the country. Hosting a holiday party this year? Don't ruin your celebration with friends and family by taking these steps to ensure your party is handled in a fun, responsible manner.
Decorating Your Home With Safety in Mind
You can't throw a proper holiday party without the right decor and nothing gets your guests filled with holiday cheer better than the right ambiance. But decorations can turn your party from a relaxing celebration into a nightmare if you are not careful. Annually, there is $11 million worth of damage attributed to fires alone caused by decorations during the holidays. These tips will help you keep your spirits up while avoiding a disaster:
Always check your Christmas lights to ensure that burnt bulbs and loose connections are taken care of, as these can be a fire hazard.

Speaking of fire hazards, where you lay your wires is important. Avoid lying wires in high traffic areas as this can damage the wires and create an electrical fire.

Be sure to monitor your candles and never leave a burning candle unattended. Make sure you blow out any candles and turn off your Christmas lights before going to bed as well.

Use ladders as directed and always while on a secure footing.

Be sure to keep all generators outdoors in a well-ventilated area to avoid carbon monoxide poisoning.

Keeping your real tree nice and hydrated can also help avoid dangerous fire hazards. They may be fun to look at, but Christmas trees can go up in flames within seconds if not properly cared for. 
Decorating is only part of the fun during the holiday season and safety will be needed on all fronts, especially this year. Learn more about what you can do as a host to keep the party going without putting lives at risk for your upcoming party.
Keep Everyone Safe While Hosting
Remember getting together with loved ones in reckless abandon during the holiday season? Playing games, sharing bites and drinks, mistletoes…2019 were some fun times. Sadly, times have changed thanks to the ongoing COVID-19 pandemic, but we aren't here to be a Grinch, no, we are here with solutions on how to safely host your holiday party during the pandemic:
First and foremost, regardless of anything, always follow local health officials' guidance and ordinances that are in place to keep everyone safe this year. This is merely a guide on how to stay safe but following the guidelines of officials over those of TGS Insurance is always advised.

Temperature checks can keep everyone safe this season. Even if your loved one is not carrying COVID-19, you can still keep them from spreading other harmful illnesses and keep everyone safe and healthy this year.

Consider having an event through FaceTime or Zoom for larger families. Even smaller families should consider this trend and never exceed the amount recommended by officials for gatherings. This allows everyone to catch up with one another and keeps smaller gatherings from dealing with an illness and instead of bonding together.

Remember those pesky fires? A large contributor to house fires in the winter is space heaters. They may keep you warm but they can be a disaster if you are not careful. Never leave them unattended or on while you are sleeping, and be sure to keep them away from flammable objects. To avoid serious burns, keep them away from pets and small children. Last but not least, never, EVER, put a blanket over your space heater. This is a safety hazard and can start a fire faster than you might think.
Beware When Cooking
It doesn't matter if you're looking for your favorite aunt's green bean casserole, a moist turkey from your uncle, your mom's prime rib with a recipe guarded for generations, or just want to skip all of it and head straight into a sugar coma from all of the wonderful cookies and treats, the truth is, Christmas is just Thanksgiving part two when it comes to food. There is plenty of food to go around but this also means there is plenty of cooking to go around. Keep things safe this year with these wonderful tips to consider when cooking during the holiday season:
Fried turkeys are delicious but can put your home at risk for serious fire damage. Be sure your oil is never too high to prevent overflowing and to ensure everyone's safety, always cook this dish outside and away from flammable materials.

A meat thermometer is a sure-fire way to avoid food poisoning this holiday season. The FDA has

a helpful guide

of safe temperatures you should aim for when cooking this holiday season.

Punches, finger foods, dips, and more are all wonderful ways to celebrate any occasion but this year is a bit different. Think about considering recipes that require less contact from multiple people to help avoid passing illnesses to your guests.
Cooks should always practice general safety when cooking including those involving knives, fire, etc. Food is a great expression of love and one of the best parts of the holidays. Make sure to do your part in keeping everyone safe for a merrier time together.
Protecting Yourself and Your Guests
Holiday parties have a variety of different factors that can be placed under miscellaneous when it comes to safely hosting. Keep the good times going this year for yourself and others with these simple tips we may have looked over:
Always drink and serve alcohol responsibly. Having a loved one crash on the couch after a few drinks is much better than having them crashing their car. Drive sober or don't drive at all.

Feeling sick? Stay home. There is too much to risk this year as we continue to battle the spread of COVID-19.

Learn more about the symptoms of COVID-19

you should watch for before you decide to venture out this holiday season courtesy of the CDC.

Check your fire and carbon monoxide alarms before hosting. These alarms can save lives in the event of an emergency.
Nobody intends to harm their loved ones but accidents can happen. Stay vigilant and protect the ones you love as well as yourself all season long.
Have a Safe Holiday Season With TGS Insurance
The holidays are a great time to unwind and relax, but staying safe remains priority number one for all of us. Protect yourself and your home this holiday season with these tips and the right home insurance policy for your needs. TGS Insurance works hard to find you the most coverage for the lowest rate on the market by comparing over 35 top-rated companies and finding the lowest premium for you. We will even continue to do so year after year should you experience a rate increase in the future. Our customer service is here for you through the entire process, and if you should need to submit a claim, your agent will be there for you as well. Contact us and see how TGS Insurance can save you money today!