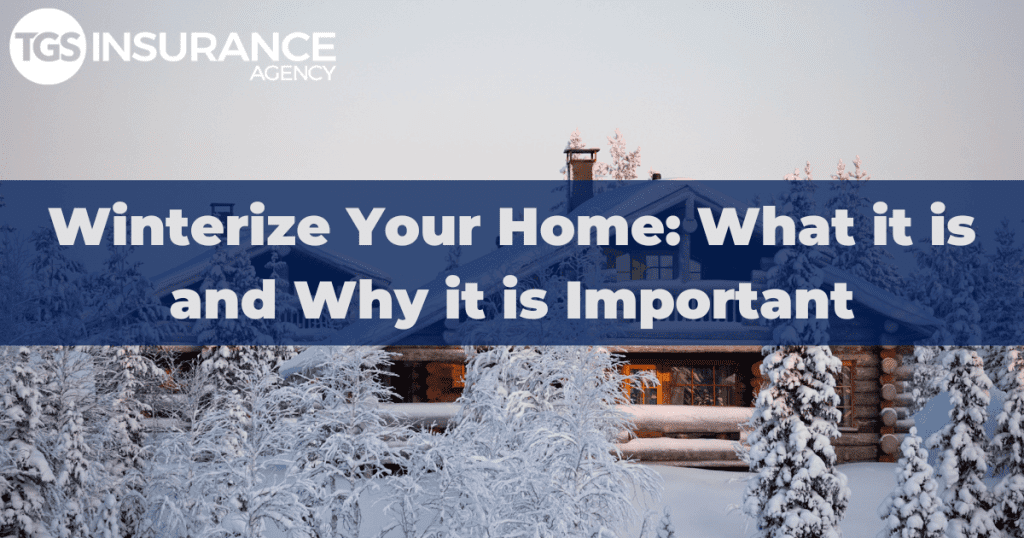 December 21st marks the first day of winter, and some parts of the country have already endured below-freezing temperatures, and other parts, like Texas, finally get a break from the hot and humid weather. For homeowners, the winter season is the beginning of preparing their homes for the cold weather to help avoid problems that could result in filing an insurance claim. To help make the cold-weather transition easier, we put together this guide to help you winterize your home. Let's dive in and take a closer look at how homeowners can protect their homes this winter.
What is Winterization?
Before we dive into how we winterize, let's talk about what it means to winterize your home. In some cases, it means preparing your home if it will be vacant during the winter months. In other cases, it is ways to change your around-the-house habits when the temperature drops. Typically, if you are leaving your home for a few months, you want to start this prep earlier in the fall.
How Do I Winterize If I am Going Away?
If you will not be home for the winter months, here are some tips to help keep your home safe.
Prevent Your Home From Looking Unoccupied
In order to do this, it is a good idea to have your mail forwarded temporarily to your vacation address. Thefts go up in the winter, and you do not want to accidentally send an amazon package to your house and get it taken.
Having motion-sensor or timed exterior lights will also prevent lurkers on your property. Having at least one camera on your property is always a good idea so you don't come back to any wild surprises after your snowbird season.
Another way to avoid having your home look unoccupied is to arrange for snow removal from your driveway and walkway after a storm. A pile-up is sure to tell suspicious characters that no one is home.
Perform Winter Maintenance Before You Leave
Have your heating system, furnace/boiler, and chimney inspected and serviced by a licensed professional before you leave to avoid cold weather. Have your fuel tanks filled before you leave, and ensure you have set up periodic fuel deliveries if needed. Have someone check on heat and fuel levels regularly while you are gone.
Also, maintain electrical power if required to keep the heating system running. If electrical service to the home is to remain on while you are away, consider having a licensed electrical contractor inspect your main electrical panel, wiring, and outlets. Repair or replace anything that may be defective.
How To Winterize Your Home If You Are Staying Around
If you are staying for winter, the following are some safety measures that can be effective preventive steps to take before the cold season begins.
Trim trees and remove dead branches
Keep gutters clear of leaves, sticks, and other debris to help make sure melting snow can drain properly
Repair porch steps and handrails to make them safer in the ice and snow
Key Supplies and Equipment To Winterize Your Home
We were shocked by the Texas freeze, and you don't want to be stuck without supplies again! Stock up early and get key equipment, like generators, in good working condition long before you need them.
Make sure you have an ice-melting compound to melt ice on walkways.
Have your generator serviced and any necessary repairs made. Also, keep fuel generators in approved safety containers and away from heat or flame-producing devices.
Make sure your insulation is able to keep your home warm. It's worth inspecting your insulation and weather stripping to ensure the cold air stays outside and the warm air inside.
Making sure your pipes are properly prepared and insulated to endure icy weather is extremely important. Freezing temperatures can lead to burst pipes and leave you with costly repairs. The average claim for water damage as a result of frozen pipes is about $15,000.
Get Prepared With TGS Insurance!
Preparing your home for the cold weather is the best way to avoid filing a claim this winter. If you do find yourself in some mayhem, TGS Insurance is here to help! If you're a TGS Insurance customer, our team will help you file the claim, follow you along the claims process, and get your life back to normal as quickly as possible. If you're in the market for a new home insurance policy, contact our team today to see why thousands of Texans are using TGS Insurance for all their insurance needs! Get a hassle-free home insurance quote using your address in 15 seconds or less. No gimmicks, just great home insurance made easy.
Instant Home Insurance Quote
Recent Home Insurance Articles: