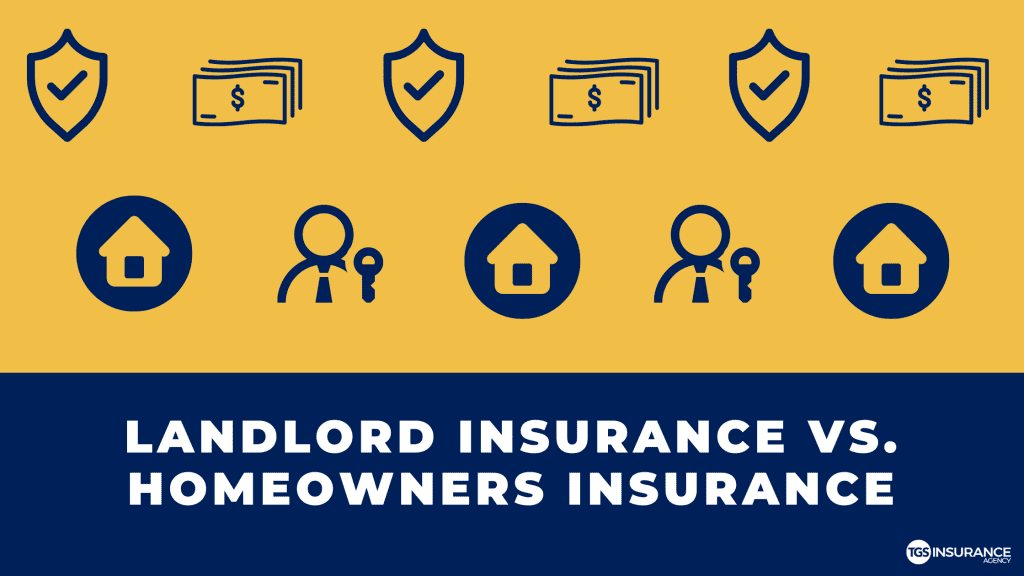 A homeowners policy is for your residence, and a landlord's policy is necessary if you rent your home. Both are similar in function, but there are a few key differences in coverage. Home insurance protects you and your home while you occupy it. Still, if you plan on renting it out, you'll need additional coverage that extends outside of a home insurance policy, which is when you'll need a landlord policy. Let's review the key differences between landlord insurance vs. homeowners insurance.
Landlord Insurance vs. Homeowners Insurance
When you have a rental property, you need more coverage than what is standard in a home insurance policy because when you become a landlord, you assume more risks outside your policy limits. Your homeowners insurance policy will protect your dwelling, personal property and offer liability or medical payments should someone file a claim against you. But a home insurance policy will not include protection for your tenants, such as personal property and loss-of-use coverage. Additionally, if something happens and your tenant has to move out, your landlord policy will provide loss-of-rent coverage, whereas that's not part of a home insurance policy.
Landlord Insurance vs. Homeowners Insurance Coverage
The two biggest differences in landlord and homeowners insurance policies are personal property and loss-of-rent/loss-of-use coverage.
Personal property is items like clothes, electronics, furniture, and other household valuables and is covered under a home insurance policy up to 50% of a home's insured value. Personal property coverage is not included with a landlord insurance policy, and it is up to the tenant to get a renters insurance policy.
In a home insurance policy, you'll see a section that is titled "loss-of-use" coverage. If you have to temporarily move out of your home due to a covered peril, such as a fire or tornado, the loss-of-use coverage portion of your policy will kick in. Your carrier will provide you with financial assistance for your temporary living situation. As a landlord, you need what's known as "loss-of-rent" coverage. Loss-of-rent coverage will reimburse you for any lost income if your rental becomes inhabitable for the tenant due to a peril while repairs are being made.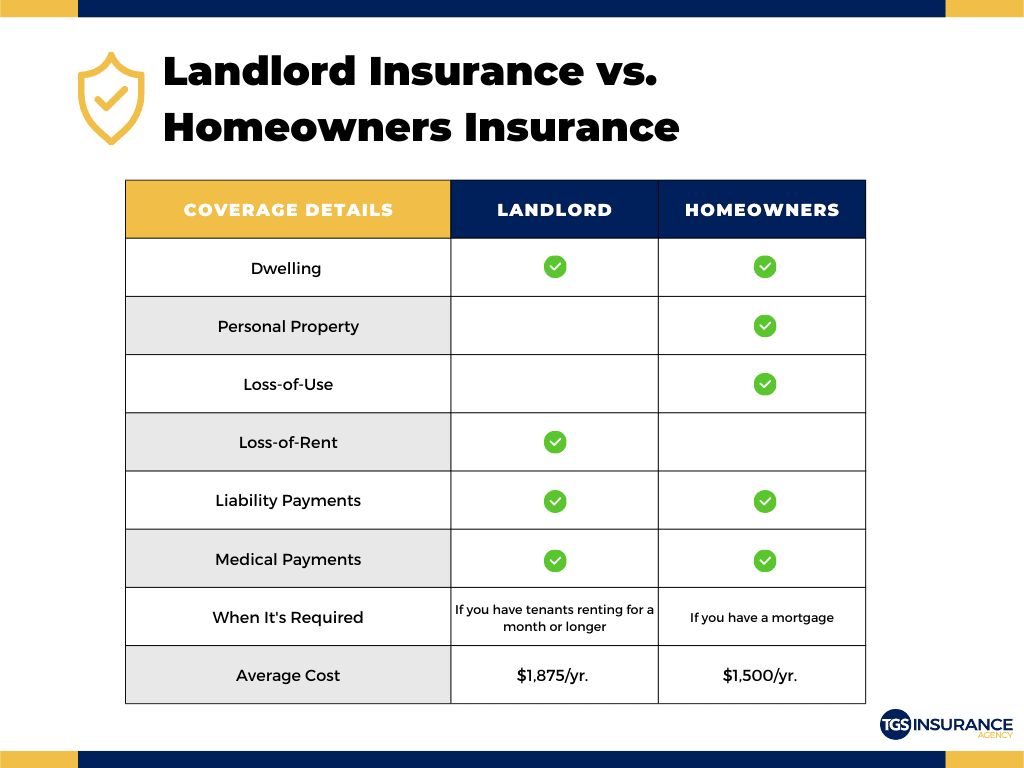 Landlord Insurance vs. Homeowners Insurance Cost
In most cases, landlord insurance is 25% more expensive than homeowners insurance. The average home insurance policy is about $1,500 per year in the United States, making the average landlord policy about $1,875. However, like any insurance policy, many factors determine how much you will pay for an insurance policy, such as location, credit history, claims history, deductible, and coverage, among other things. Homes in high-risk areas, such as coastal regions, or those that are prone to more natural disasters, such as California or tornado alley, may see higher premiums.
Landlord Insurance vs. Homeowners Insurance Requirements
How you use your property will determine which type of policy you'll need to purchase.
Occasional rentals: If you rent your property out infrequently and short term, you may need a home insurance endorsement.
Short-term rentals: If you have tenants for short periods, such as an Airbnb or VRBO, you will need a commercial insurance policy.
Long-term rentals: If you have tenants for a month or longer, you'll need to carry a landlords insurance policy rather than a home insurance policy.
If you're unsure which type of policy you need, talk to one of our insurance experts! Your TGS Insurance agent will discuss your needs and provide a policy built with coverage and cost in mind.
Frequently Asked Questions About Landlord Insurance
Do I need homeowners insurance for a rental property?
If you have infrequent, short rentals, your home insurance policy may offer coverage with the proper policy endorsement. Talk to your insurance agent about what's best for you.
Do I need landlord insurance?
Landlord insurance isn't a requirement by law, but still a necessity for financial protection. Suppose you're renting your property without the right policy. In that case, you could be at risk of being financially responsible for any accidents, injuries, or damages because your insurance company could deny a claim. If you're unsure if you need a landlord or a homeowners policy endorsement, talk to your insurance agent for the best action.
How much landlord insurance do I need?
Every situation is different. You should carry a landlord insurance policy that offers enough coverage for your financial situation and risk tolerance. Your policy should focus on building and liability coverage, so work with your insurance agent to find the perfect balance.
Instant Home Insurance Quote
Recent Home Insurance Articles: