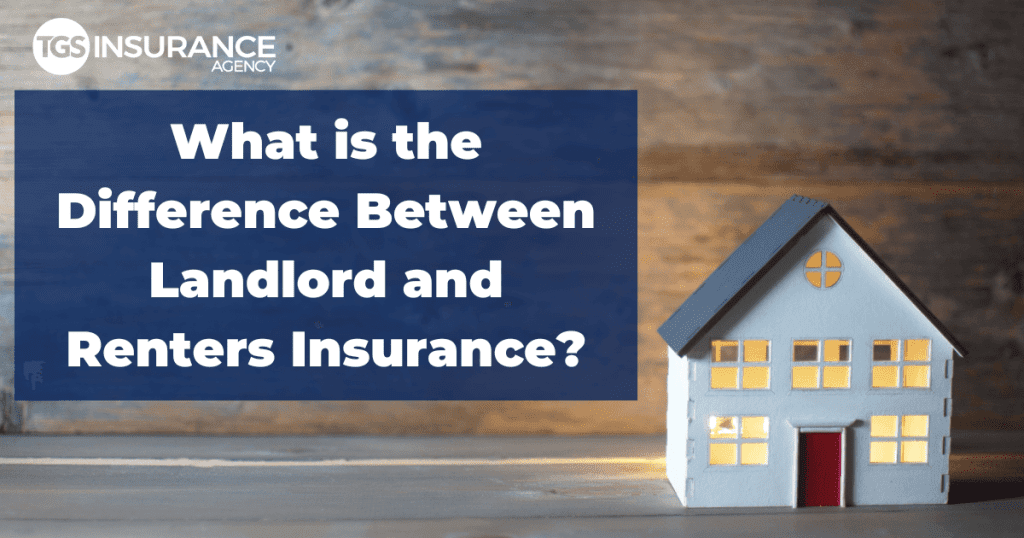 You may think you can skip out on renters insurance because you've heard your landlord has it covered, so you are all set! Sorry, but that's not the case. And vice versa, you could be a property owner that heard their renter has insurance. Yay! But don't rely solely on theirs; time for you to get some too.
Renters insurance protects tenants, and landlord insurance protects property owners. It sounds simple, but it is easily confused, and the question sometimes arises of 'who covers what?'
Let's go through the basics of each coverage and see how they measure up!
What is Landlord Insurance?
Landlord insurance, also known as dwelling fire coverage, covers financial loss for a property owner's rental property if damaged. The properties could be a;
condo,
apartment,
or home.
Homeowners insurance typically covers owner-occupied homes, so you can't get your rental property added. Having coverage on your property is essential.
What is Renters Insurance?
Renters insurance policies are a group of coverages that help protect renters from financial loss. Typically, a renters policy includes coverage for your personal property and liability for covered perils. Perils is just another word for circumstances your policy covers. There is also additional living expenses coverage written into your rental policy.
What Does Landlord Insurance Cover?
Landlord insurance has three basic levels of protection:
Liability Coverage: If your tenant or their guest gets an injury on your property, this covers the legal and medical expenses that may come with it. You can get coverage for simple things like icy driveways or rotted porch steps.
Property Coverage: This covers what you own! Your condo, house, and even furniture that you provided. If there is damage to any property you own, you can use this coverage to get it fixed. The damage could be from storms, vandalism, gas leaks, or even reckless renters.
Loss of Income Coverage: Say the building you bought your apartment in has a mold problem, and your tenant has to move out; how will you cover the mortgage this month? Loss of income coverage protects you if your property is unlivable. Your insurance company will financially reimburse you to help cover the rent the renter typically pays.
What is Not Covered By Landlord Insurance?
There are a few things that landlord insurance does NOT usually cover. Broken appliances are not typically covered. If your washing machine stops working and you need to get a new one, that will have to come out of your pocket.
You are also not covered for careless tenants or tenant personal property. Making this known to your tenants is essential, so they do not think you will cover their losses. You can add coverage to your policy and customize what is important for you and your property!
What Does Renter Insurance Cover?
The three primary coverages of renters insurance are personal property, personal liability, and additional living expenses.
Personal Property Coverage: This protects your stuff! Personal property coverage protects your phone, TV, gaming consoles, furniture, and more from loss or damage against covered perils. The great thing about this, your belongings have coverage even if you bring them outside your home.
Personal Liability Protection: If you or a friend experiences an injury in your apartment, this helps you pay for medical expenses or lawsuits. It covers injuries that are not your landlord's fault. Like if you burn your hand badly on the stove or your friend trips on your rug and breaks their ankle.
Additional Living Expenses: If your apartment gets mold, catches fire, or any other covered loss, this coverage helps you pay to live elsewhere during the repair.
Landlord vs. Renter Insurance
Comparing renters insurance to landlord insurance, you can see many similarities but a few major differences.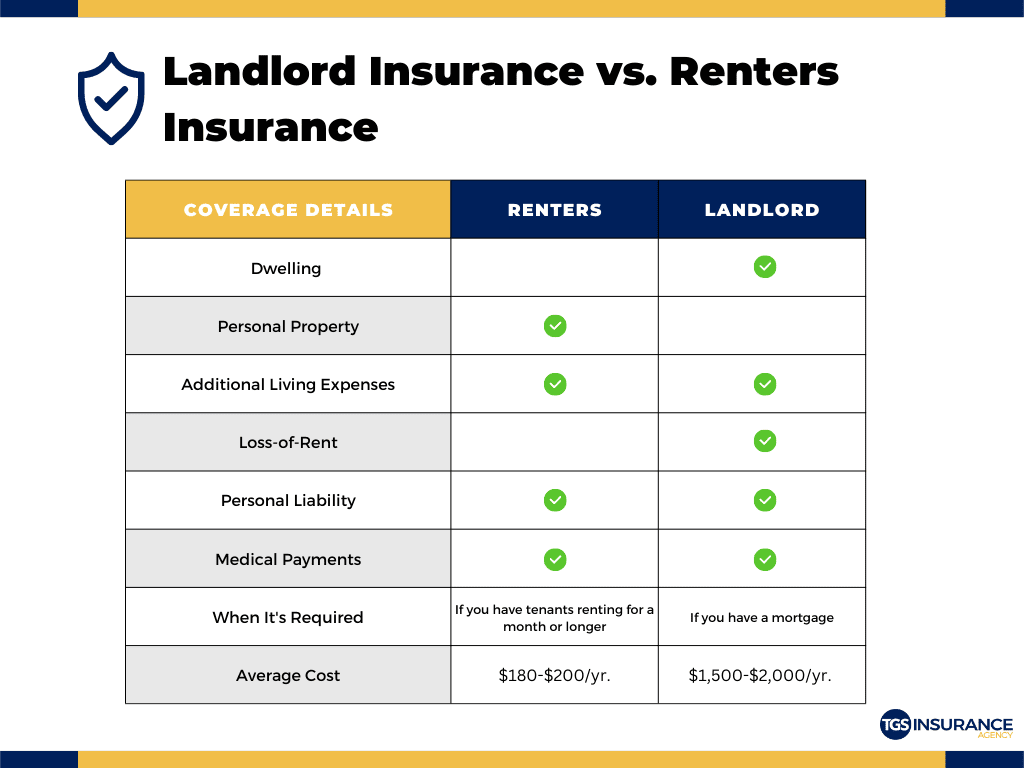 Both cover property. But renters insurance covers the tenant's personal belongings, and landlord insurance covers the dwelling and belongings the landlord owns.
Both cover liability. But the terms of the coverage are what varies. Renters insurance covers medical and legal expenses if they or someone on the property they rent experiences an injury, and it is the renters fault. Landlords would not cover the costs if the tenant is at fault; they would only cover injuries determined to be the property owners fault.
Is Landlord Insurance Necessary?
Legally, no. Texas does not require anyone to purchase landlord insurance. Though, there are many benefits to having it. Landlord insurance gives you peace of mind that you do not have to pay out-of-pocket for any damages. Also, you have coverage for loss of income if you do not have a tenant. It is important to remember that homeowners policies only sometimes cover rental properties.
Is Renters Insurance Necessary?
In most states, renters insurance is not legally required. You may have a landlord that requires you to obtain renters insurance to sign the lease to live there. Renters insurance shows the property owner that you are responsible and care about your living space. A significant upside is that renters insurance usually does not cost much, and you can get cheap rates through most carriers.
How Do I Get Renters or Landlord Insurance?
You should be excited about this next step in your life! Whether it's the first addition to your real estate empire or the first place you got after college, you should celebrate! You shouldn't be worried about shopping around for the best landlord or renters insurance policy on your own. Leave that to us! Our agents will look at over 55 A-rated carriers to help find the policy that is right for you- and within your budget. Give us a call, text, or use our hassle-free quote tool to get an estimate today!
Instant Home Insurance Quote
Recent Home Insurance Articles: