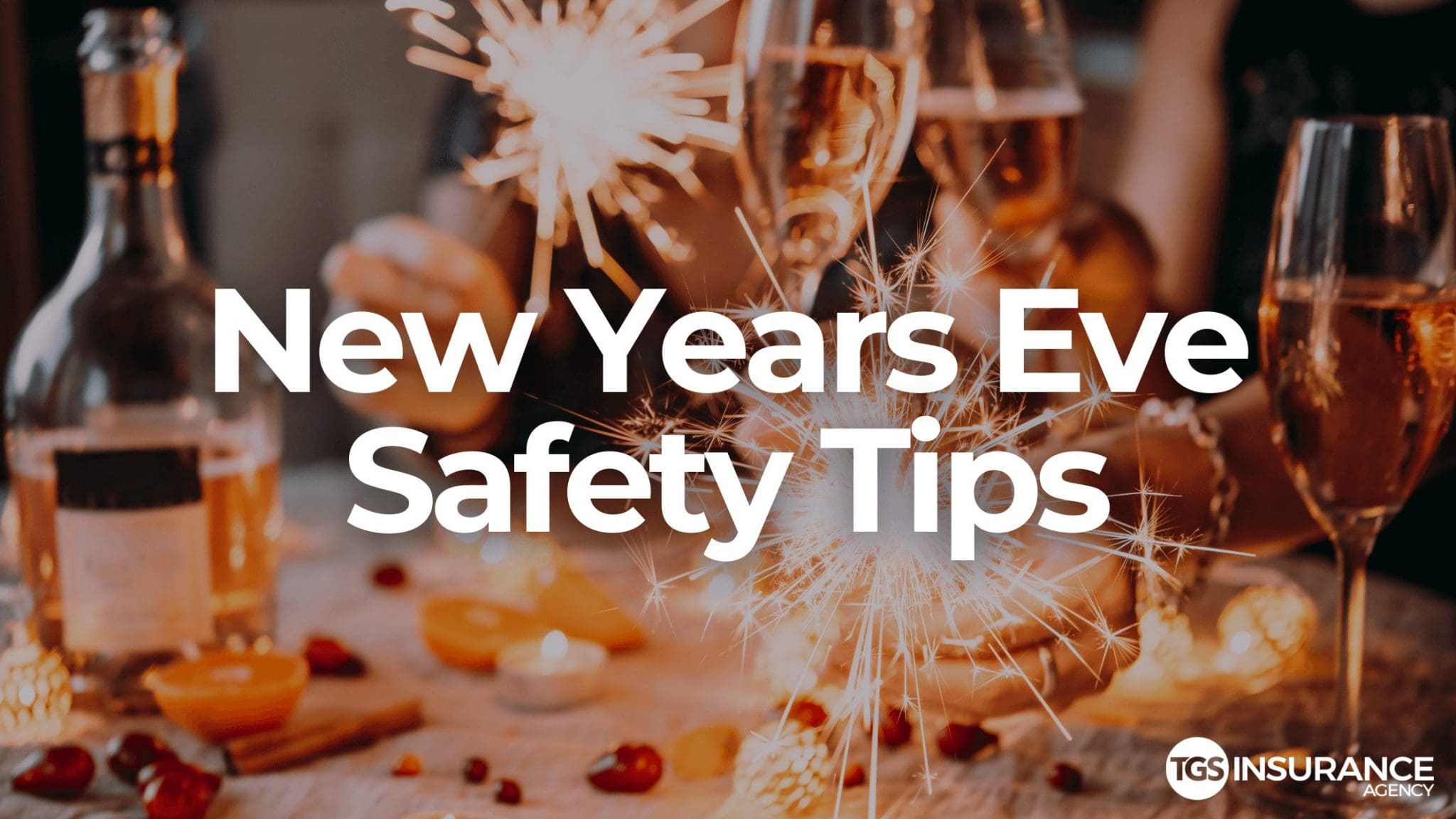 One of the craziest years in history is finally coming to a close and as with every holiday season, the over-the-top celebration to usher in the new year will be underway! New Year's Eve is a magical night of togetherness, thankfulness, and hope, and while we may be celebrating things a bit differently this year, we also understand that we should do so responsibly. There are plenty of things revelers need to be aware of and for drivers and homeowners, these factors can not only take a tragic turn if you aren't careful, but it could also become an expensive headache for you and your family. Get to know these simple safety tips you can use to keep your celebration safe.
Have a Plan for Everyone Driving
New Year's Eve and booze go together like steak and potatoes, milk and cookies, peanut butter, and…well, you get it. The problem is that alcohol can provide dangerous conditions when used irresponsibly. There are tons of reasons to make sure drivers are sober no matter where or how you celebrate but it all boils down to safety. This includes people who are driving to and from your home and are drinking to mark the occasion. There are plenty of options including appointing a designated driver, taxis, and ride-sharing services such as Uber or Lyft. Make a plan ahead of time and be sure to have a sober ride come New Year's Eve. 
Furthermore, it is important that if you are a driver to remember that buzzed driving is drunk driving and to keep-in-mind that not everyone will do the right thing. Driving defensively and staying alert against distracted and intoxicated drivers can help spare your life or the life of another. It can also help you avoid making a claim on your auto insurance policy.
Avoid Larger Crowds
As the United States and others continue to fight the ongoing COVID-19 pandemic, social distancing is still being encouraged. NYE is infamous for large parties, giant blowouts, and large crowds. While we all want to be together, being apart this year is the safer option. Following the guidelines set by your local government and healthcare professionals is always encouraged and should be implemented at any party or celebration you are hosting or attending. We understand that things don't always go to plan, however, if you do find yourself in a crowd that is larger than one might like, continue to practice handwashing, wear your mask, and stay six feet from others to help prevent spreading COVID-19 and other illnesses.
Enjoy Fireworks Responsibly and Follow Local Ordinances
Fireworks are a great addition to any celebration and one of the most enjoyable traditions that occur every New Year's Eve but when used improperly, they can be a recipe for disaster. The best advice is to always allow professionals to handle any type of pyrotechnic, but if you opt to do them yourself, take the following precautionary steps for a safer approach:
Never light fireworks during a burn ban or near flammable materials including homes.

Always have a fire extinguisher ready in case of an emergency.

Refrain from using fireworks if you are intoxicated.

Keep fireworks away from children and never allow children to operate fireworks unsupervised.

Fireworks can often be mixed with firearms which are never a good idea to add to your celebration. Shooting yourself or an innocent person during a celebration filled with alcohol and crowds is a very real threat. What goes up must come down and this can have deadly consequences when it comes to firearms. Never include them in your firework celebrations.
Following these firework safety tips can help you celebrate in style without harming yourself or others. With around 10,000 firework injuries a year, don't start 2021 in the hospital due to injury. Always use as instructed when using fireworks and it is still always recommended that fireworks are best kept for trained professionals.
The Right Coverage Will Keep You Protected All Year Long
No matter how you decide to celebrate, TGS Insurance wishes you a Happy New Year and is here to save you money throughout 2021. With our commitment to finding the lowest price for your home insurance policy, we provide homeowners with the best coverage available all while saving money. We comparison shop rates through more than 35 top-rated insurance companies at once so you don't have to. We can even bundle your home insurance with other policies for even more savings including flood insurance and umbrella policies as well as auto. Contact us today and get the protection you need for a price that saves you money!