Start Your Free Auto Insurance Quote Now
TGS Insurance » Auto Insurance » 2023 Car Insurance Discounts Guide »
Car Insurance Discounts for Seniors
The average senior driver in the U.S. pays $1,715 annually or $143 monthly for auto insurance. Saving money at any age is important, but drivers aged 55+ can receive up to 10% off their insurance premium. We complied all the information you need about car insurance discounts for seniors.
Key Takeaways
Drivers in their 50s and 60s will see lower auto insurance rates than those over 75.
Some carriers have discounts related to mature driver course completion that seniors can benefit from.
Driving less can lower your rates.
Depending on the insurance carrier, most companies will offer seniors discounts on their auto insurance. Sometimes, deeper discounts for membership in certain organizations or by taking a mature driver course.
It's important to keep in mind that auto insurance tends to be higher for those aged 75 and above for two big reasons:
Higher risk of being involved in an accident.
A higher risk of serious injuries resulting from an accident leads to higher medical care costs and generally higher costs to insurance companies.
So, while some carriers offer a senior discount, your premium is relative to your age, driving record, type of vehicle, and number and age of drivers on your policy, among other rating factors.
Table of Contents
Average Car Insurance Rates For Seniors By Age
How much you pay for car insurance heavily depends on your age, location, driving record, and other factors. See below what most drivers can expect to pay as they age.
| Age | Average Annual Premium |
| --- | --- |
| 55-64 | $1,518 |
| 65-74 | $1,621 |
| 75+ | $2,006 |
*This is for a full-coverage auto insurance policy
In most cases, drivers in their 50s and 60s will see the lowest auto insurance premiums compared to other age brackets due to their driving experience and lessened risks of hearing or vision impairments. You'll see your auto insurance rate rise by about 13% when you hit your 70s sheerly because of the higher chances of getting into an accident and being more prone to a serious injury because of a crash. Drivers in their 80s will see the highest insurance premiums, with a rate increase of around 28%, because of the abovementioned reasons and the effects age can have on a driver's reflexes and reaction times.
How Seniors Can Save Money On Car Insurance
A senior discount can help you save on your auto insurance premium, but there are other ways you can lower your bill, including:
Reduce your mileage
Remain accident-free and avoid moving violations
Enroll in usage-based programs
Invest in a vehicle packed with safety features such as blind-spot monitoring, lane departure warning systems, and rearview cameras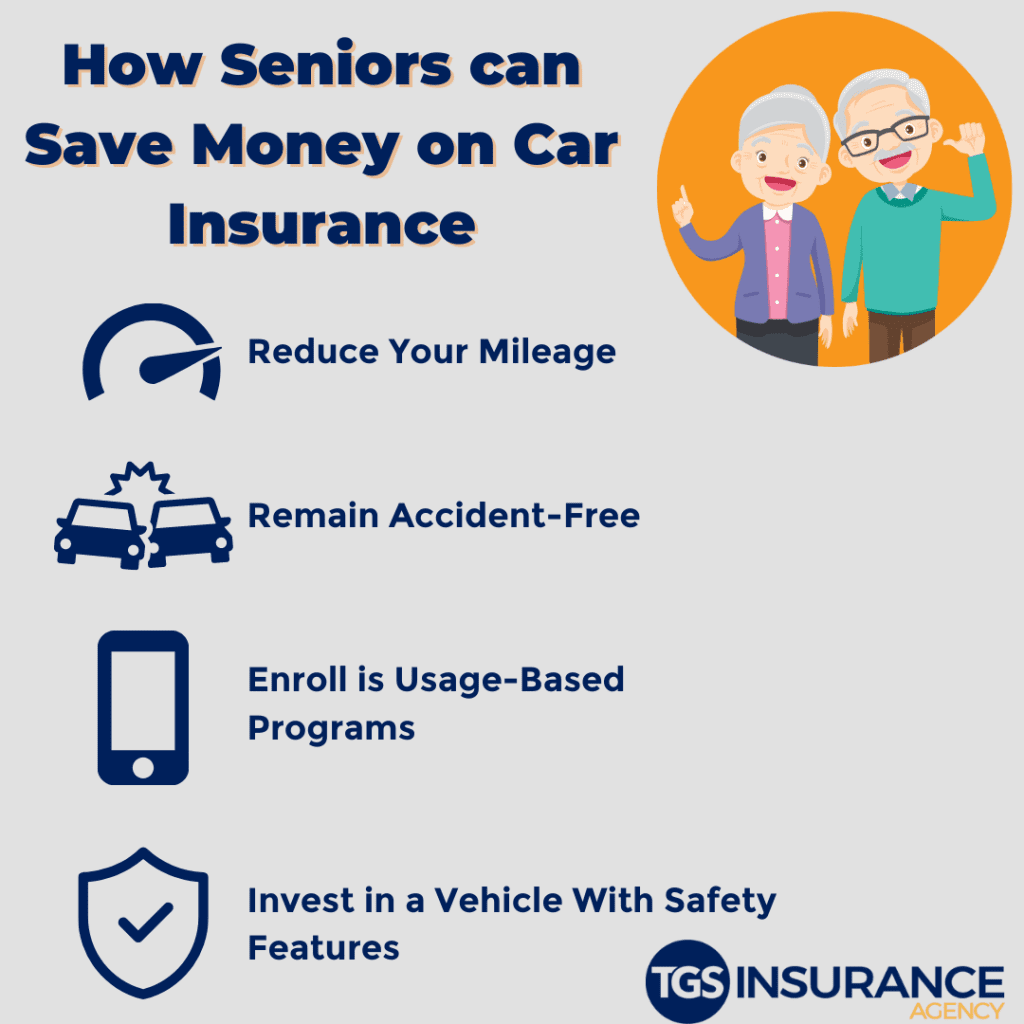 Most states have mandated mature driver discounts for seniors who complete a state-approved driving course. Popular organizations that provide these qualified courses include The National Safety Council (NSC), AAA, and AARP.
Who Has The Best Auto Insurance For Seniors?
There is no one best auto insurance carrier for senior citizens, and each carrier offers discounts to make insurance more affordable for older drivers. Most carriers provide many discounts for seniors, including multi-policy, mature driving course completion, accident-free record, safe driver, and membership in a qualifying organization.
It boils down to what's important to you as a driver. If you prioritize a cheap rate, then, of course, go with whatever carrier will offer you the best premium. However, you should conduct additional research if you value an excellent customer service experience or a solid financial rating. Understanding what you value as a consumer will help you make the best decision!
How To Buy Car Insurance For Senior Citizens
Buying auto insurance at any age can be tedious, especially as you age and your premiums start to increase slowly. This often can make you scramble for the cheapest rate, but you may be skimping on coverage to save a dollar. There are a few easy ways seniors can shop for auto insurance, including:
Compare quotes: You'll see premium increases in your late 60s and even more as you get into your 80s. This means that you'll have a higher rate regardless of your driving record, based on the increased risk because of your age. You should always look your quote over and review the coverage amounts, deductibles, available discounts, and premiums.
Consider an auto policy specifically for seniors: Some carriers offer insurance policies written explicitly for seniors through an AARP membership. These programs frequently come with perks such as roadside assistance or concierge customer service.
Change your annual mileage: You will pay less when you retire or drive less! When you get a quote, note either through the online quoting system that you drive for "leisure" rather than as a commuter or just let your insurance agent know.
Review your coverage limits: The statistics show that senior drivers are more likely to get into an auto accident and suffer more severe injuries than middle-aged drivers. Consider increasing your coverage limits to include additional protection, such as personal injury protection.
How TGS Can Help Seniors Get Car Insurance Discounts
We get that senior drivers are on fixed incomes and that every dollar counts, so finding the lowest premium is often the goal, which is why a state minimum liability policy appeals to most. We also want to remind drivers searching for the best deal will also want to consider coverage when purchasing an auto insurance policy. Because of the increased chance of an accident or serious injury as you get older, carrying a well-rounded policy with adequate coverage can save you more in the long run, rather than leaving you financially exposed to pay for things on your own that insurance otherwise could have paid for.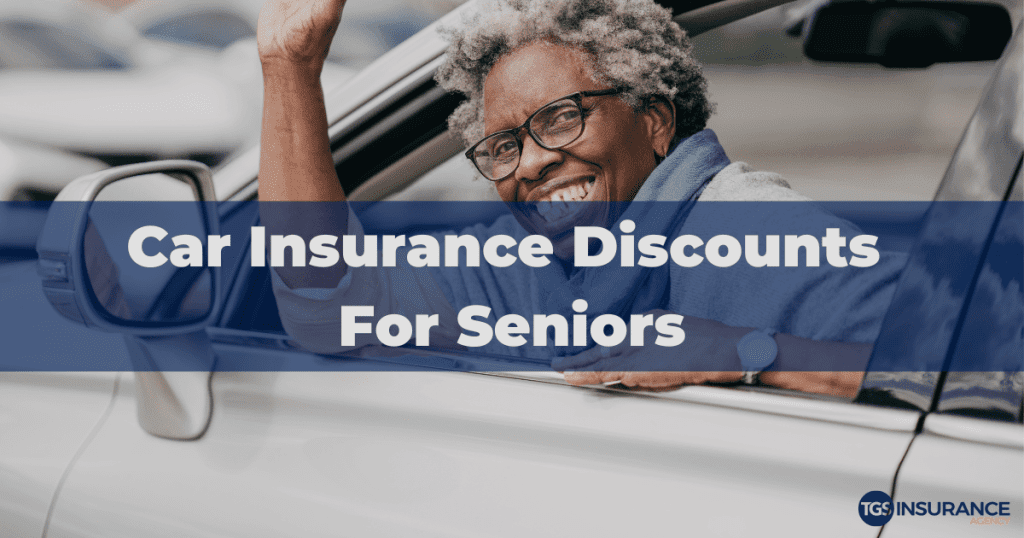 Explore Other Auto Insurance Discounts and Savings:
Recent Auto Insurance Articles: