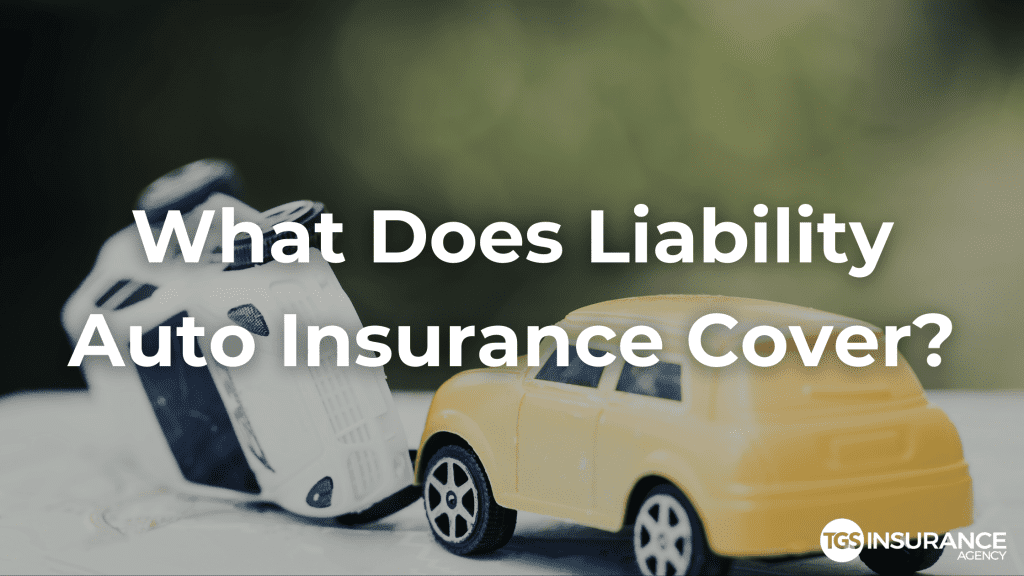 Liability auto insurance is a type of policy that covers any damage or injuries to others that you're liable for as. This generally is the most basic form of car insurance someone can carry and is required by law in most states. Let's review what liability auto insurance covers and how it works to protect you. 
What is covered by liability insurance? 
Most auto insurance policies come with liability coverage and come in two forms: bodily injury and property damage, and both work together to help pay for any vehicle repairs, replacements, medical bills, and lost wages.
Bodily injury liability coverage pays for any medical expenses for the other driver if you're responsible for an accident. 
Property damage liability coverage pays for any repairs for another person's property (ex. their vehicle) as a result of an accident you're deemed liable. 
What are liability insurance coverage limits? 
Coverage limits refer to the max amount your insurance carrier will pay for a claim. Each state sets minimum coverage guidelines for bodily injury and property damage that drivers are required to purchase. Of course, you can increase your coverage limits for a higher premium. When you look at your auto insurance policy, you'll see your coverage limits broken into three categories: 
Property damage liability limit refers to the max amount your insurer would pay to repair/replace another party's property. 
Bodily injury liability limit per person refers to the max amount an individual would receive in an accident. 
Bodily injury liability limit per accident refers to the max amount your carrier would payout for all medical expenses for all parties involved in an accident you caused. 
It's important when you look at your policy's coverage limits that you understand that should any claims made against you exceed these policy limits. If you're found liable, you would be financially responsible for the difference. We recommend buying higher levels of liability if you can afford to give yourself a bigger financial cushion should you ever need it. 
Depending on where you live, your minimum coverage limits may change. For example's sake, let's look at the minimum coverage limits for Texas. To see your state's coverage minimums, click here. 
The minimum amount of coverage for drivers in Texas is 30/60/25. What does this mean? You need to carry at least… 
$30,000 in bodily injury
$60,000 in bodily injury per accident 
$25,000 in property damage 
How much liability coverage should I carry? 
As stated above, you need to carry the minimum amount required by your state. Still, it's important to consider your financial situation and keep in mind that liability-only coverage does not cover any damages to your vehicle or injuries you sustain as a result of an accident you caused. To get protection for yourself, you need comprehensive coverage.  
How much does liability coverage cost? 
The amount you'll pay for liability coverage will range based on where you live, what carrier you choose, and how much coverage you get. On average, a liability-only insurance policy will cost you about $728 per year, with the average full coverage policy (includes collision and comprehensive too) will be about $1,270 per year. 
What doesn't liability insurance cover? 
Liability coverage is the absolute bare minimum auto insurance you can get, so it doesn't come with many bells and whistles. Liability coverage covers other drivers for accidents you cause and will not pay for any costs incurred for yourself or your vehicle. It also doesn't pay for damage to your car caused by debris, hail, or flooding. You can purchase policy add-ons such as medical coverage to help pay for you or passengers' medical bills for an accident regardless of who is at fault. 
When is a liability auto insurance policy a good idea? 
Liability auto insurance policies are not a bad policy to carry; they're ideal for those who own a car with low value or if you own your vehicle outright. If you're unsure whether to get a full coverage policy over liability, you'll first need to calculate your car's worth. This is usually estimated on your vehicle's age, mileage, and general condition. You can use Kelly Blue Book as a resource to help you get the best estimate but keep in mind insurers have their methodology of determining value. 
If your vehicle's value is below the cost of a full coverage policy, then a liability policy may be your best bet. But, if your vehicle's worth exceeds it, then you'll need more than just liability coverage. 
In summary, if you carry a liability only auto insurance policy, you're at risk for: 
Not being covered for any damage your vehicle sustains if you're responsible for an accident
Not having any coverage for any injuries you sustain if you're liable for an accident 
No coverage if your car gets damaged due to hail, wind, debris, or other events
Carrying a liability policy leaves you open to financial risks you otherwise wouldn't have with a comprehensive auto policy. 
Get the right auto insurance coverage with TGS Insurance 
At TGS Insurance, we work with over 35+ A-rated (or better) auto insurance carriers to find you a policy that provides you the coverage you need at a rate that doesn't break the bank. Your dedicated agent will give you the best coverage solutions for your situation because we don't believe in a one-size-fits-all auto policy. Whether that's a bare minimum policy or an all-encompassing policy with the most coverage available- we've got you covered. 
Get your hassle-free quote today and see why over 15,000 Texans trust TGS Insurance for all of their insurance needs!