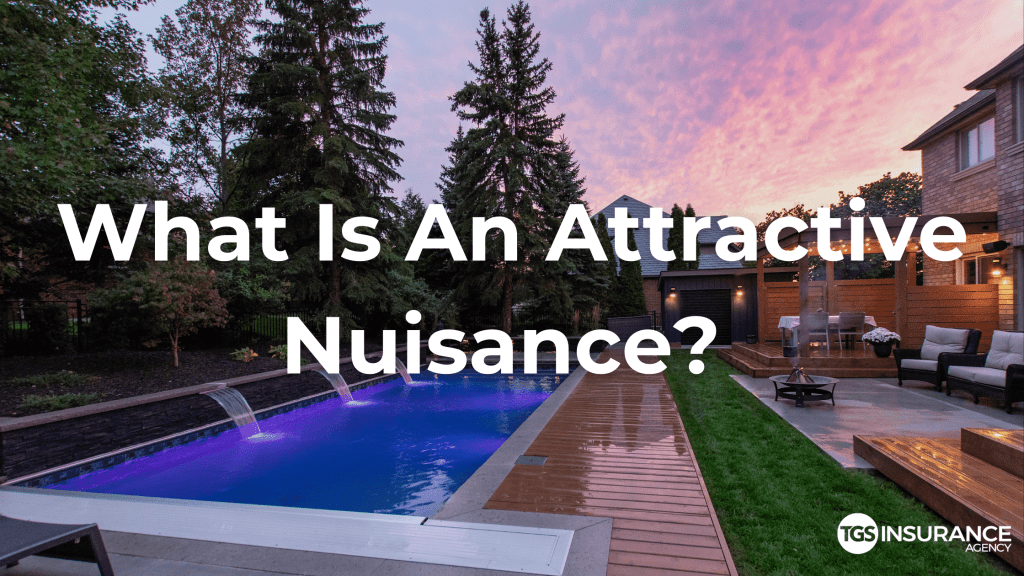 By definition, an attractive nuisance is something that increases your property appeal while also increasing the risk of danger. They typically appeal to young children who, as we all know, can't always control their excitement and take off when they see a playground or swimming pool, not realizing the danger they could potentially be in.
These attractive nuances can pose a serious liability concern as well. If someone, even if uninvited, were to get injured in your pool or on your trampoline, you could be responsible for their injuries. While your home insurance policy includes some liability coverage, it has limits. Once your policy's limits are reached, you are left to potentially have to cover the rest of the damages out of pocket.
Below you can read more about attractive nuisances and how your homeowners insurance policy can help you alleviate the costly risks of having them.
Common Examples of Attractive Nuisance in Texas
Most attractive nuisances are supposed to increase your design or recreation on your property, but there are more items than you think that fall into this category. Here are the most common:
Pools and Hot Tubs
When it comes to swimming pools and hot tubs, the hazards are endless. The most obvious hazards are drowning, and slippery surfaces around pools can lead to someone falling. In addition, pools that aren't properly cleaned or empty can pose a serious hazard.
Water Features
Other than swimming pools, water features such as ponds, fountains, and waterfalls may add to your backyard appeal, but these elements are likely to attract younger children that aren't aware of the potential danger these features may possess.
Construction Zones
If you are building your home or adding on to your current home, the unfinished work could be a potential risk to unwelcome guests. Vulnerable to bare wiring, power tools, and unfinished flooring are a few of the hazards that could lead to an accident and a liability claim.
Old Cars
That old, rusted, classic Mustang that's seen better days could attract uninvited individuals, so keep it locked in your garage till you get some time to bring it back to life.
Playground Equipment and Trampolines
You might have installed or built a playground set for your own children, but it also alludes to the other children within your community. From tree houses to jungle gyms to trampolines, each poses a high risk of falling and potentially breaking a bone.
Attractive Nuisances and Home Insurance
Typically, in-ground pools are protected under your other structures coverage within your homeowners insurance policy. This covers detached structures such as sheds, mailboxes, fences, and detached garages. Depending on your insurance provider, you could see an increase in your premium if you have a trampoline or pool that can range from an additional $2 to $50 a year. While the chances of your pool getting damaged are slim, the increase in your premium accounts for the liability these attractive nuisances demonstrate.
Preventive Measures You Can Take to Protect Yourself and Others
You must inform your insurance provider about a purchase that could be considered an attractive nuisance because it helps your insurance agent understand where you need protection. Whether that means increasing your liability protection or adding additional coverage, being upfront with your insurance agent can help you get the coverage you need and avoid paying for damages out of pocket.
A general rule of thumb is to limit access to the attractive nuisance. For example, if you have a pool, it's important that you have it fenced in and behind a locked gate. If you don't use your pool often, you may want to consider having it filled in. Similarly, having a safety net for your trampoline can also minimize the risk of injuries happening. You should consider similar accommodations that fit other attractive nuisances around your home.
While it's necessary to take extra precautions to avoid a liability claim, taking steps to protect yourself is equally important. Increasing your personal liability coverage can help cover accidents if your medical payments to others' coverage run out. If you were sued for an amount that exceeds your policy's limit, then you would be liable for the remainder.
It can be quite challenging to watch your property at all times, but there are many cases where the homeowner is liable for accidents that happen because of attractive nuisances. It comes down to taking preventive measures to protect guests while on your property. Even if they are trespassers, it falls on the property owner to ensure that the appropriate steps are made to keep everyone safe. In addition, keeping your personal liability portion of your insurance coverage at the right amount can help you, and those around you protected.
How TGS Insurance Can Help You Save On Great Coverage
At TGS Insurance, we strive to ensure each of our customers has the best protection for the lowest rate, so you don't have to compromise on coverage. From our bank of over 35+ highly-rated insurance providers, we can find you a homeowners insurance policy that is tailored to your needs and budget. You'll never overpay for home coverage ever again!
We take pride in our customer service experience, and we promise to take care of you every step of the way from start to finish! With TGS Insurance, shopping for insurance is simple, hassle-free, and affordable!
Instant Home Insurance Quote
Recent Home Insurance Articles: