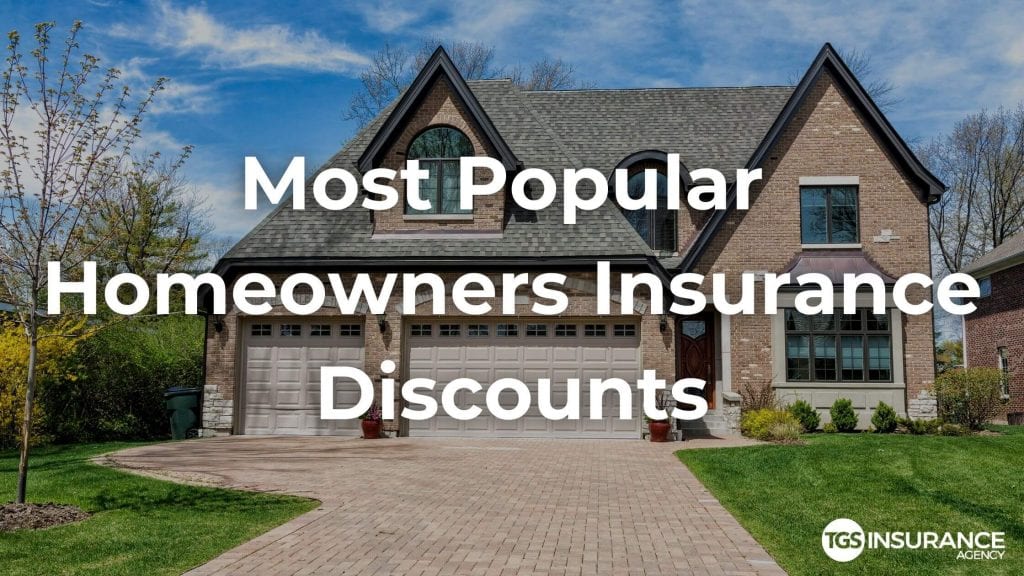 Homeowners in Texas pay an average of $3,249 per year for their home insurance coverage. This is considerably higher than the nationwide average of $1,445 per year. With higher rates, Texans understand the importance of finding the right homeowners insurance discounts for their policies.
The beauty of homeowners insurance discounts is that there are plenty of different options for homeowners to pursue. This is important because no two homes are the same, but all homeowners are looking to save as much money as possible. Let's review some of the most popular homeowners insurance discounts available to Texans.
*Note: Different insurance brands will offer different discounts. Furthermore, some homeowners will qualify for discounts that others may not. The best way to understand which discounts apply to your home is to contact an expert to learn which are best for your needs. Contact TGS Insurance for a personalized approach to your home insurance coverage where our agents can provide you with the best discounts to ensure you save more without skipping on coverage.
Homeowners Insurance Discounts Based on Your Home
Several factors go into calculating how much your home insurance premium will be with homes posing higher risk paying higher premiums and vice versa. These factors include where your home is located, its age, and the materials used to build your home just to name a few. Likewise, some discounts can play to your advantage based on many of these factors and qualify you for the appropriate discounts:
New construction discount- Homes that are newly built can be eligible for discounts, but the qualifications can extend to homes that are up to 10 years old. These parameters vary from company to company.
Gated community and HOA-related discounts- You can receive a discount if your home is in a gated area and/or a part of an HOA.
Home security system discount- Homeowners who install a home security system to their home can receive discounts of up to 20% depending on your insurance carrier.
Upgraded roof/home improvement discounts- Remember, your premium is based on how much risk your home carries while being insured. If you mitigate these risks with an improved roof or storm shutters that can stand up against windstorms and hail, sprinklers to help in the event of a fire, or elevating your home to protect against flooding, you may also qualify for home insurance discounts in the process of protecting your home.
Homeowners Insurance Discounts Based on Personal Factors
Though there are many home-based discounts, homeowners play a role in qualifying for different discounts as well. Many ways you can save on your premium have to do with your lifestyle and personal factors that may deal with risk or your stage in life:
New homebuyer discount- Homeowners who are buying their first home could qualify for discounts.
Over the age of 55 discount- If you're over the age of 55 and/or retired, insurance companies consider you as less of a risk to insure and may reward you with a discount.
A discount for having good credit- The higher your credit score is, the lower your premium will be.
Discounts for being a non-smoker- Because of the risk of starting a fire, smoke-free households are considered less risky and can be eligible for discounts.
Discounts based on your job- There are a few occupations that may provide a way to receive a discount on your home insurance. The most popular is for the armed forces, however, educators and first-responders may also qualify depending on your provider.
Homeowners Insurance Discounts Based on Your Policy
On top of the factors surrounding your home and you as a homeowner, there are powerful ways to save money that is directly tied to your policy itself. Everything from how you receive your billing to the policies you enroll in can make a difference. Review these discounts and find additional ways you may be able to save on your premium:
Bundling- Combining your home insurance with another coverage such as auto insurance or umbrella insurance is the best way to save. Bundling your policies is a popular discount among many insurance brands that love to reward clients who enroll in multiple policies.
Automatic payment and paperless billing discounts- Homeowners who enroll in automatic billing or paperless billing can gain discounts based on the savings they provide insurance companies looking to save on overhead.
Loyal customer discount- Some insurance companies provide their clients with discounts after a few years as a "thank you" for their loyalty.
Discounts for paying a higher deductible- Higher deductibles create lower home insurance premiums and vice versa. Homeowners that raise their deductible can save money by lowering their rate.
TGS Insurance Helps Homeowners Navigate Discounts
There are tons of discounts available and they vary depending on just as many variables. This can make it difficult for homeowners to find what they qualify for and maximize their savings. At TGS Insurance, you aren't just a faceless policy number but rather a valued client. We take the time to get to know each homeowner's coverage needs and maximize savings by finding every available discount for you. This is because we compare each home insurance policy among our bank of 35+ top-rated insurance providers.
Year after year, we continue to review your homeowners insurance policy, and should you receive a rate increase, we'll compare your coverage all over again, finding you every discount for the best rate on the market without cutting your coverage. You'll never overpay for home insurance again! In just 15 seconds or less, you can receive an accurate home insurance quote. See how much you can save today!